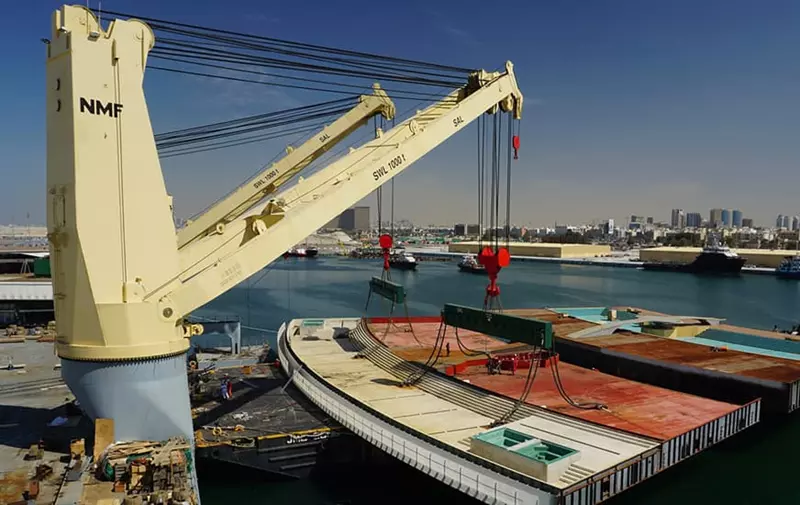 Expertise:
Heavy lifting

Load-in & load-out
Benefits:
Simplified management

Parallel operations

Optimized schedule
Mammoet moves time to install new pool deck at the Burj Al Arab.
Mammoet has successfully installed a new 10,000-square meter private luxury pool deck for the world-famous 7-star hotel Burj Al Arab in Dubai. The so-called Burj Al Arab Terrace which opened up recently fans 100 meters out into the Arabian Gulf and accommodates one freshwater pool measuring 612-square meters, one salt water pool measuring 828-square meters, one restaurant and a bar. Faced with a tight timescale Mammoet planned and executed the project safely and ahead of schedule.
The Burj Al Arab Terrace was developed in six sections with an additional two bridge sections. The entire complex was built in Rauma, Finland by marine construction specialist Admares. They needed a partner to get the eight sections installed on site within a tight deadline of 21 days. Mammoet swiftly assembled a team with the necessary engineering expertise and proposed a project plan that included the location of a suitable port, mobilization of all nautical equipment and detailed loading and installation drawings. Admares tasked Mammoet with the entire project management for installing the pool deck and providing naval expertise for this unique offshore operation.
Once the eight deck sections had arrived at Port Rashid in Dubai, Mammoet discharged them from the heavy lift vessel onto three barges in eight days. The size of the pool deck sections, which measured up to 79 by 35 meters, resulted in an overhang on the barges of up to 25 meters. Careful and precise handling of the tug boats was required between Port Rashid and the Burj Al Arab, to ensure the overhanging sections would not be damaged when sailing close to the other vessels.
The offshore installation of the six large sections, weighing between 400 and 750 metric tons, was done by carefully and precisely placing them on top of ninety foundation piles prepared by the hotel owner, Jumeirah Group. The piles and installation process were designed to cause minimal disruption to the ocean environment. The deck will provide an artificial reef and shade for marine life.
The pool sections were lifted using a 2,000-ton sheerleg connected to a large crane barge. The barge was controlled via a dynamic positioning system using up to eight thrusters to ensure a precise installation operation. This was needed to carefully set the fully equipped pool sections safely and securely onto the piles. All cargo was installed onto the piling foundation three days ahead of schedule.
Toivo Ilvonen, Chief Operation Officer of Admares states: "We are really pleased to have Mammoet as a partner working with us on this project. We are really impressed by the professionalism of the entire team."
The inauguration of the Burj Al Arab Terrace took place on 25 May 2016. Mammoet congratulates the Jumeirah Group on this beautiful addition to its unique hotel Burj Al Arab.