Explore our other nuclear power services
Reducing downtime and maximizing safety for plant owners
Replacement of spent components within nuclear power plants is a complex operation, demanding high safety standards. But at the same time, many of these facilities were never designed to be maintained, making the work site complex and highly confined.
These engineering projects are custom in nature and require custom lifting systems that can lift, turn and rotate modules to exit the reactor building. With many other contractors also on-site during lift procedures, it is vital that these projects are managed to schedule, with as few interfaces as possible.
Mammoet engineers work alongside our customers for months and even years to remove nuclear modules from even the tightest spots.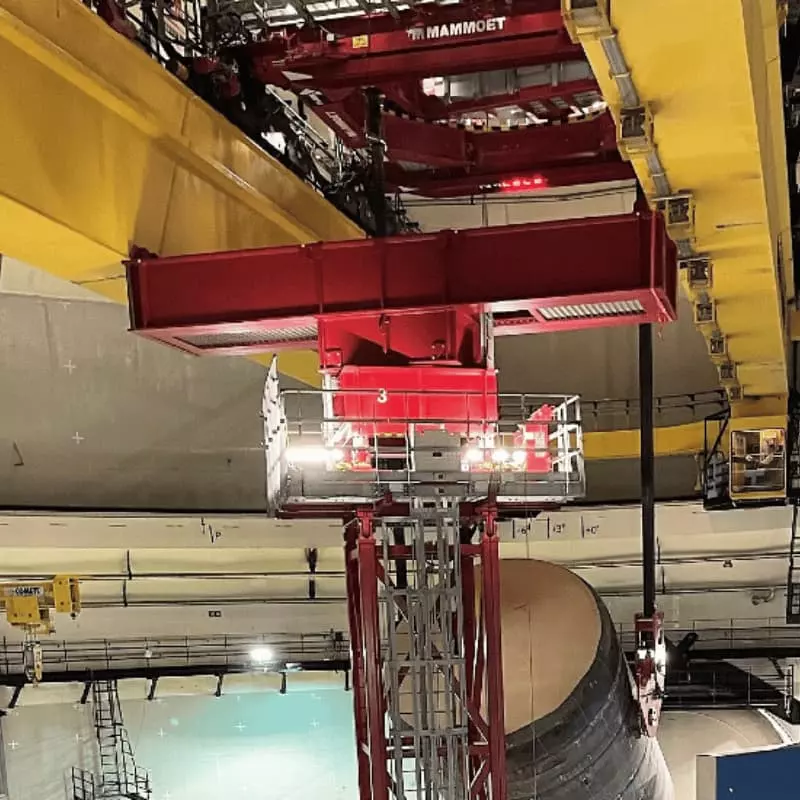 Replacing a nuclear steam generator demands precise planning
Our engineers use the most advanced heavy lifting and transport technology available to streamline steam generator replacement operations. Often, this technology only exists because the project does.
Steam generators are not always easy to reach inside the plant. We assess the building's layout using digital tools and create an engineering plan to get the job done safely and to schedule. If space is tight or the steam generator is inaccessible, we design and build a lifting solution that can maneuver the module around all existing facilties without disturbing them.
In all cases, early planning makes it possible to find cost-effective and safe solutions to site-specific challenges.
Replacing steam generators using custom-built solutions
Custom engineering is needed to execute steam generator replacement projects smoothly, swiftly, and safely.
Months or years in advance, our engineers will visit the plant site and take digital measurements of the project location. This informs development of a custom lift system that could include pivots, gantry or skidding equipment, specialized rigging, trailers, supports and more.
Exiting the reactor building usually occurs through either a combined gantry and skidding system or a tandem mobile crane lift. Generators are then transported to a safe area on site using SPMT.