Explore our other mining & metals services
Fleet migration

methods

that reduce lost production time
To reduce time to market and capitalize on commodity prices, specialist handling and transport logistics are required to lift and move mine plant and equipment in as large a piece as possible.
This means that key excavation equipment can be moved in the smallest number of journeys, and does not need to be disassembled or reassembled at each end of the journey - allowing it to resume working immediately.
Mammoet's early planning increases mine transport efficiency to lower costs and optimize project timelines in this way. We work with operators and engineers to plan the logistics of each project, reducing integration and transport costs and getting customers back online quickly.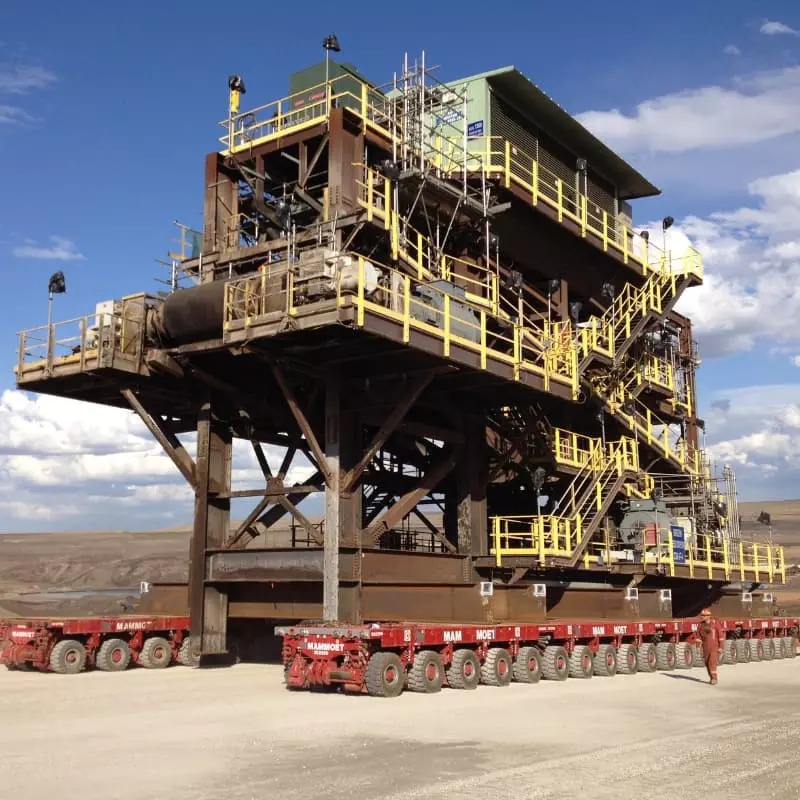 Choosing the best approach to

equipment and plant migration
Mammoet assesses the location and type of plant before working with customers on the best construction approach, route, transport, and equipment. We conduct digital route surveys to uncover potential obstacles, and consider external factors such as climate, local infrastructure, permitting and regulations, and risks that must be mitigated.
Modular construction methods allow plant to be built more efficiently in parallel, but more skill is then needed to find a route for these huge modules that can support transport in one piece. Where needed, our teams can construct specialist trailers to limit ground pressures, allowing us to transport larger modules by road or where delicate materials lie beneath the surface.
Planning the route and transport with logistical expertise
Through early involvement at the FEED stage, Mammoet can help customers build transport directly into the design of modules, allowing the most cost-effective route, modes of transport and equipment to be used.
Our fleet of trailers allows us to move larger items such as shovels, backhoes and dump trucks as one unit, rather than dismantling and re-integrating them on site. Combinations of SPMT handle larger loads.
By using technologies including LIDAR and proprietary 3D modeling software, we can plot the best route to site, reducing both paperwork and the number of expensive route modifications required.