Explore our other offshore services
Integration strategies that bring

first production forward
Using modular, offsite construction methodologies to build topsides unlocks greater project efficiencies and safety. By fabricating these structures in specialist yards, work can be carried out in a controlled environment in parallel, making projects more cost-effective and minimizing risk.
But this approach creates challenges during assembly, where modules weighing thousands or even tens of thousands of tonnes must be connected together ahead of load-out. With the right expertise, critical assets are readied for commissioning as soon as possible, all while minimizing handling, disruption and working at height.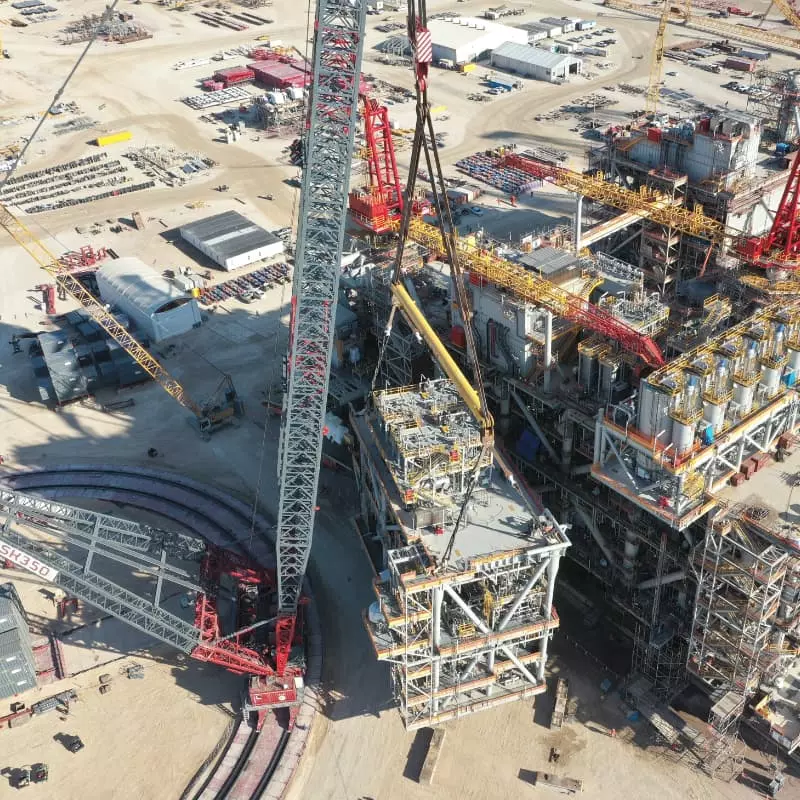 Lift bigger topside modules to shorten schedules
As topside modules grow larger, it is harder to find the infrastructure necessary to lift them at the quayside. Mammoet develops solutions that allow some of the world's largest cranes to do this, despite limitations such as low ground bearing pressures, a lack of quayside space or lengthy distances between storage locations.
Where crane solutions are not possible, our engineers develop alternate methods using large jacking and skidding systems, ensuring the project is completed using the smallest possible number of movements. This means less time working at height, less time spent reconfiguring equipment - and more time integrating.
Unparalleled equipment capabilities
Unique equipment - such as our PTC crane series and Mega Jack range - is critical to delivering world-class topside integrations. Supported by the largest heavy transport fleet, these innovations have allowed the development of new and more efficient methodologies.
A combination of the Mega Jack and skidding systems can achieve remarkable feats and have lifted modules over 40,000t, and to a height of 40m during past projects. Likewise, the SK and PTC cranes offer huge lifting power at long reaches to maximize possible module sizes and reduce the number of movements needed during integration projects.