Explore our other offshore wind services
Bigger jackets mean bigger

offshore wind challenges
Seeking stronger and more reliable winds for greater energy output, offshore turbines are increasing in size, height and weight. But as they now reach up to 175m and have a combined weight of over 5,000t, these giant structures require equally large foundations to secure to the seabed.
To ensure profitability and guarantee the date of first energy, key project assets must be kept as busy as possible – especially the installation vessel. So, a smooth production line and strong transport and marshaling strategy are needed from the fabricator to the quay edge.
Mammoet's expertise in complex, global modular construction projects gets jackets into the water faster, shortening schedules and boosting profitability.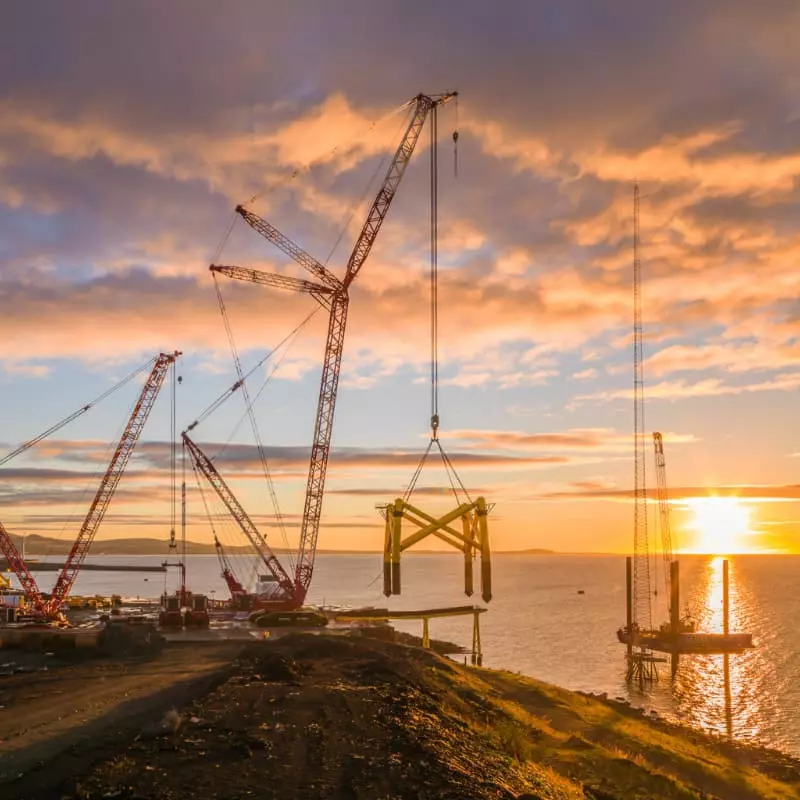 Heavy lifting plans to fit project needs
Through jacking techniques or our larger ring cranes, we handle and rotate jackets, allowing them to be fabricated, extended or loaded-out more easily. Our custom modular transport frames then allow these jackets to be transported and stored on site without the need to fabricate custom steelwork for every project. 
To make sure components get to their destination safely, we design thorough sea fastening, grillage and support structures for onward marine transportation. At the quayside, our large ring cranes load-in and load-out jacket structures, regardless of the tidal conditions and significantly faster than via SPMT.
Our expert marshaling of components reduces costs and maximizes utilization of costly installation vessels.
The equipment to lift heavier and further
The large capacity and lifting radius of Mammoet's PTC and SK cranes are now needed to handle larger jackets. These crane ranges can lift jackets that are over 100m tall and several thousand tonnes.
We manage complex RORO load-in and load-outs using the world's largest SPMT fleet and can engineer fit-for-purpose solutions to accommodate local factors such as high tides and shallow drafts.
Load-out projects for larger jackets - for example those used to support substations - can be undertaken with our range of skidding equipment, which has taken on some of the world's heaviest load-outs elsewhere in heavy industry.