Explore our other offshore wind services
Effective monopile

handling

keeps installation vessels busy
With installation vessels in high demand and costing money for every minute waiting at the quayside, they must be kept working constantly to maximize cost-effectiveness. This demands strong monopile marshaling work to keep operations running smoothly.
Documentation must be prepared promptly; components must arrive precisely on time; many contractors must be managed precisely – all to produce the best outcome. Even at ports used to serving offshore wind, with components this large the pressure to use space efficiently is always on.
By managing the whole quayside scope, we reduce interfaces, lowering project risk and ensuring the first Megawatt is generated on time.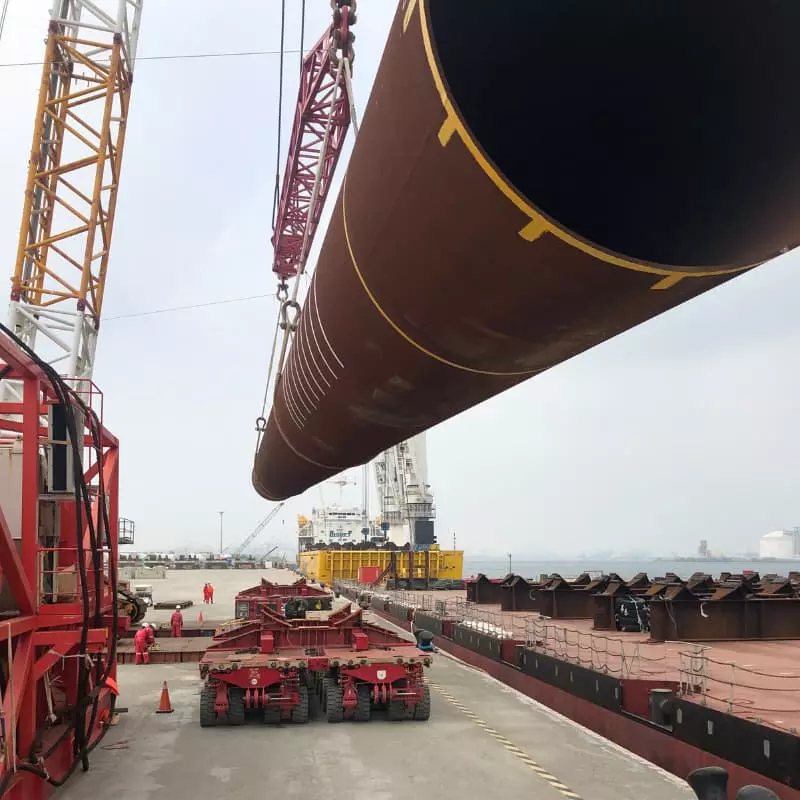 Bringing multiple disciplines together to get monopiles in place
We understand the unique requirements involved in monopile marshaling. We handle the entire scope from fabricator to installation vessel - including onsite transportation and storage, sea fastening, load-out, load-in, storgage and transport back to the installation vessel.
In order to get components ready for load-out at the right time we handle shipping agents, stevedoring teams and all associated paperwork. If working from smaller port facilities, our engineers can temporarily strengthen the quay to support offshore wind marshaling and land-to-sea transfer.
Using just-in-time methods, we ensure high levels of utilization while causing minimal disruption to complex port facilities.
Adapting equipment to suit specific monopile requirements
Mammoet offers superior equipment choice and availability around the world, whether the best monopile marshaling approach uses SPMTs, crawler cranes, or some of the industry's largest ring cranes.
Our adjustable hydraulic saddles and new SPMT/jacking cradle solution allow monopiles to be stored lower to the ground, reducing the costs of supporting steel or creating sand bunds. Our pin pile handlers allow these components to be stored at ground level, avoiding the risks involved with using reach stackers. 
We provide adaptable sea fastening grillage and are working on solutions for seaborne pile transport in larger batches, making transportation to emerging markets more profitable.