Smart heavy transport strategies provide economies of scale
To support more efficient schedules and maximize productivity, the size and scale of components used across industry are growing.
Modular construction techniques allow facilities to be built more cost-effectively in parallel, more cost-effectively, in a controlled environment, where the right skillsets are plentiful. A heavy transport strategy that lifts, transports and installs modules in a smooth sequence brings forward project deadlines.
The right heavy transport approach also minimizes disruption, as congested sites are kept clear, and modules are brought to their installation locations just in time. Large equipment - even entire facilities - can be transported across the world in one piece, saving on disassembly or reassembly time at either end of the journey.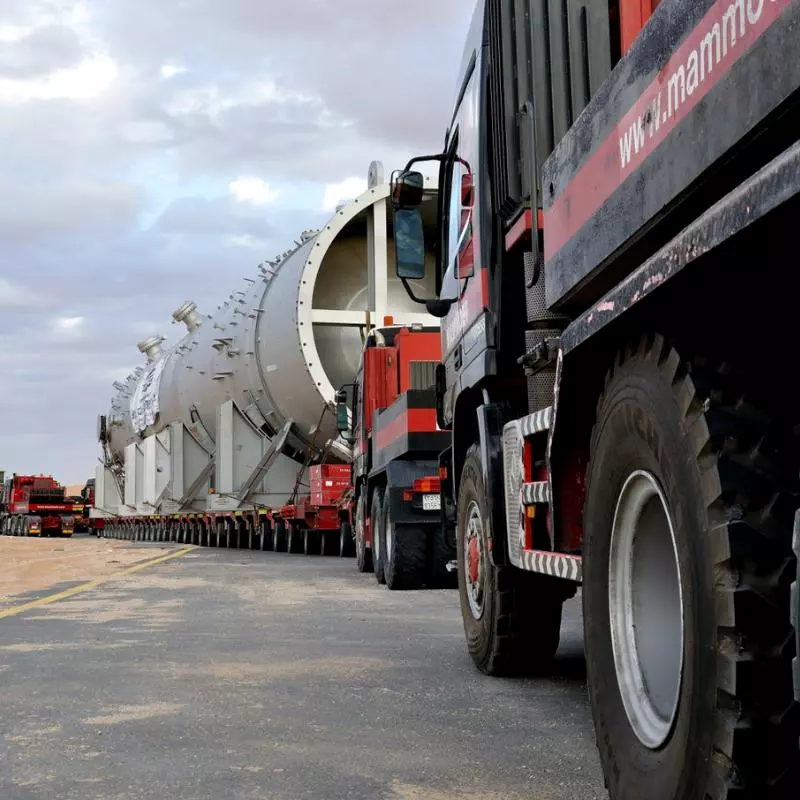 Engineered heavy transport that protects the critical path
Mammoet's state-of-the-art equipment is coupled with our creative engineering and global logistical expertise.
Our engineers and operators carry out extensive route planning, identify bottlenecks and contingencies, manage interfaces between modes of transport, and handle local transport permits or border crossings as part of a comprehensive service.
Where narrow or steep roads pose a problem, Mammoet identifies solutions, by adapting our heavy transport equipment, designing innovations that protect local infrastructure, or - ideally - by finding an alternate route that avoids costly modifications entirely.
Unparalleled range and capacity of equipment
Mammoet's fleet of heavy transport equipment is the world's largest.
It includes hundreds of prime movers, plus a selection of conventional and specialist trailers for specific applications, for example the girder frame trailer; used mainly to transport electrical transformers.
We have the largest fleet of SPMT trailers – over four thousand axle lines in total – strategically deployed across the globe so that deployment can be scaled to the needs of any project. This fleet includes electrically powered models.
With the specifics of each load to take into account, customized solutions are sometimes required, and Mammoet's skilled engineers frequently adapt existing systems to meet new challenges.