Services
we offer to this sector
Generator transport

The optimal route must be planned to make sure high-value assets like generators and gas turbines arrive at the power plant site safely, cost-effectively, and on schedule.

HRSG transport

Transporting large heat recovery steam generator (HRSG) modules from the point of manufacture to a power plant site is a complex logistical operation that requires a smart solution. Find out how Mammoet always finds the shortest, safest route.

Transformer transport

Finding the simplest route is vital to maximize uptime, when installing or replacing transformers. A smart logistics plan is key to execute these operations without disrupting power supply - both at existing substations and new power plants.
Heavy logistics that delivers the highest possible uptime
The power grid must deliver energy to communities reliably, around the clock. To meet the demands of a growing population, it must also operate at increasing scale, generating more power via components that grow larger and heavier.
Transformers, generators and turbines must be transported and installed on schedule so that plants get up and running faster. Preparations are also needed so that key components can be replaced quickly in the event of an outage, improving uptime.
Smart logistics increases the cost-effectiveness of power plant builds while bringing the date of first power forward. It also helps avoid penalties for non-supply, restoring power in the shortest possible timeframe.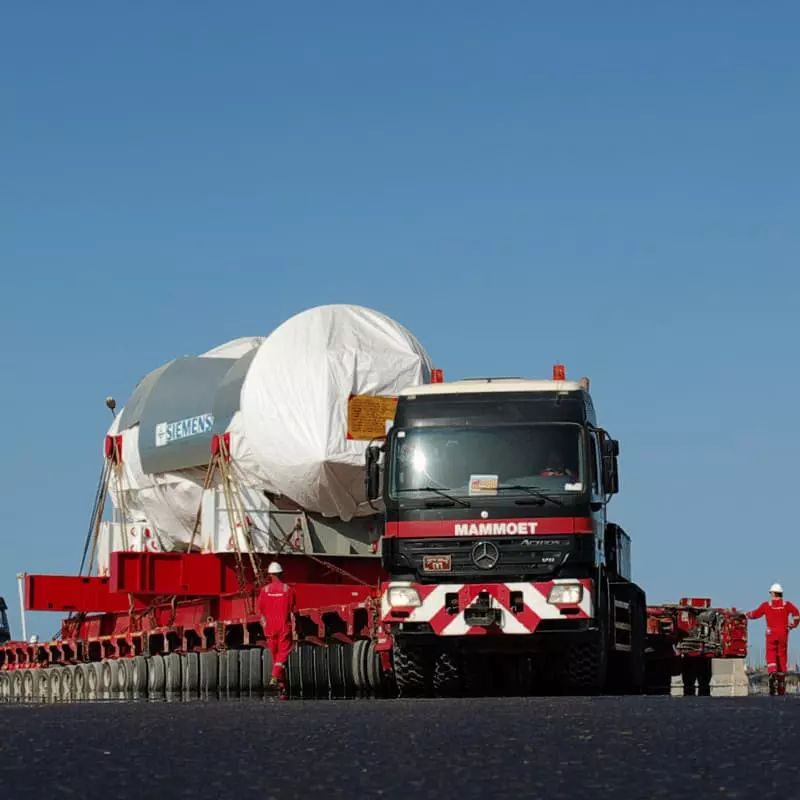 Managing complex routes to deliver

multiple on-site benefits
During power plant construction or extension projects, we simplify and speed up logistics. For example, splitting delivery across road, rail and water may allow components to arrive together, for installation over just a few days.
We help our customers to build transportability into modules from the design stage. Through LIDAR analysis and by widening, strengthening or building temporary bridges, we find the shortest route to site.
During maintenance or replacement projects, we custom-engineer solutions to remove modules in one piece – even where space is tight - ensuring downtime is kept to an absolute minimum.
A toolkit to unlock

tough routes and reach into tight spaces
Mammoet has a range of specialized trailers designed to transport transformers and other modules over public roads with the lowest overall height and axle weights.
Our comprehensive selection of gantry lifting systems can remove and replace modules located in confined indoor locations, lowering mobilization and preparation times.
Our fleet of SPMT trailers often transports power plant modules where space is tight, or during ro-ro operations between manufacturer and site.
Our largest cranes improve construction schedules, as they can construct entire facilities without being relocated, saving time and reducing site disruption.