Explore our other nuclear power services
Safe

r

, f

aster

turnarounds

when replacing pressure vessels
We help nuclear plant owners to replace large and heavy plant components. Extended downtime can be costly, so we find the optimal way to carry out pressure vessel replacement projects safely, swiftly and cost-effectively.
Ageing nuclear plants were not designed with vessel replacement in mind, so a thorough engineering and logistics plan is always required to ensure safety. With confined lift locations, an indoor workspace, not to mention the many regulations that nuclear power owners must work with, this process is always complex.
Despite this, our heavy lifting and transport expertise allows us to find innovative engineering solutions to speed up turnarounds.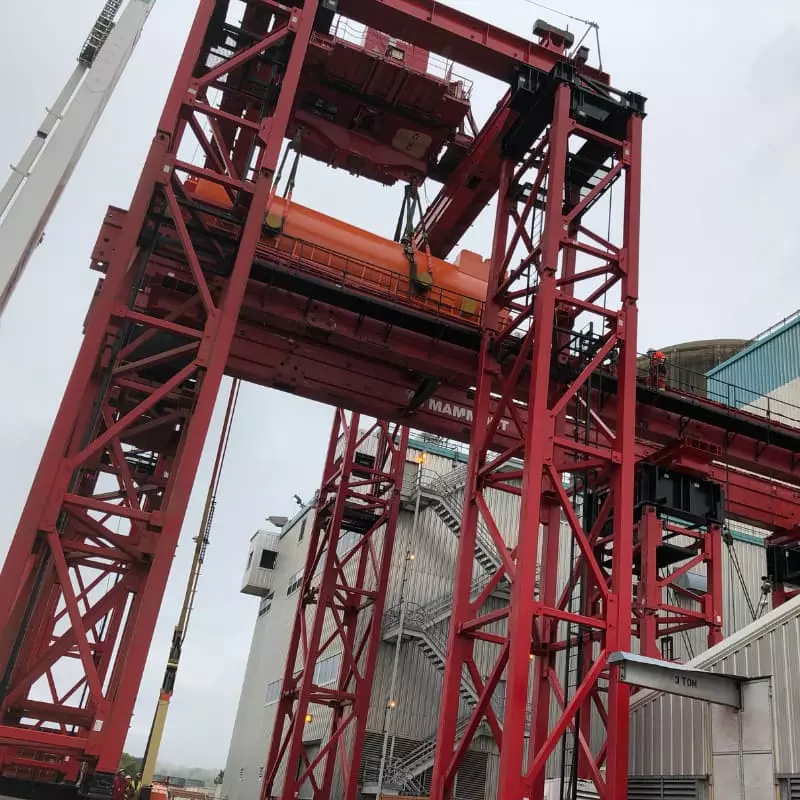 Planning

for more uptime when replacing pressure vessels
Older nuclear power plants were not designed for outages, nor to replace large components easily. So, we assess the internal layout of the plant using digital tools over many months, to verify the lift procedure.
Our engineers plan ahead to ensure heavy lifting and transport activities are integrated. Lifting and transporting large nuclear components in one movement simplifies the interfaces between project phases and reduces the number of contractors on site, lowering costs and increasing safety.
Custom engineering plays a big role in every pressure vessel replacement. We engineer and build lifting or transport equipment specifically for many projects.
Replacing p

ressure vessel

s using L

I

DAR technology
Years before execution day, our teams visit the site and take measurements using technologies such as LIDAR and 3D modeling, to develop blueprints. We then plan how the pressure vessel replacement will be executed, and which lifting or transport equipment needs to be used, reconfigured or custom-built to maximize safety within the space.
If the pressure vessel is positioned in a hard-to-reach place, we will design, prototype, and test a new combined lifting system. Depending on the layout, the operation may then involve a combination of lifting, rotating or tilting the vessel to pass it through the building interior before transporting it securely to a temporary storage area on axle lines of SPMT.