Explore our other mining & metals services
Safely minimizing downtime at mines worldwide
Any piece of mining equipment has a finite lifecycle, but replacement can be expensive; around 30% of total operating costs. Mammoet's planning expertise manages this risk and so reduces the cost of mine shutdowns.
Mammoet examines every minute detail of shutdown activity to increase safety, minimize downtime and ensure good coordination between contractors. This allows the rest of the plant to run smoothly while maintenance and shutdown-related activities take place, and where a full shutdown is necessary, for the mine to get up and running again quickly.
This industry-specific expertise allows teams to optimize mine shutdowns to shorten the schedule and limit disruption.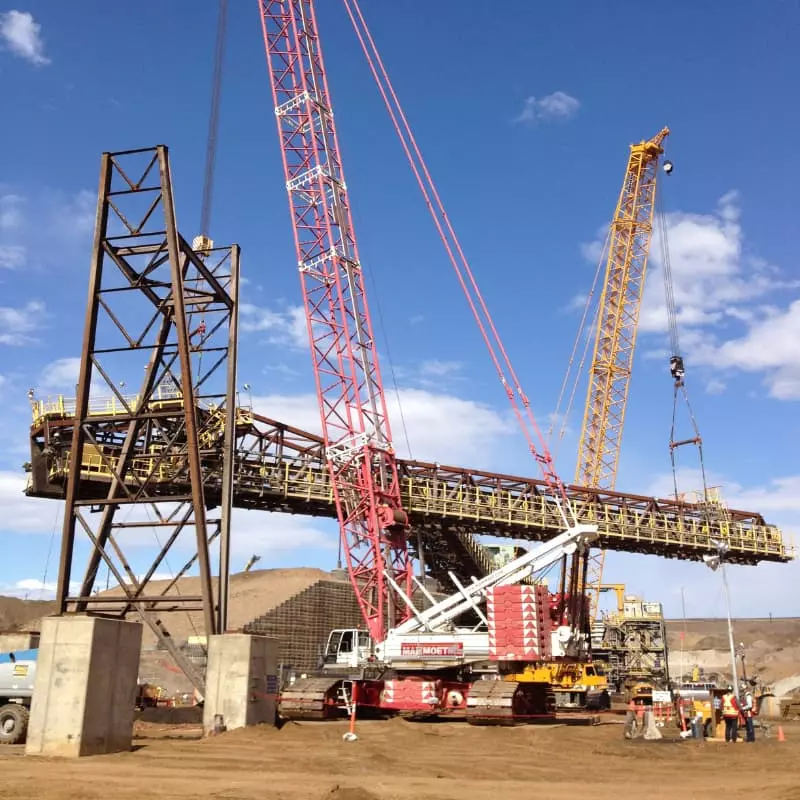 Getting plant up and running quickly after shutdown

phases
Engineering planning and preparation are key to the success of any shutdown project. Mammoet identifies all options and challenges during the planning stage, mitigating the risks of working alonside hundreds of colleagues, with dozens of vehicles, from multiple contractors.
Calculations are made before mine shutdowns that allow us to optimize every stage of the operation to save time. For example, if space within the plant is limited, we will use a smaller number of higher capacity cranes, completing more lifts from a smaller footprint.
Mammoet continually improves its approach through post-shutdown reviews, and this knowledge is retained for the next operation.
Mobilizing to site well ahead of time, reducing project risk
With over 100 depots, Mammoet's large and specialized fleet of equipment supports mine shutdown operations anywhere in the world. Our fleet of SPMT transporters - the world's largest - are routinely used to transport outgoing and incoming plant during shutdown phases.
Our wider fleets of mobile and crawler cranes are also available to perform general site lifts, and where space is a concern low footprint or custom gantry systems help modules to reach installation locations between existing plant.
Mammoet is also able to serve the wider scope, performing load-in of modules at port then taking care of all permitting, route modifications and transport necessary to bring them to site for installation.