Explore our other offshore services
Moving topside giants to

get production

flowing

earlier
As owner-operators search for production efficiency, the size of topsides continues to grow with many now exceeding weights of 10,000t. Building these modules on such a huge scale means fewer operations – and less money - is needed to integrate them.
But to realize these benefits, engineering know-how is needed to move these giants offshore at the fabricator, ready for marine transport, installation, and commissioning.
These load-out operations must be completed as soon as possible to keep the critical path – and first production - on schedule. Establishing the limits of what can be transported and lifted during the FEED stage shaves weeks or even months from the overall schedule.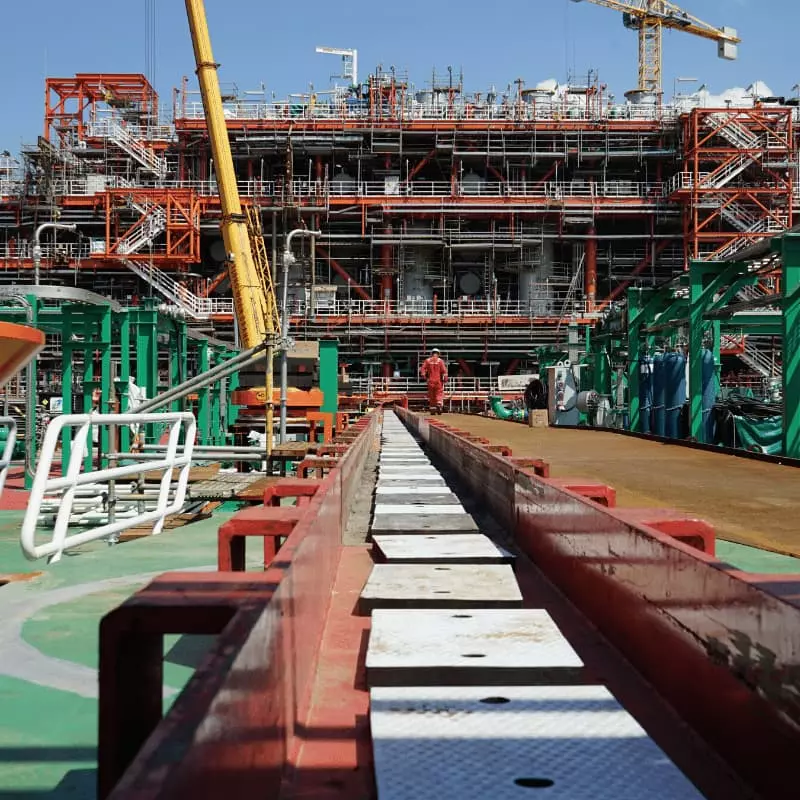 An authority on topside

load-outs

, wherever you are in the world
We work with customers from an early stage in their projects to lend our full range of expertise and equipment to best meet topside load-out requirements. Skidding such huge structures across the quayside requires a thorough analysis of the quay floor strength, the center of gravity of the modules and various potential movement methodologies; typically SPMT transport or skid tracks.
Our capabilities do not end at the quayside; a successful load-out project demands close coordination across marine engineering disciplines such as ballasting and mooring as well as the movement of the topside over land. In this way, we complete topside load-outs on time, to schedule and - above all - safely.
Moving giant structures using cutting-edge technology
Mammoet delivers topside load-outs whether there is an existing skidway or not. Where there is a skidway, we can help to minimize costs by providing computer-controlled strand jacking equipment to pull the topside. With a capacity of up to 1,045t per unit, these systems support load-outs of up to 50m per hour.
We were the first company to design, develop and operate the hydraulic compensated skid shoe system for use where there is no existing skidway. The latest generation of this equipment offers superior stroke and pressure control as well as variable skidding speeds, with the ability to use multiple skid shoes to perform load-outs in excess of 20,000t.