Explore our other civil services
Limiting disruption and cost during bridge construction
We help construction companies to install bridges using smart methods that minimize disruption to local communities, meet strict deadlines and keep budgets under strict control.
Our heavy lift expertise allows bridges to be built in parallel using modular construction techniques. This means they can be fabricated at a convenient location and lifted into position in a small number of larger pieces, over a short period of time.
This helps to keep transport network closures as short as possible and allows civil engineering companies to choose from a wider range of suppliers, reducing whole project costs and on-site carbon emissions.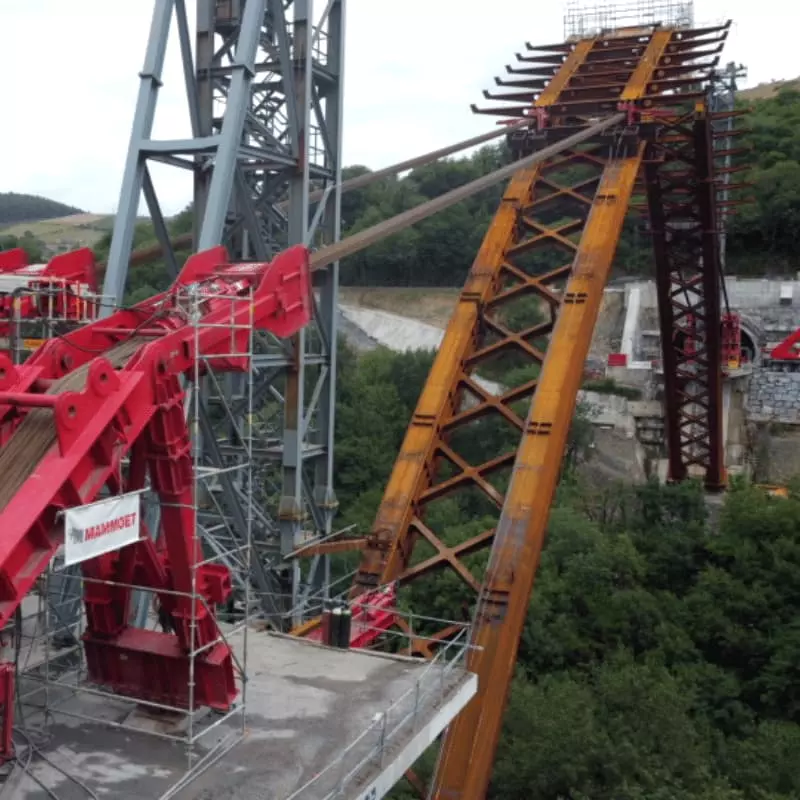 Setting bridges

within

small

er

timeframes by thinking big
Our work allows bridges to be built using Accelerated Bridge Construction (ABC) methods. This involves fabricating the bridge in a convenient location close to its installation position over a series of months, then moving it to its final position in a few days or hours.
In congested or hard-to-reach locations, we use digital tools to find the best route for fabricated bridge sections to reach site. Our engineers check for obstacles and logistical challenges, manage permitting, and devise a strategy that will reduce risk and bring the project in on time.
Where requirements are more specific, for example, to protect the surrounding landscape, we redeploy our expertise from other sectors.
Adapting

our equipment to install bridges safely

and on time
Mammoet's approach adapts to meet the demands of the bridge's structure and environment.
Through involvement with each project at an early stage, we can advise on a selection of potential installation techniques.
These can involve lifting bridges at the side of the road using a combination of jacking systems and SPMT, floatover operations using customized barges, using a heavy lift crane to install bridge sections from a barge, and more. The possibilities are near-limitless.
Whatever the needs of the project, from a simple pedestrian highway crossing to some of the world's landmark pieces of civil infrastructure, our approach completes each project to schedule and the highest safety standards.