Explore our other offshore services
Bringing

production

dates

forward

using

smart engineering
Providing the crucial link between subsea equipment and the surface, risers and umbilicals are always on the critical path of deepwater installation projects. Riser pulling operations must be executed safely and on time so that production is brought online quickly and at a minimal cost.
As oil and gas exploration moves further offshore, the weight and size of subsea equipment is increasing; risers can often weigh in excess of 300t. In this harsh environment, specialized personnel, equipment and expertise are needed to complete the job.
To keep projects on schedule, projects must also be managed effectively alongside the wider scope of work, ensuring high-value assets such as lay vessels are not left idle.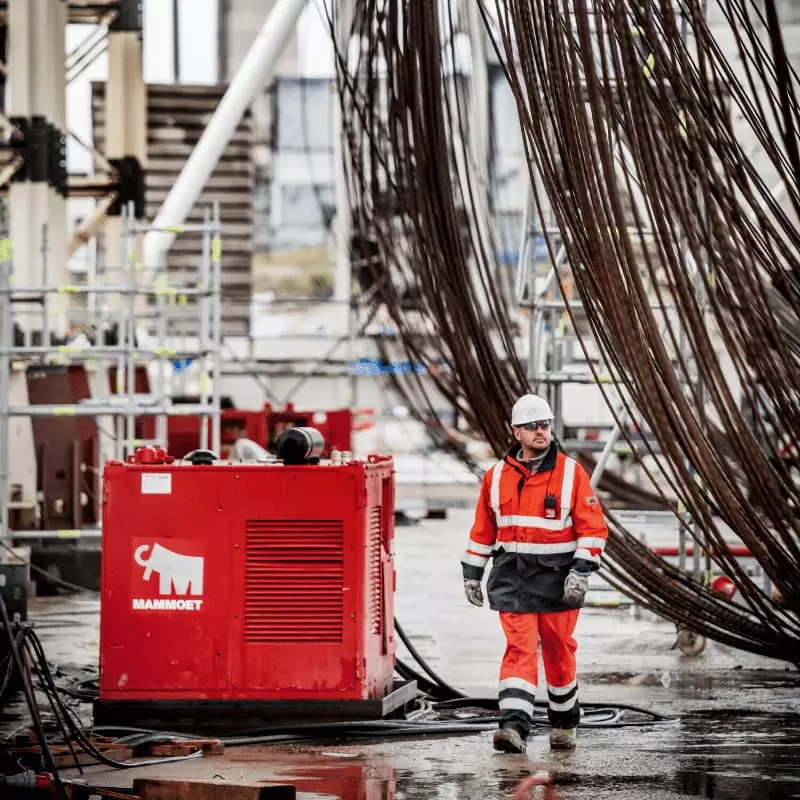 Smarter engineered

riser installations for

deepwater

projects
Our experts have delivered pull-in operations on some of the world's most high-profile offshore oil and gas projects. We have used this knowledge to develop accurate, dependable processes for riser pulling.
We have solutions that pull high dynamic loads at speeds measured in meters per minute. This helps offshore installations to get online faster.
Active involvement at the design stage of projects is key to our approach, as this allows us to identify and "design in" the smartest riser and umbilical pulling solution for the specific requirements at hand. This also ensures that coordination with other parties on site runs as smoothly as possible.
State-of-the-art equipment reduces downtime
The right equipment is key to executing riser-pulling projects promptly and safely. Drawing on the industry's largest fleet, Mammoet is able to offer strand jacks, socket passing linear winches of up to 800t capacity and chain jacking systems of up to 500t capacity.
Alongside smaller linear winches ranging in capacity between 100t and 300t, Mammoet's state-of-the-art 800t linear winches are unique to the industry and allow socket passing under load. Coupled with accurate monitoring, thanks to advanced hydraulic controls, they offer significant benefits to projects by reducing downtime compared to other types of winches.