Explore our other ports & shipyards services
Minimizing downtime and disruption during crane relocations
Smart container crane relocation helps ports to grow, putting in place a larger lifting capacity that increases their cargo handling capability and allows larger ships to dock. However, transporting these machines can cause significant disruption to surrounding activity.
Moving these huge pieces of equipment in the largest possible pieces saves time disassembling and re-assembling them. It also means that space does not need to be set aside to build the crane up at its destination - meaning an instant return to work, and fewer vehicles disrupting nearby tasks.
In this way, ports can upgrade their lifting capacity while keeping uptime high.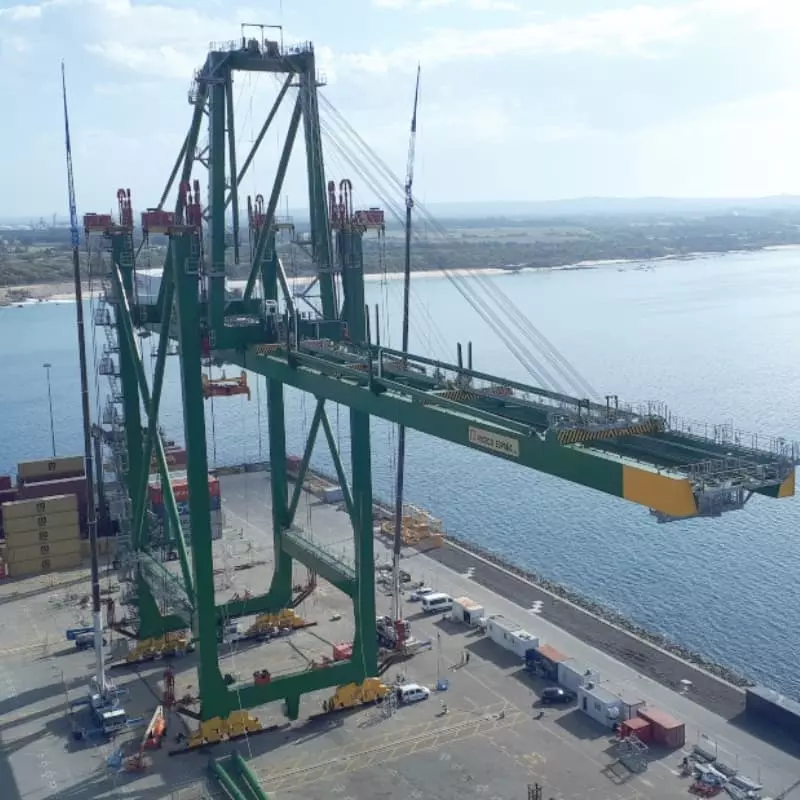 Moving cranes in one piece takes unique expertise
To minimize disruption at an operating port we move fully assembled cranes into position in one piece. Likewise, we develop solutions to relocate existing cranes from one port to another.
Our engineers perform a full structural analysis of the assembled crane and then design and put into place the required reinforcement (and sea fastening, where traveling by water).
As harbor cranes vary in capacity, size, and track width, a detailed assessment and thorough forward planning are needed to consider the best options for the transport of an assembled crane.
Our experience with permitting and shipping regulations allows us to design transports with few handovers - avoiding extra costs, such as demurrage.
Increasing port and shipyard productivity
We undertake container crane relocation projects either on site between different quays or across continents, between ports. In all cases, our engineers calculate the optimal transport strategy to avoid disruption to surrounding port activity.
Transports take place using a selection of hydraulic SPMTs, taken from the world's largest fleet. Customized transport frames can be used to ensure stability and a short journey time, depending on the needs of the project. Cranes can also be heightened using a custom frame and large jacks.
At all times, we utilize our existing network of port authority and operator contacts to streamline relocation projects.