Explore our other ports & shipyards services
Launching vessels more safely, quickly and

cost-effectively
Vessels are often constructed away from the quay edge, at facilities a short distance from the port. This helps to keep the cost of manufacture down, as the build process takes place on less sought-after and therefore cheaper land.
Heavy transport engineering enables this build strategy. It does this by taking vessels on highly technical 'last-mile' transportations through complex port districts, so they can be launched.
By finding the best route through busy ports and into the water, vessels can be built more profitably and launched in the best way - avoiding penalties such as demurrage and using the most convenient methods. Ultimately, this gets vessels into the water - and productivity - faster.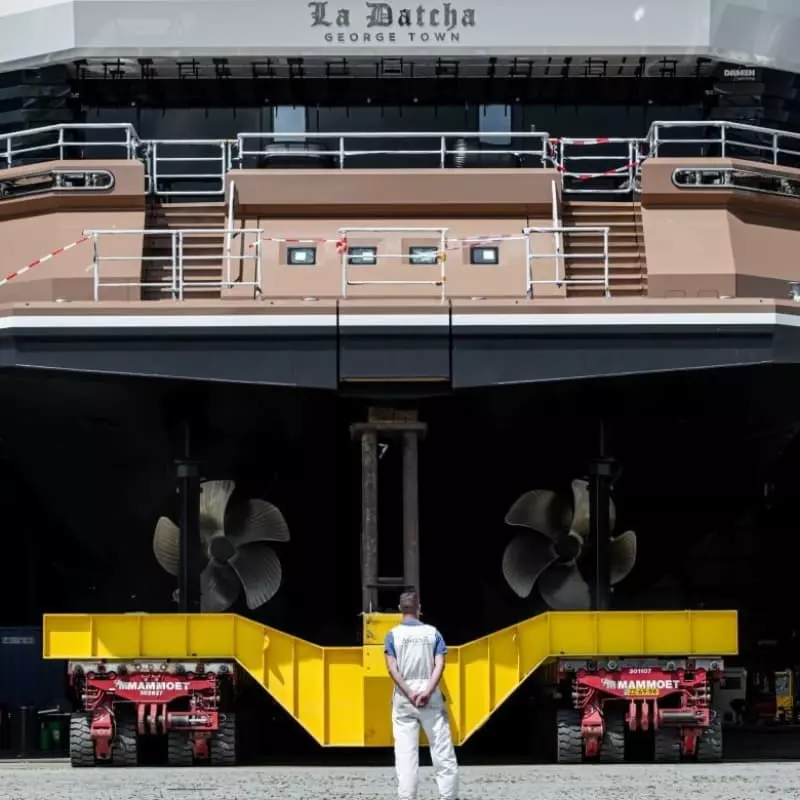 Finding the safest, fastest methods for

launching

vessels
As vessels grow larger in size, new solutions must be found to launch them safely and to schedule. At the same time, ports are becoming busier.
The right vessel launching strategy manages this complexity, working in partnership with all stakeholders. This often includes navigating around other projects taking place nearby, obtaining permits from multiple authorities and taking short journeys through public roads, bridges and locks.
We have developed and optimized ways to launch vessels that increase safety, speed and control and remove the need for a dry dock, reducing overall time and costs.
Pioneering new techniques for controlled vessel launches
Mammoet uses different methods to float a vessel safely, depending on the needs of the project. These range from moving it via SPMT from the construction building onto the open deck of a semi-submersible ship, to the use of large custom gantries with skid tracks, where the vessel is particularly large.
Our multi-purpose pontoon, Schelde, can also be used for launches. Vessels are placed on SPMTs and transported from the construction site to the quay and transferred to the pontoon. In deeper water, further pontoons are deployed that have winch frames attached.
During construction of larger vessels, SPMT transporters can be used to bring together and integrate modular sections.