Explore our other oil & gas services
Delivering modular projects to get assets online quickly
LNG construction projects utilize modular build strategies, fabricating facilities in the best worldwide locations before delivering them in larger pieces, lowering integration time. This optimizes schedules because module construction runs in parallel with the civil works and foundation building on site.
What's more, LNG terminals are usually developed far away from main city centers, focused on deepwater access more than construction site locations. Therefore, they can be very remote; far away from potential labor sources.
A well-executed handling and transport strategy moves hundreds of modules, sometimes weighing thousands of tonnes, to the right place at the right time.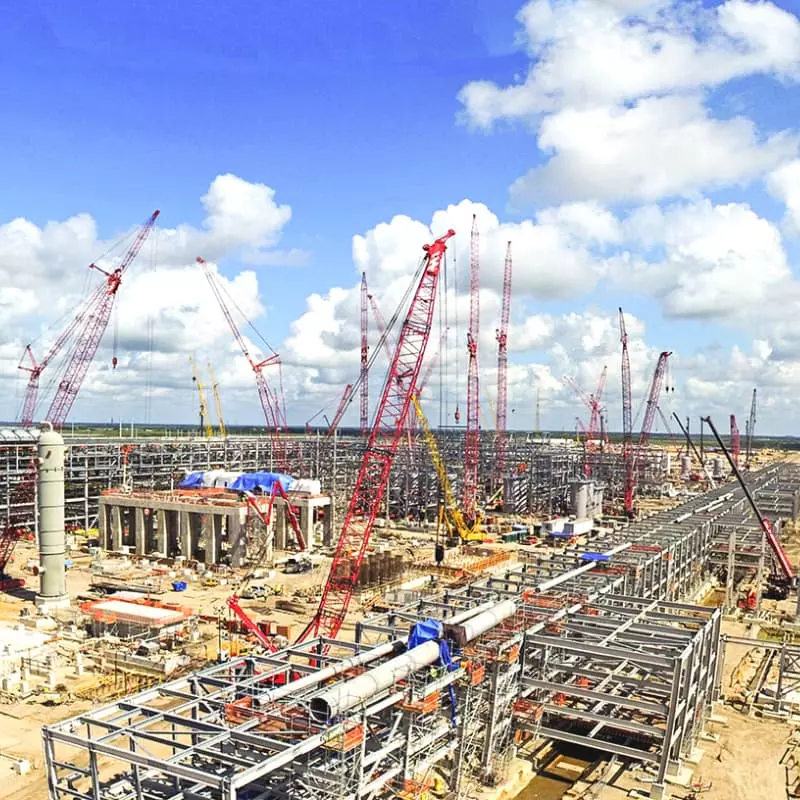 Early planning creates effective logistics
LNG construction projects are truly huge endeavors, moving hundreds of components through multiple continents, across land and sea.
Logistics planning must account for load-out at the fabrication yard, shipping and road transport – including all chartering, customs and permitting - as well as lifting and installation.
This must also be done with flexibility in mind – so that the overall schedule is unaffected, and the schedules of other companies working on site are not disrupted.
Modules should be marshaled smartly on site where necessary, so that they can be delivered and installed in the right order, or on a just-in-time schedule – no matter how complex operations become.
Large inventory unlocks smarter, more flexible projects
LNG construction projects demand huge ranges of equipment from cranes and jacking systems, through trailers and prime movers to the workhorse of modular projects – the SPMT. All must be prepared to operate in the anticipated site conditions and this is something we have wide-ranging experience of, having pioneered the use of SPMTs in sub-zero conditions.
Mammoet's large jacking and skidding systems have broken records, undertaking both the heaviest and highest movements of large oil and gas modules. Whatever the scale of the project, Mammoet has equipment to help realize the largest possible efficiencies.