Explore our other oil & gas services
Simplifying refinery build projects to get online quicker
Refinery construction projects are always under pressure from changing commodity prices and fluctuating levels of demand on the global markets. So refineries must be up, running and profitable as soon as possible - this is acheived by managing complexity and optimizing the critical path.
Refineries are built close to resources, often in some of the world's most remote and extreme locations. Their heavy components may be hundreds in number and fabricated in a range of global locations.
Mammoet's expertise in managing complex multinational heavy transport projects ensures all components arrive safely on site in the correct order, at the right time – so production stays on schedule.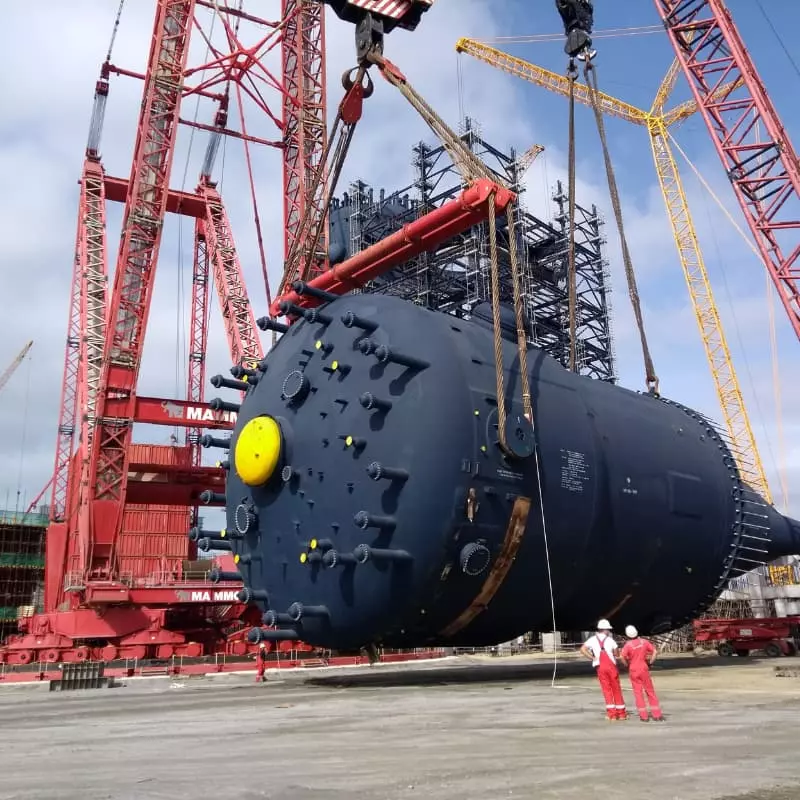 Optimizing the

refinery

logistics scope

to protect schedules
Refinery construction projects are often subject to schedule changes, and so logistics plans need to be resilient and flexible to keep work moving.
Our engineered heavy lifting and transport experts produce integrated plans to protect the critical path and develop engineered solutions to neutralize or mitigate delays and their knock-on effects.
Mammoet provides a single point of contact across work scopes to optimize site activities and installation schedules – maximizing construction efficiency and safety.
This complete overview allows site-wide lifting and transport plans to be aligned, which results in better utilization of equipment, less congestion and lower costs.
The right equipment, from single lifts to entire refineries
Mammoet's expertise is combined with the world's largest and highest-capacity fleet. This allows refineries to be built from the largest possible pieces, and so cut down on integration and handling costs. Where necessary, our scope can change from single movements to handling hundreds of modules weighing tens of thousands of tonnes, cumulatively.
Our investment in innovative equipment such as the PTC and SK ring crane ranges allows us to take on large parts of refinery construction projects from a single physical location. This means more time is spent building, rather than mobilizing and demobilizing equipment - ultimately making refinery construction projects more cost-efficient.