Services
we offer to this sector
Riser pulling

As offshore oil and gas moves to deeper waters, subsea to surface risers and umbilicals are getting heavier. Find out how Mammoet delivers innovative pulling solutions to get production flowing faster and ensure lay vessels are kept busy.

Topside integration

Topside modules are growing in size as owners seek greater project efficiencies. That means more demands on the integration scope, where modules weighing thousands or tens of thousands of tonnes need to be connected. Discover how Mammoet delivers the most effective topside integration projects.

Topside load-out

Heavier topside load-out operations allow owners to build more efficient facilities, in parallel, where labor is readily available. This reduces both the time and cost of first production. Find out how we move these huge structures from the quayside.
Engineering that

shortens the critical path

and lowers costs
Offshore oil and gas projects must offer a fast return on the huge investments made to develop, fabricate and install them. Building facilities in the largest possible pieces at specialist yards means less time spent transporting, handling and integrating them, bringing costs down and ultimately moving the date of first production forward.
Worth potentially billions of dollars, these structures must be handled in the safest way, using the best engineering solutions available. This minimizes risks during transfer between land and sea.
Floatover installation methods offer savings relative to heavy lift vessels, and once the platform is in position, fast and secure riser pull-in is needed so production can begin.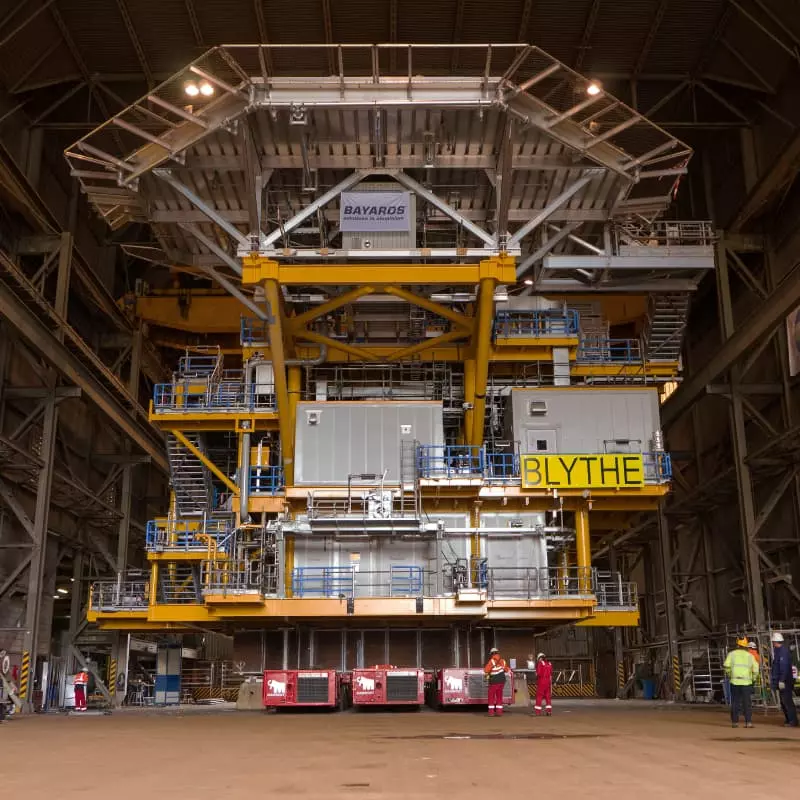 Building transport into the design pays off many times over
We provide engineering expertise to support complex offshore modular construction projects, from design to decommissioning.
During the FEED stage, our engineers consult on ways to make modules and jackets easier to lift, assemble or deliver. Our relationships with key authorities on land and water de-risks the transport phase, as vessel, road and rail logistics fall under one seamless plan.
Once modules arrive at a suitable local port, we help to load-in and integrate them using the smallest possible number of maneuvers. We then load-out the resulting topside during operations that have taken months or years to plan. At end of life, we load-in entire topsides for cost-effective decommissioning on land.
A cuttin

g-edge tool kit to bring production dates forward
We have the largest fleet of SPMT trailers, which can be mobilized in any number worldwide to perform load-in or load-out of modules up to 20,000t. Heavier maneuvers are served using our large skidding systems and strand jacks, with weighing systems establishing a center of gravity to de-risk operations.
Our collection of large ring cranes, with up to 5,000t capacities, are used to integrate smaller platforms, as well as floating facilities. These cranes allow FPSO and FLNG vessels to be built from larger pieces, reducing integration work and costs.
Mammoet's range of heavy jacking systems are used to lift modules for mating with platforms, or for placement on jackets or gravity-based structures.