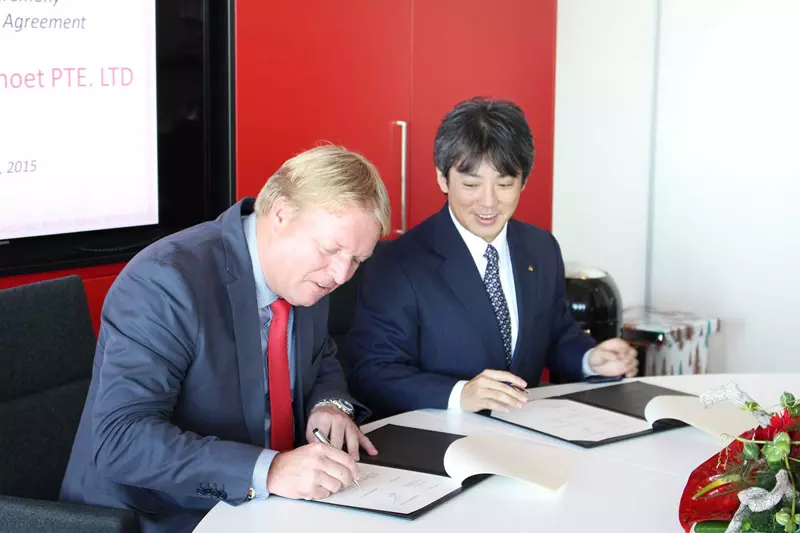 Sector:
Oil and Gas

Mining & Metals
Expertise:
Heavy lifting

Heavy transport
Establishment of a joint venture company in Singapore for heavy equipment operation.
Sankyu Inc. of Tokyo, Japan and Mammoet Holding B.V. of Utrecht, the Netherlands have announced the establishment of a joint venture company in Singapore for the operation of heavy equipment. The two companies signed an agreement on 21 July which creates a new company, Sankyu Mammoet Pte. Ltd., specializing in heavy lifting, transport and engineering services and equipment for the East Asian region. Both companies have an equal stake in the joint venture.
Various sectors including oil, petrochemical, natural gas and steel have a requirement for heavy lifting equipment in the construction of large-scale plants. The development of more efficient construction methods has led to a demand for heavy lifting and transport capacity which is able to manage ever-increasing sizes of components and loads.
Sankyu group has a long history of providing transportation and construction services for various types of plant in the East Asian Region, including Japan and South East Asia. The company has wide-ranging experience in the field, working with clients to optimize their construction processes and find optimal solutions for plant logistics, engineering and installation projects.
Mammoet is the world's largest service provider specializing in engineered heavy lifting and transport. With over two hundred years of experience and an extensive global pool of equipment, Mammoet helps clients improve construction efficiency and optimize the uptime of plants and installations.
The joint venture combines the global reach of Mammoet with Sankyu's specialized knowledge of the East Asia market. By working together the two companies can capitalize on their experience in assisting clients in heavy industries to optimize their construction processes and find innovative solutions to cut downtime and bring plants online swiftly, safely and efficiently.