Winner of the ESTA Awards 2021 in the "Combined Techniques" category
About this news
---
Do you have a question? Feel free to contact us
Winner of the ESTA Awards 2021 in the "Combined Techniques" category
Block I of the Neckarwestheim nuclear power plant (GKN I) was shut down in 2011 and has being dismantled since 2017. EnBW Kernkraft GmbH (EnKK) entrusted Mammoet with the safe removal of the three steam generators, each weighing around 290t, and the pressurizer, weighing around 90t, from the plant building as complete components.
The key challenges of this project were the high-quality requirements of the client and the fulfillment of regulatory requirements for working in nuclear facilities. Over a period of 24 months, all details were meticulously planned in close cooperation with the client during an extensive planning phase.
Mammoet proposed that the existing building crane was used, as well as the steam generator handling system DHS-500 - developed and built in-house by Mammoet – in combination with a hydraulic skidding system. Thanks to this methodology, more time-consuming transport alternatives could be avoided. The DHS-500 was subjected to a load and function test in advance. All execution activities were also tested to ensure a smooth operation.
After EnKK had received full official approval to decommissioning the large components, the steam generators were lifted out one after the other through the very tight geometric conditions of the building. For this purpose, one steam generator each was fixed inside the DHS-500 and attached to the building crane.
Each steam generator was then lifted in a controlled manner and tilted around its transverse axis, allowing the DHS-500 could determine the exact center of gravity, which could previously only be narrowed down to a specific area. In the event of a deviation, the tilting and pivot point could be adjusted by means of a hydraulic cylinder.
The steam generators were then tilted further horizontally until they could be placed on the specially designed skidding saddles of the hydraulic skidding track. The steam generators were then transported out of the building on the skidding track and ejected. At a height of approximately 20m, the crane of the existing semi-portal lifting gantry took the steam generator and set each one down on specially designed transport saddles atop 17 conventional axle lines. In this way, the steam generators could be transported to a set-down area on the power plant site.
The last to follow was the pressurizer. This was lifted out of its installation position by the building crane. In order to reduce the deflection of the auxiliary hoist cable to the permissible level, a special deflection construction was designed, manufactured and installed. After being lifted, the pressurizer was also placed on the hydraulic skidding track and transported to the set-down area using the same procedure.
Thanks to the close and constructive cooperation with the client and working in a two-shift system according to the high safety standards, the large components could be removed from the reactor building safely, efficiently and on time.
Mammoet won the ESTA Award 2021 in the "Combined Techniques" category with this technically challenging decommissioning project.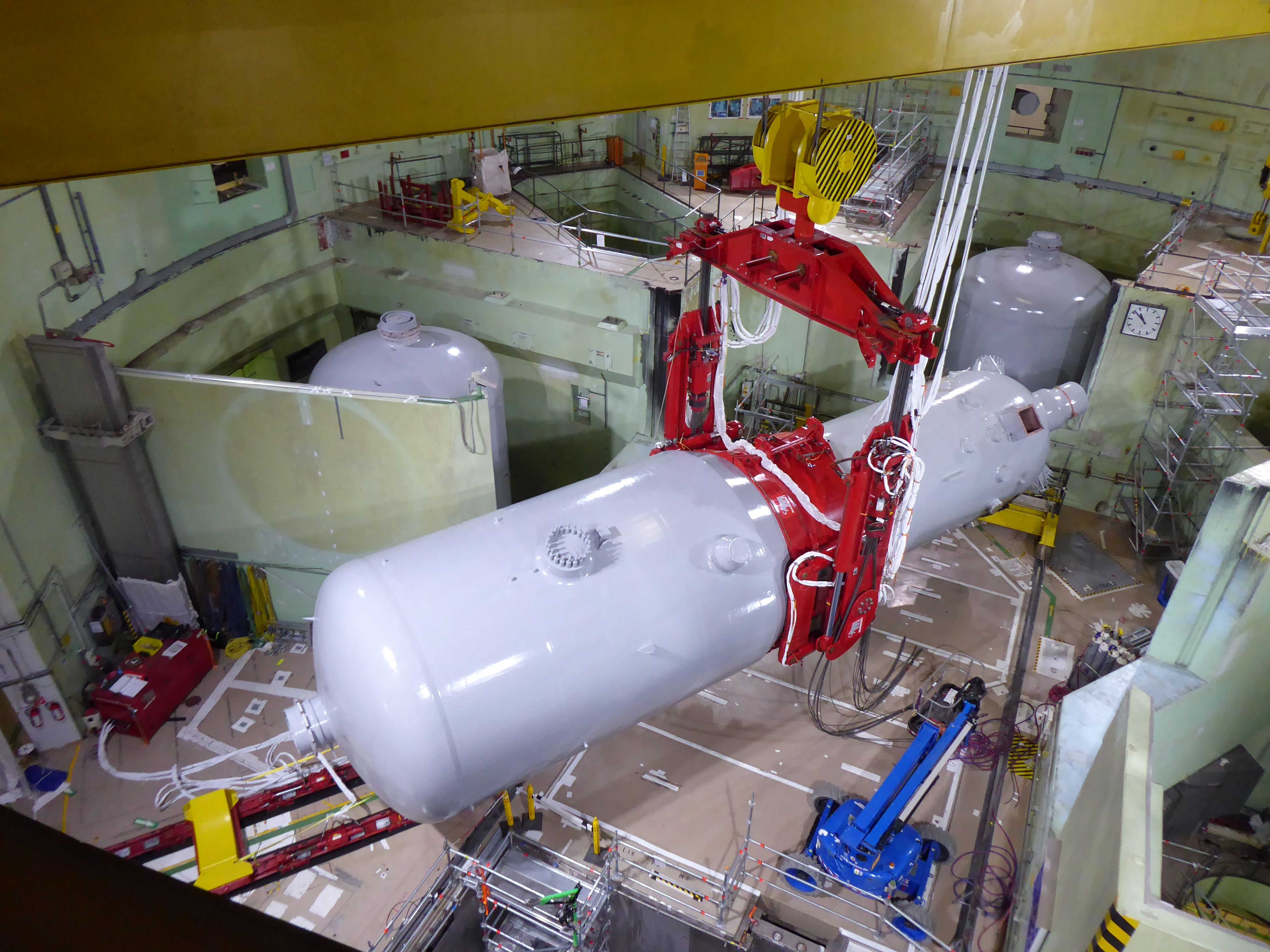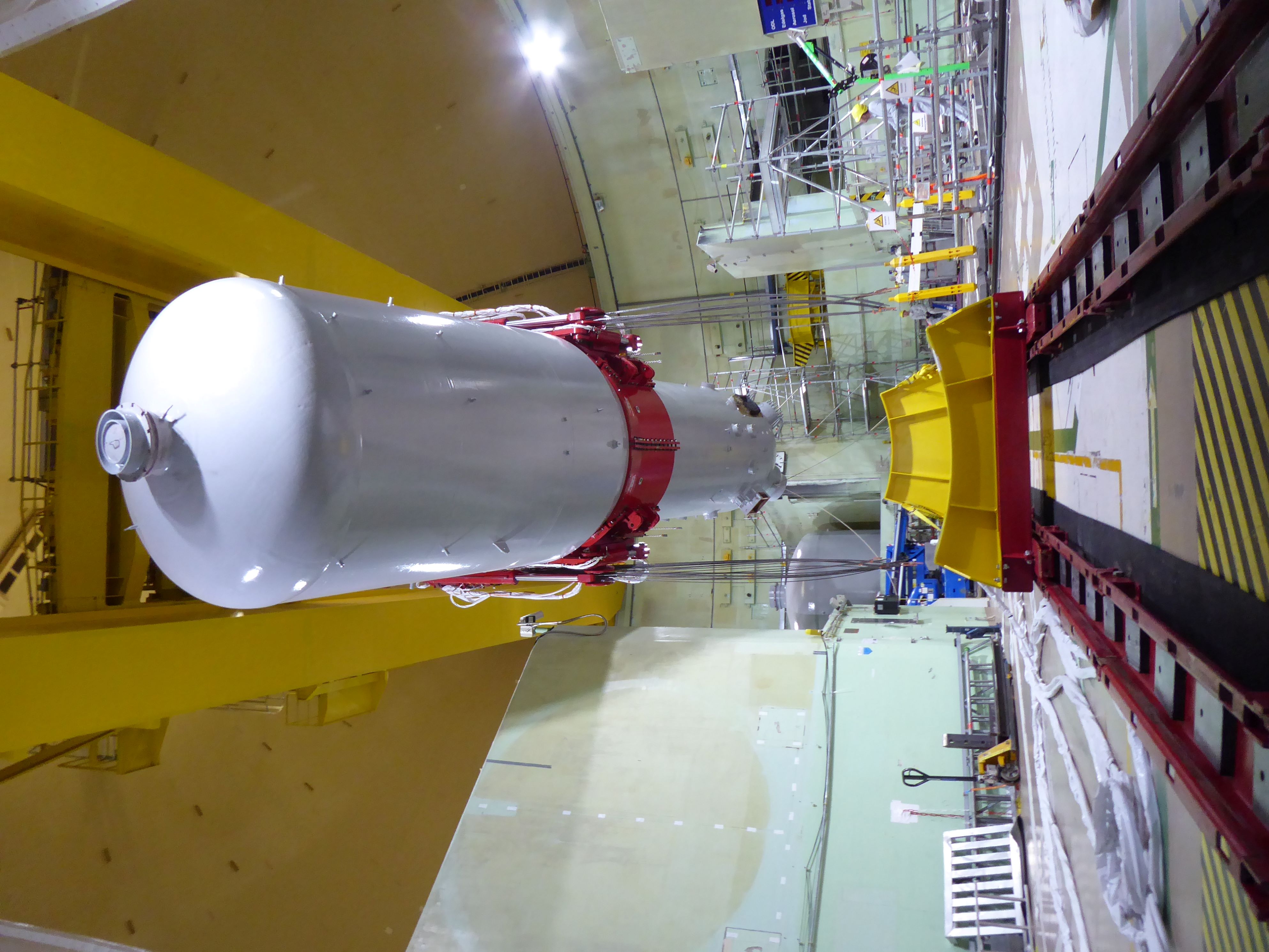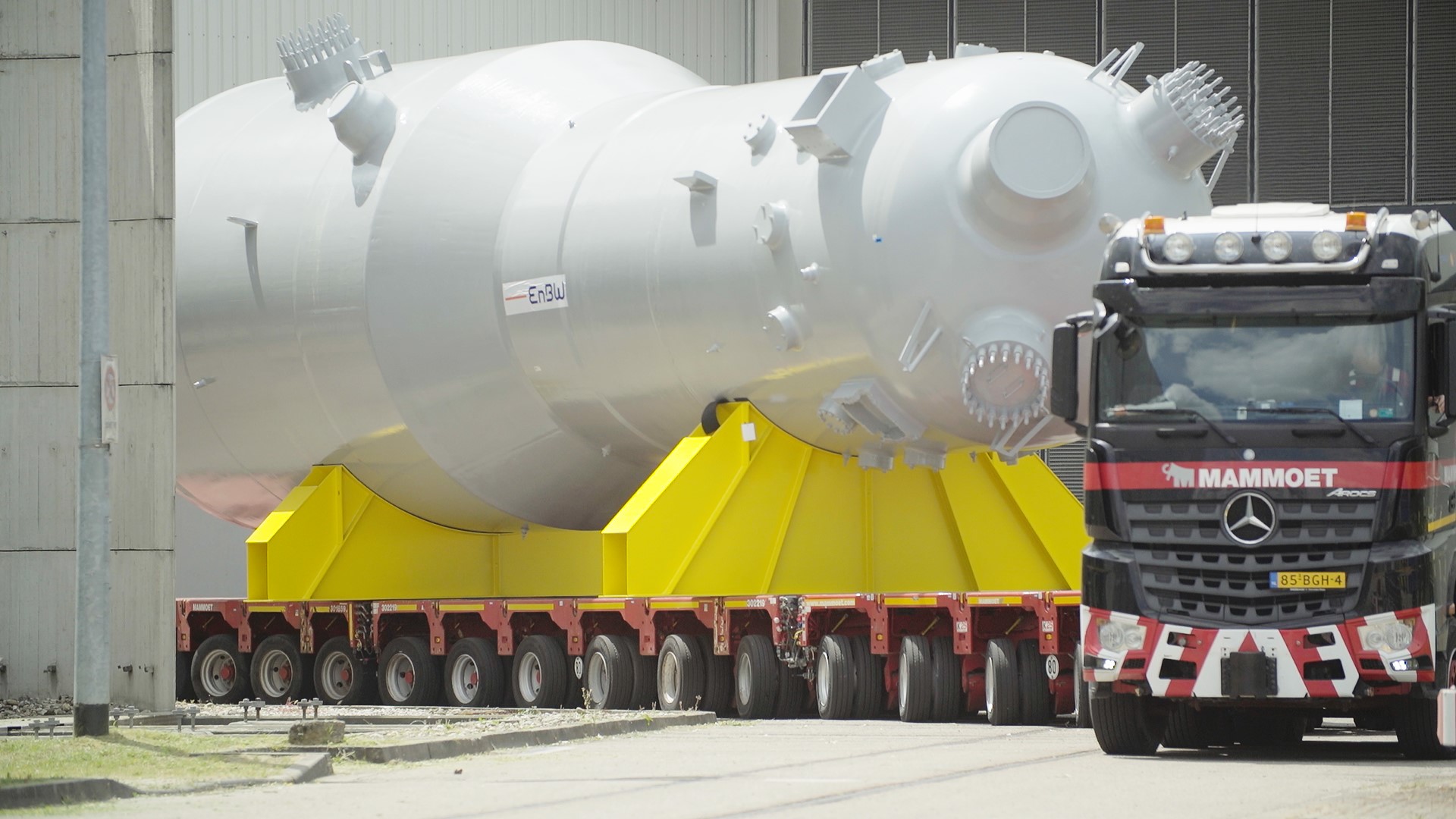 Photos: EnBW Kernkraft GmbH
---