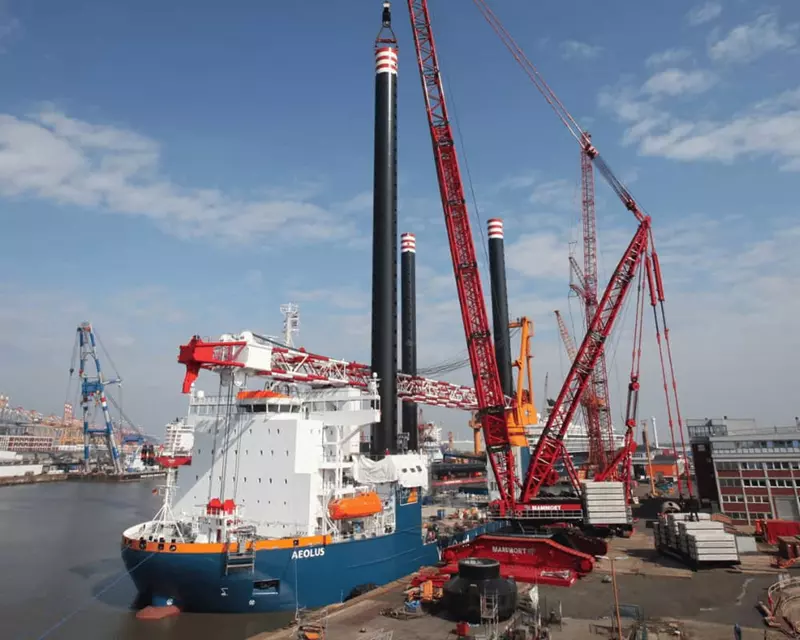 Expertise:
Heavy lifting

Crane lifting
Benefits:
Reduced disruption

Optimized schedule
Size and agility aren't always a trade-off.
The installation of spudcans on an offshore installation vessel traditionally takes place in a dry dock. A tested, yet time-consuming method. When dredging and marine contractor Van Oord asked Mammoet to install four legs and spudcans on the Aeolus vessel, Mammoet came up with a new approach.
By using the world's largest crawler crane, Mammoet was able to carry out the entire installation in the same harbor where other construction activities would later take place – without a dry dock. As a result, Van Oord saved significantly on time and money associated with moving the ship from one construction site to the next.
The Aeolus was docked in Bremerhaven at the yard of Lloyd Werft. It was docked at a quay that was relatively narrow. The operation required a crane that was compact enough to fit on the quay, yet powerful enough to perform the heavy lifts and with sufficient reach to handle the 87-meter-long legs.
For the installation of the four spudcans, the conventional and time-consuming method would be to install these in a dry dock. A faster approach that avoided the use of a dry dock would be most welcome.
"Power and precision combined to save time." Aeolus Bremerhaven, Germany
Mammoet mobilized its LR 13000 for the job, the world's largest crawler crane. Combining sheer capacity with versatility and reach, the crane could take out two proverbial birds with one stone: lifting the legs and installing the spudcans – all with a single crane from a single location.
One by one, Mammoet lifted the legs in a vertical position using a floating crane as a tailing crane.
The Aeolus was then positioned underneath the suspended leg.
Slowly, the leg was lowered into position through a hole in the deck. Once the legs were in place, the spudcans were installed.
Mammoet placed the spudcans on the seabed below the ship and connected them to the platform legs by cables running through the legs.
The spudcans were then pulled up by the LR 13000 crane and bolted to the legs without a dry dock involved.
By bringing the LR 13000, Mammoet combined power and precision and could install the legs and spudcans in the most time-efficient way. It was the effective collaboration between Van Oord, Lloyd Werft and Mammoet that made the Aeolus operation a big success. In the process, Mammoet managed to break a record as well by assembling the LR 13000 in just 12 days. The entire installation was completed in less than three weeks; a procedure that normally would have taken four.