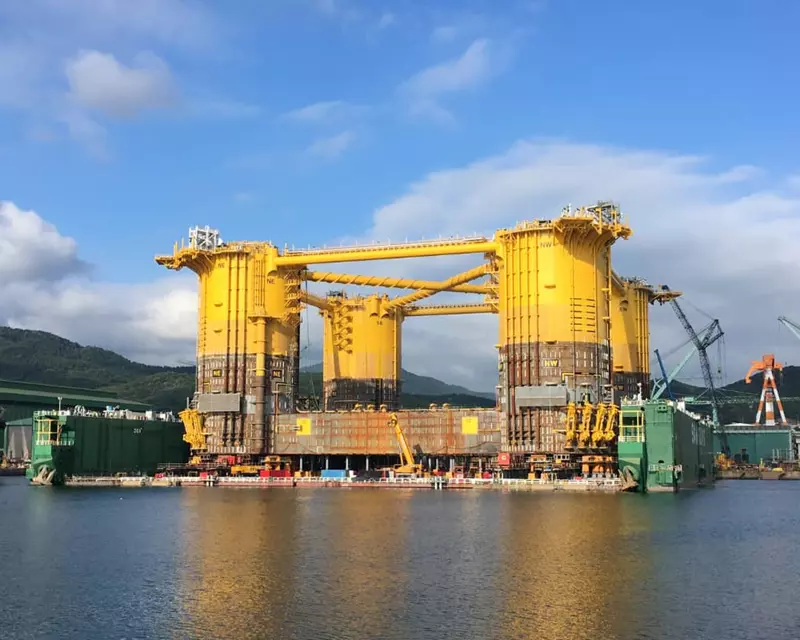 Expertise:
Load-in & load-out

Skidding

Marine transport
A few days prior to the load-out, Mammoet performed the weighing using a 112-point weighing system comprising hydraulic jacks and load cells. The weighing was done with an accuracy of ±0.5%.
To perform the load-out, Mammoet installed 96 skid shoes under the hull, including 48 of Mammoet's 800t skid shoes.
The skid shoes were divided over eight tracks and moved forward using 32 push-pull units. The skidding was controlled using Mammoet's computerized skidding system.
The ballasting and real-time barge monitoring were undertaken by Mammoet's specialist offshore services division. The ballasting was undertaken using ten 24PS pumps, each pump capable of pumping 2,400t/hr capacity, and 47 10PS de-ballast pumps, each with a capacity of 47,000t/hr, to achieve a combined capacity of 71,000t/ hr.
The maximum deflections of the barge were set within a very tight window. Therefore, the maximum skidding speed was set at 8m per hour.
The load-out took 19 hours and the entire operation was completed in five weeks.