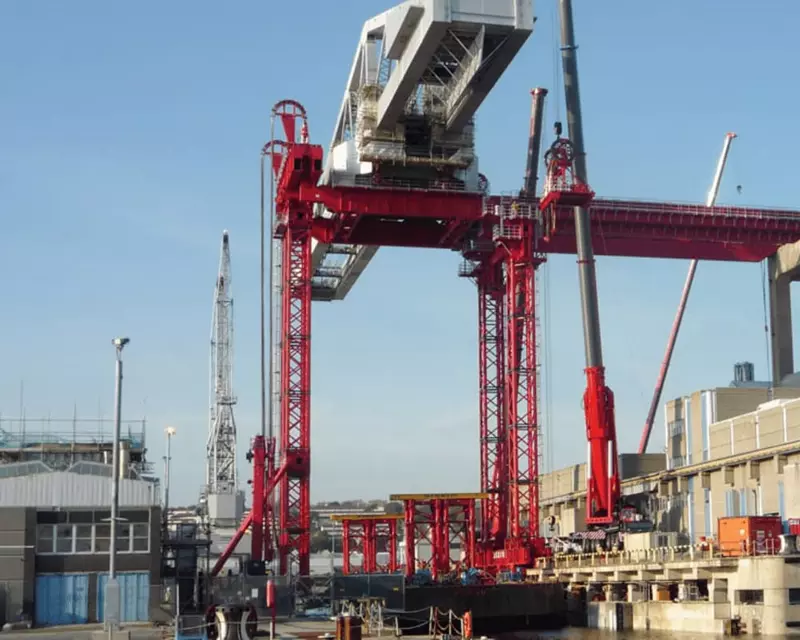 Expertise:
Skidding

Gantry lifting

Jacking
Benefits:
Reduced preparation

Reduced disruption
Minimizing disruption by thinking big. Babcock Marine was looking for a way to remove a massive refueling crane from their Devonport dockyard.
The 1,450-ton, 125-meter-long steel structure was built in the 70s to replace fuel rods in nuclear submarines. But a new gantry system had made the crane obsolete.
Instead of taking the crane apart piece by piece, Mammoet suggested removing it whole and demolishing it elsewhere; a solution that saved thousands of man-hours and kept the yard open for business.
Babcock Marine had been told that demolishing the old hammerhead crane on site was the only way to get rid of it – an approach that would have meant slowly deconstructing the crane from both sides in order to keep the gigantic framework in balance. And besides requiring a significant amount of hours worked at dangerous heights, the offices beneath the crane would have had to be vacated for months on end. Two collateral consequences Babcock Marine wasn't very keen on. But with Mammoet's plan, they wouldn't have to worry about either.
Mammoet proposed removing the crane in one piece. Commissioned to do the job, Mammoet brought in 2,000 tons of equipment, including gantry beams, skid shoes, MSG towers, strand jacks, and four mobile cranes. Mammoet jacked up the 1,450-ton crane in perfect weather conditions and skidded it across the beams. Using strand jacks, the crane was then lowered onto a barge 40 meters below. From there, the largest dockside crane in Western Europe was tugged to its final disassembly location.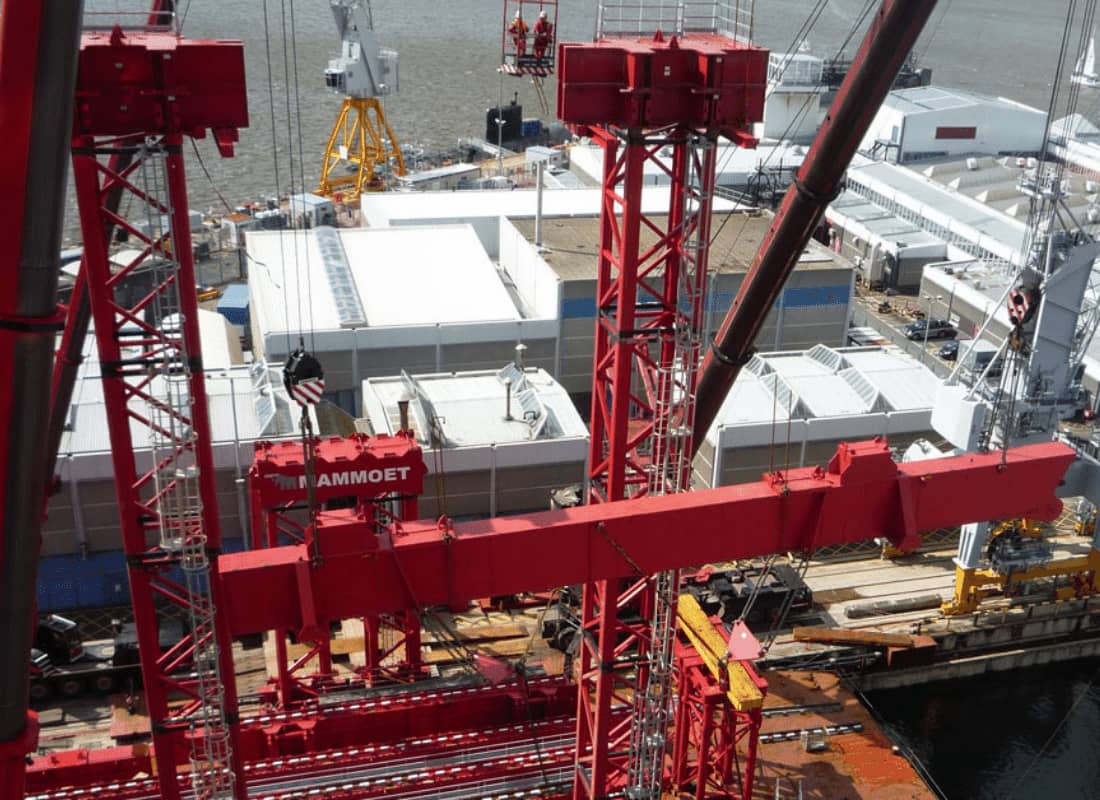 Within twenty hours, the crane was taken down. Less than one-tenth of the previously proposed man-hours were required to get the job done, and total downtime for the dock was greatly reduced. The nearby offices only had to be evacuated for short periods during crane lifts over the buildings, avoiding the need for long-term relocation of several hundred workers.
By having a big plan, Mammoet managed to make the impact on Babcock's operations relatively small while ensuring the safety of the crew involved.