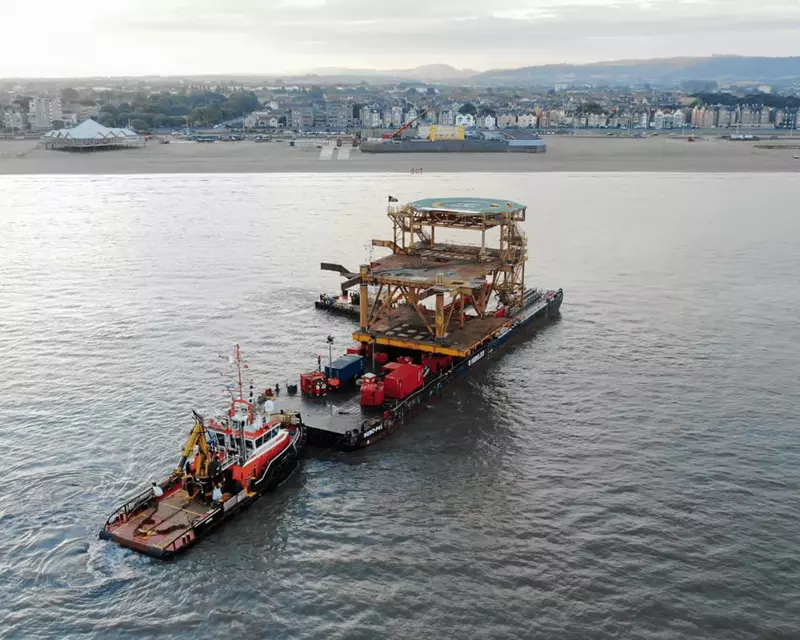 Sector:
Civil Engineering

Offshore
Expertise:
Crane lifting

Skidding

Load-in & load-out
Benefits:
Record breaker

Protected infrastructure

Flexible operations
How something is delivered visually is never normally a prime factor for large-scale logistics projects. The key considerations are always safety, efficiency and practicality.
SEE MONSTER was a unique project in that it was a retired oil platform being brought back to life in a location, and way, you wouldn't expect.
An efficient plug-and-play solution by Mammoet engineers saw the structure transported to its seafront destination in one piece, and in a way that created waves in the media.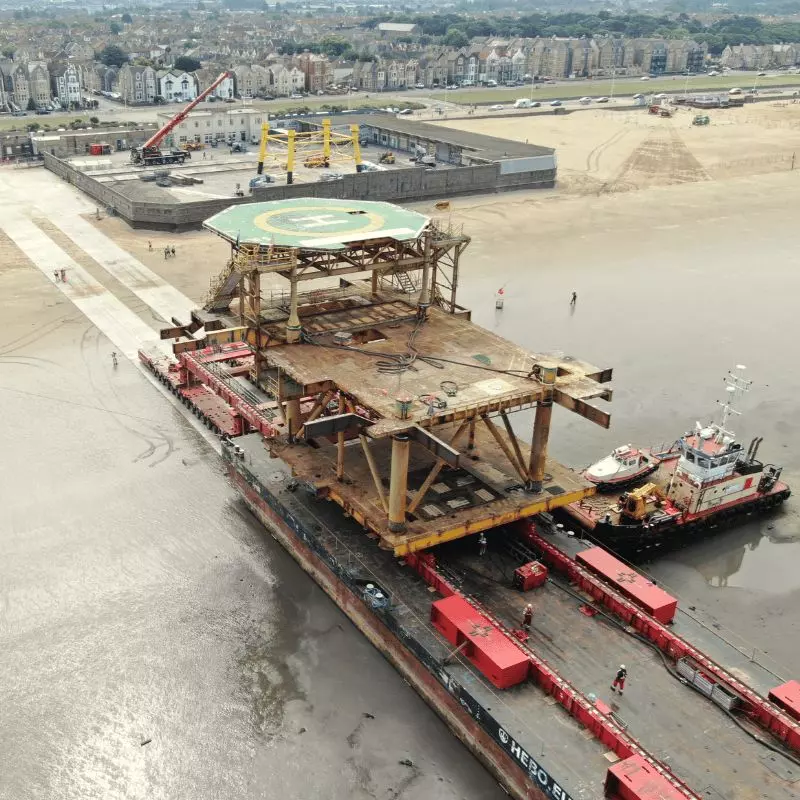 Art meets engineering
SEE MONSTER is a decommissioned North Sea oil platform that in 2022 was transformed into one of the UK's largest ever art installations.
It formed part of UNBOXED: ten original large-scale public creative projects, funded and supported by the four UK governments (England, Scotland, Northern Ireland and Wales). Designed to spark global conversations about reuse and sustainable energy, and standing 35 meters tall, SEE MONSTER featured a garden, a small wind turbine, solar panels and a 10-meter-high waterfall.
Mammoet was involved in the early stages, shortly after a suitable platform had been sourced in the Netherlands by NEWSUBSTANCE – the award-winning creative studio leading the project.
Getting it there in one piece
It became clear early on that if you name the art installation SEE MONSTER then it needed to arrive from the sea. It needed an entrance that was big and impactful.
"It's unusual for us to work with creative and event agencies that come up with these kinds of ideas," explains Richard Verhoeff, Mammoet Sales Director. "Being creatives, they wanted SEE MONSTER to be delivered in a creative way. Typically, you would get it there in the most practical way. We sought to achieve both solutions."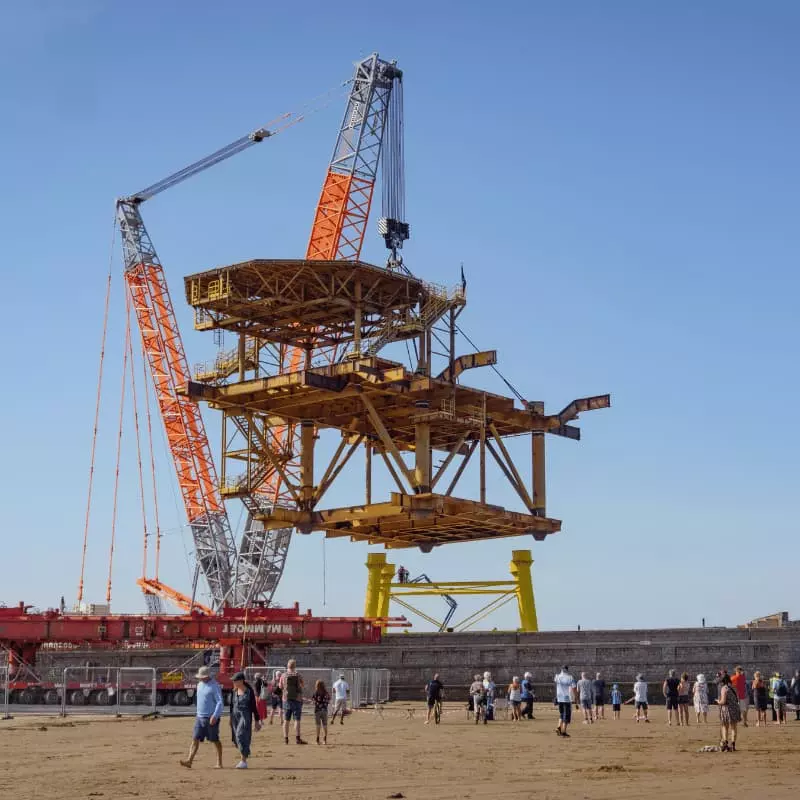 The initial thought was to dismantle the 415-tonne platform, transport its parts by truck and then reassemble them on site.
However, Mammoet engineers suggested an alternative solution that involved transporting it by water, as a complete unit, and a beach landing.
After being collected and sea fastened, SEE MONSTER made the five-day voyage on a 75-meter-long HEBO-P41 barge to its temporary new UK home: the Tropicana – a former outdoor swimming pool site on Weston-super-Mare's seafront.
Sticking the landing
Mammoet has carried out beach landings of transformers in the past; but never for an operation of this scale and with a cargo weighing more than 400 tonnes.
Mammoet always considers how to do things in a safe and efficient manner. Because this project involved a beach landing, it was important that the appropriate testing be carried out in advance.
Mammoet engineers conducted pressure testing on the beach at low tide to ensure it would withstand a landing. Physical tests were carried out on the sand to ensure it had the right density to handle the load pressure.
Skidding it into position
Following a successful beach landing on the morning of Wednesday 13 July 2022, preparations for the skidding operation commenced.
This involved a 2 x 75 meter skid track, with four skid beams and two push-pull units, to skid the topside across the deck of the barge and onto an elevated construction on top of Mammoet's SPMTs (Self-Propelled Modular Transporters).
Aluminum mats were placed on the beach to act as temporary roads for the SPMTs and allow the weight of the topside to be spread more evenly.
The SPMTs drove the topside up the beach to a location next to the Tropicana site, where a Liebherr LR 1750 crawler crane lifted it over a fourmeter sea wall and positioned it onto its base.
To ensure it was within the tolerance of the sheerleg and crane's capacity, a weighing operation was carried out using hydraulic cylinders with load cells on top to lift the platform and determine its center of gravity.

Mammoet also supported the installation of the supporting base in Weston-Super-Mare. This jacket structure consisted of four individual legs with connecting pipe sections positioned using mobile cranes.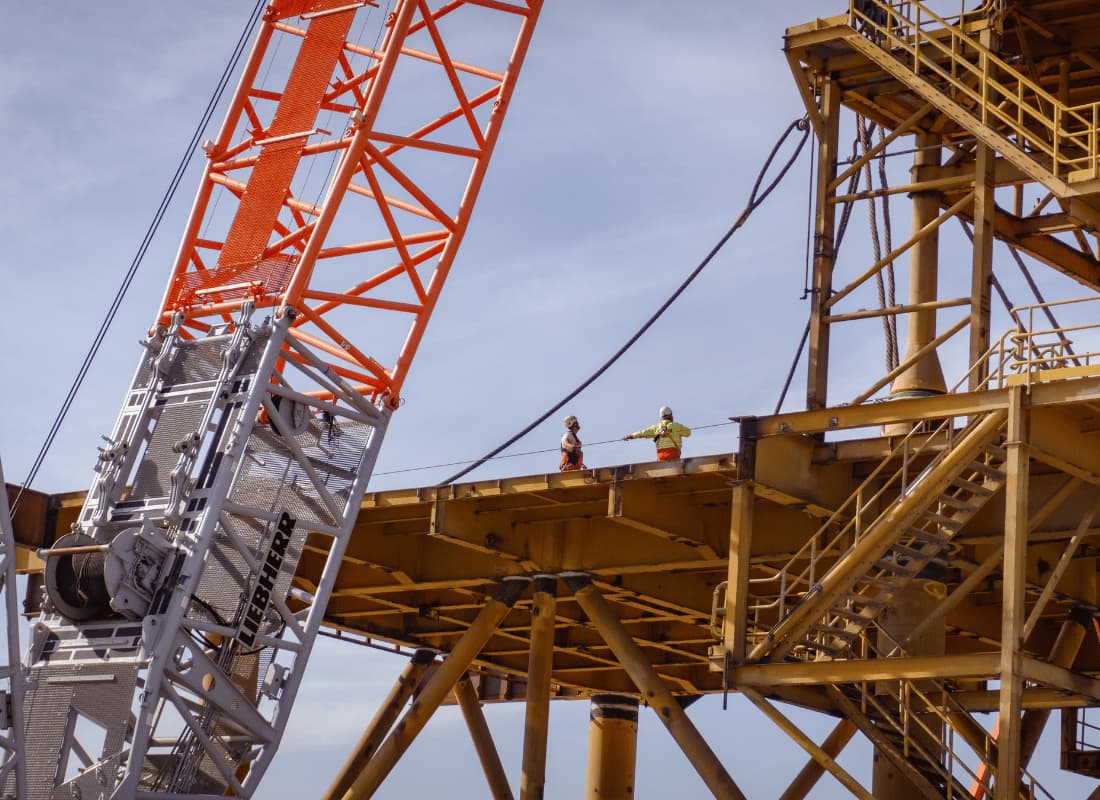 Helping SEE MONSTER roar
SEE MONSTER was a colossal art installation about the importance of reuse and design-led sustainability. Owing to its uniqueness, there was no process or roadmap to follow.
This project demonstrates different heavy lifting techniques all working in combination to achieve something that had never been done before.
Mammoet presented an efficient plug-and-play solution that didn't require dismantling and reassembly, saving the client time, resources and cost; while also giving SEE MONSTER the memorable entrance it deserved.
"With the combination of techniques used to get it where it needed to be, in a way it needed to be, we helped to convey and amplify its message," says Richard. "Our approach made it possible to deliver SEE MONSTER in a grand way that was witnessed by thousands."