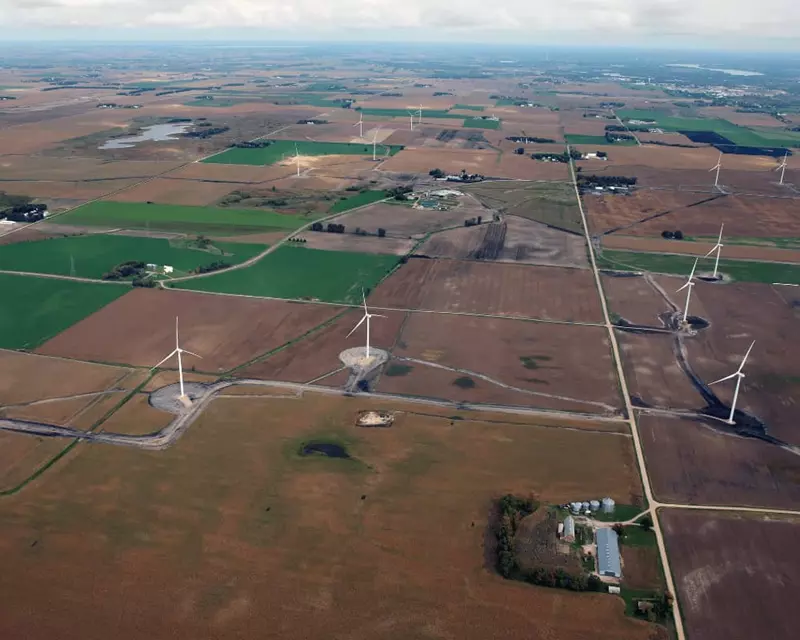 Expertise:
Heavy transport

Heavy lifting

Crane lifting
Benefits:
Reduced preparation

Optimized schedule

Protected infrastructure
Rapid reaction delivers wind energy triumph.
The wind turbines at the Black Oak Getty Wind Project in Stearns County, Minnesota, are 95 meters from base to top of the tower – two meters taller than the Statue of Liberty.
Transporting, assembling, and installing 39 of these towers was always going to be a challenge. But with torrential rain, lightning and deep mud to contend with – completing the project on time looked like an impossible task. It took a high-powered performance from Mammoet to bring 78 megawatts of wind power to the Minnesota grid on time.
Sempra Renewables' Black Oak Getty wind farm generates sustainable power for 31,000 homes in Stearns County, Minnesota. Working with the builder, Amec Foster Wheeler, Mammoet was responsible for the off-loading, pre-assembly, installation, tower cabling, and mechanical turn-over of the 39 Vestas V-110 turbines.
To maximize efficiency and optimize resilience, the scope of work was split between turbine technicians, electrical technicians, and crane operators, each with a dedicated support service comprising tooling technicians, mechanics, safety advisors, quality control, and management. To maximize cost-effectiveness, a fluid approach was taken to manpower, with personnel being brought in only when needed.
On top of the predictable challenges, Mammoet had to overcome a major unforeseen issue: the weather. The region experienced exceptionally heavy rain, which transformed the compacted soil on which the turbines were to be erected into a quagmire. With cranes being used to maneuver large, heavy sections of wind turbines, maintaining solid, stable access to the site was crucial for the project to be completed safely and successfully.