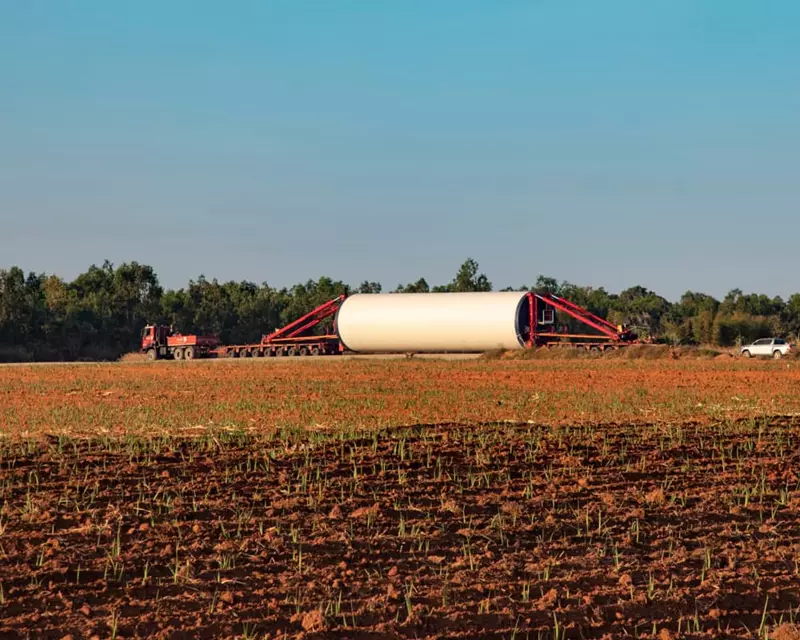 Expertise:
Project logistics

Crane lifting

Heavy transport
Benefits:
Protected infrastructure

Reduced preparation

Simplified management
Demonstrating its expertise in logistics, civil works, and the complete turnkey solution, Mammoet completed the transportation of heavy wind components.
Mammoet was contracted for the full-service package: the transportation, craneage, and installation (TCI) scope of 13 wind turbine components measuring up to 5.4m in diameter and weighing up to 125t, through a challenging 1,000km route to the Rom Klao wind farm in Mukdahan, eastern Thailand.
With a hub height of 162m, these were the tallest wind turbine generators (WTGs) in South East Asia. This project faced numerous challenges, including the sheer size and scale of the WTG components as well as the logistics and routing of components over such a vast distance, with varying obstacles and levels of infrastructure across the country that required additional civil work.
In order to overcome these challenges, Mammoet utilized its local routing and engineering expertise and invested in specialist wind equipment, such as the unique RA4 tower clamps and the new K1650L tower crane.
Manufactured specifically for the company to transport larger and heavier components, the tower clamps enabled Mammoet to comply with the local weight and height restrictions. Similarly, the K1650L tower crane was used as a cost and time-effective solution to install the WTGs.
"This is a complex scope of work and route to be undertaken," explained Project Manager Matt Thomson. "We are really pleased to be involved in a project of this scale. It really showcases how we brought together different expertise within the Group to achieve the safe and successful completion of every stage."
"Our new tower clamps allowed us to overcome the large diameters of the tower sections and reduce the traveling height to pass under the restrictions on the route. Combined with the tower crane, our equipment and methodology have driven project efficiency".