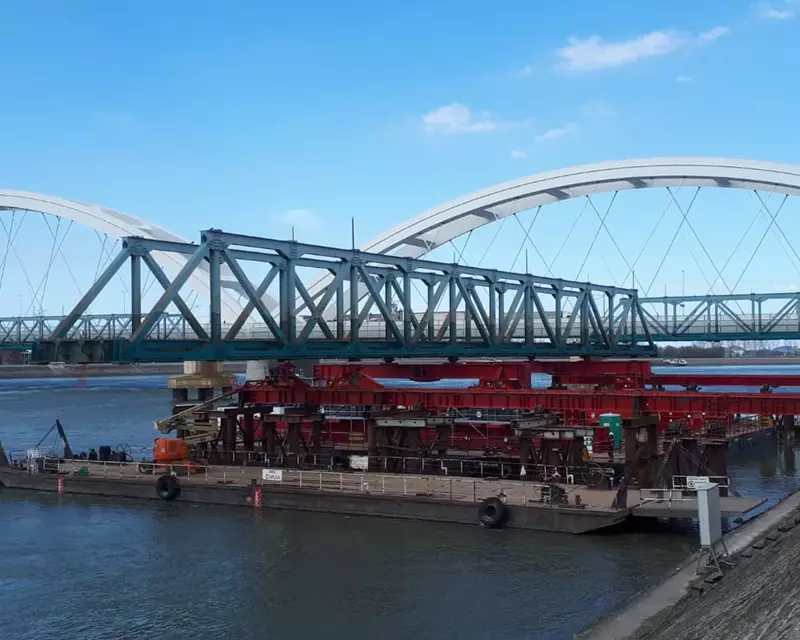 Expertise:
Load-in & load-out

Marine transport

Jacking
Mammoet performed the removal of a bridge over the Danube river in Novi Sad, Serbia.
The height of the old bridge limited river traffic during high water levels and its curve radius reduced the fairway width. Its removal would provide safer and more efficient river navigation for the city.
A solution was needed to perform the removal operation while overcoming the river's strong current. To achieve this, Mammoet mobilized several of its transportation, jacking, and ballasting technologies to complete the project as a single point of contact.
The bridge was to be removed in sections, with four spans weighing 200t and measuring 75m long, while the fifth weighed 360t and measured 200m long. They would be jacked up before being floated over to a jetty, where they were loaded in.
Equipment was assembled and installed at an assembly area, 20km from the bridge. The Mega Jack 800 was installed with modular spreader beams on a ballastable modular pontoon. With a capacity of 800t per tower, Mega Jack 800 allowed the load to be lifted and distributed appropriately while making the best use of the pontoon's limited space and capacity.
This was especially important during the pontoon's navigation to the jetty from its initial position between the bridge piers.
Mammoet connected 20t capacity winches to each corner of the pontoon and secured them to the piers throughout the jacking operations. Three tugboats also pushed and guided the pontoon at all times. At the jetty, the winches were used to adjust the pontoon into position.
To remove the bridge spans, the Mega Jack 800 was used to jack-up each span, which was then transported to the jetty on the pontoon. The pontoon was de-ballasted to perform the jack-down operation over the jetty and the Mega Jack 800 unloaded the spans onto a skidding system.
The removal of the bridge will eliminate congestion on the European Rhine-Danube Corridor, enabling improved transport safety and more efficient river navigation on the city's waterway. This will help the Danube region with its aim to increase cargo transport on the river by 20%.