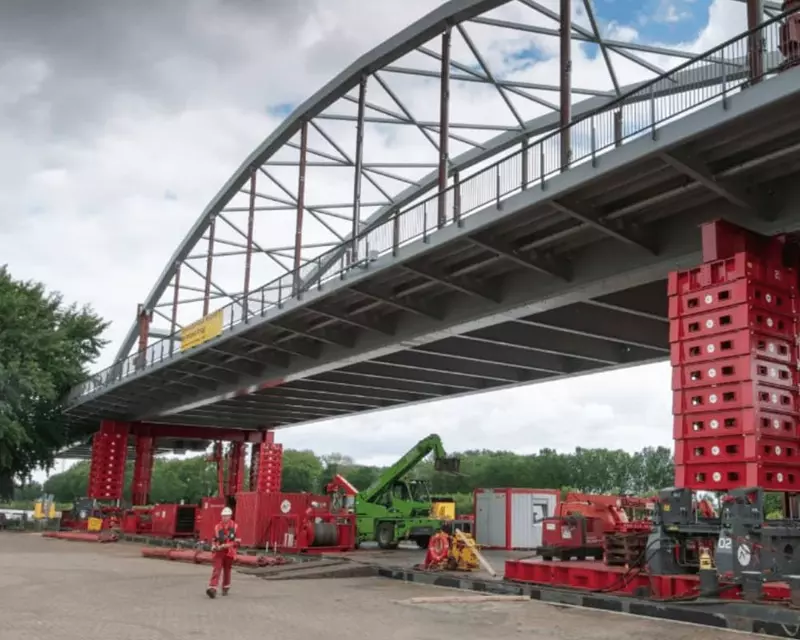 Expertise:
Heavy transport

Marine transport

Jacking
Benefits:
Reduced disruption

Parallel operations
This achievement marked the first time that Mammoet used the Mega Jack 800.
This project to exchange the Loenersloot Bridge was undertaken in a number of phases and involved the use of climbing jacks, SPMTs, barges, the Mega Jack 800, strand jacks, a heavy skid system, and 700/500t mobile cranes.
Phase one saw the load-out of the 1,050t, 124m long arch bridge onto a 66m x 19m barge, using 44 axle lines of SPMT.
Phase two involved the site move and connection of two 20m approach spans to the arch bridge. LTM 1500 and AC 700 cranes were used to install the approach spans which extended the bridge to a length of 144.6m and increased its weight to 1,250t.
Phase three included the removal of the arch of the bridge with Mammoet undertaking the transportation of the bridge deck and arch to the assembly location. For the journey of approximately 120km to Nigtevecht, the bridge deck was transported on three connected barges and the bridge arch by an inland vessel.
Phase four saw the assembly of the bridge arch at Nigtevecht, a process that used LTM 1400 and LTM 1500 cranes to lift the arch off the vessel. This vessel was then removed, and the bridge deck was positioned underneath the arch.
Phase five used the Mega Jack 800 to jack up the 1,250t bridge to 9m from the barge deck. The Mega Jack 800 is made up of jacking towers, each with a capacity of 800t, and has been designed by Mammoet to be totally scalable to accommodate a wide variety of projects.
Phase six involved using a 10m high and 50m long gantry system over the rail track to remove the old Loenersloot bridge approach span which weighed 430t. On top of the gantry, a skidding frame was installed to support four 200-t-strand jacks. The old bridge approach span was then transported using 20 axle lines of SPMT in phase seven of the project.
The remaining phases eight, nine, and ten saw the removal of the old bridge and the installation of the new one in a highly efficient operation that took just 7.55 hours. During this time there were two four-hour periods when the canal was closed for inland navigation. After the first four hours when the old bridge was removed, the canal was opened for two hours to allow passage for the ships that were waiting.
The transportation of the new 330t bridge approach span used 20 axle lines of SPMT. The jack-down of the old bridge to demolition height again made use of the versatile Mega Jack 800.