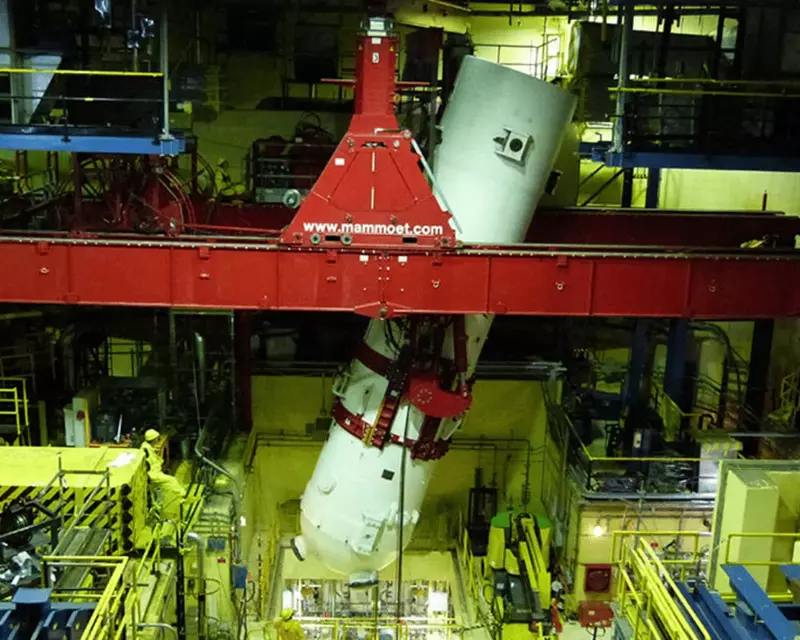 Expertise:
Heavy transport

Gantry lifting

Jacking
Benefits:
Increased safety

Protected infrastructure
Engineering acrobatics extend nuclear life.
When operator NASA was preparing the Embalse power station for a major refurbishment after 30 years of hard labor, it didn't expect a chance to meet with Mammoet to lead to a nuclear rebirth by participating in one of the most challenging nuclear steam generator replacements.
In just 50 days, a one-of-a-kind engineering and lifting project would see four steam generators replaced in a space originally thought inaccessible. The project was a key factor in protecting 683MW of power-generating capacity in Argentina and led to new lifetime extension options for nuclear power stations across the world.
Located in central Argentina, the Embalse nuclear power plant was one of only a few CANDU-6 nuclear power plants across the world. It supplied a steady and cost-effective source of electricity but had reached the end of its operable life. A life extension project had already been considered but faced the most difficult challenge due to problems in accessing the steam generators, which needed to be replaced.
The biggest issue faced was the confined and congested space in which each of the four 180-ton steam generators was housed, accessible only through five different rooms at multiple elevations. These were never designed to be replaced.
NASA presented Mammoet with the scope of work for developing a solution: the 19-meter steam generators would be cut in half while in position, with the top drums refurbished inside the plant and the lower sections (cartridges) completely replaced.
Mammoet designed, prototyped, and tested a set of telescopic gantries, lifting collars, and strand jacks.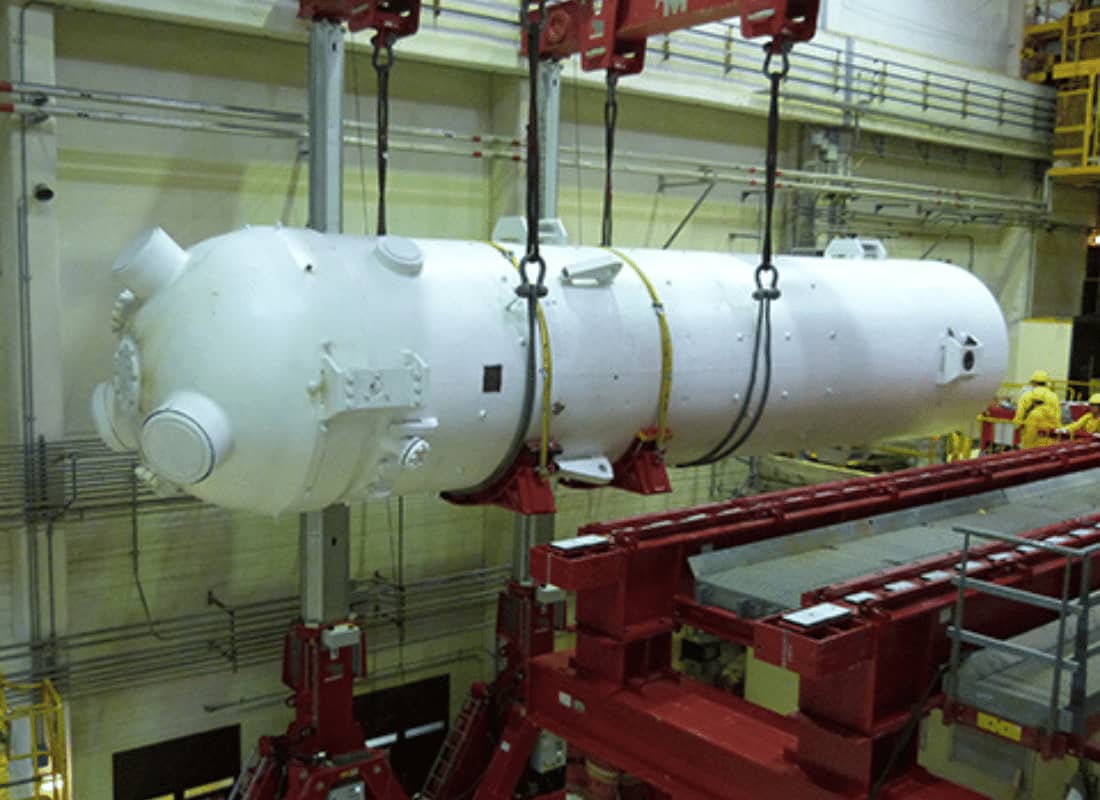 This complex configuration provided the 360-degree maneuverability needed to lift, rotate and guide the cartridges from their permanent housing, through openings with only 10 millimeters of clearance.
Outdated information and 30 years of sludge build-up made it impossible to pinpoint the center of gravity. Mammoet developed a trunnion band that could be adjusted to the exact location of the center of gravity – a fitting and safe solution as the actual position proved nowhere near the previously assumed location.
By identifying these and other risks well in advance, considerable savings were made in cost and time.
Mammoet safely completed the removal and replacement exercise in just 50 days. By the beginning of 2019, the Embalse power station was back online and safeguarding electricity generation until 2049.