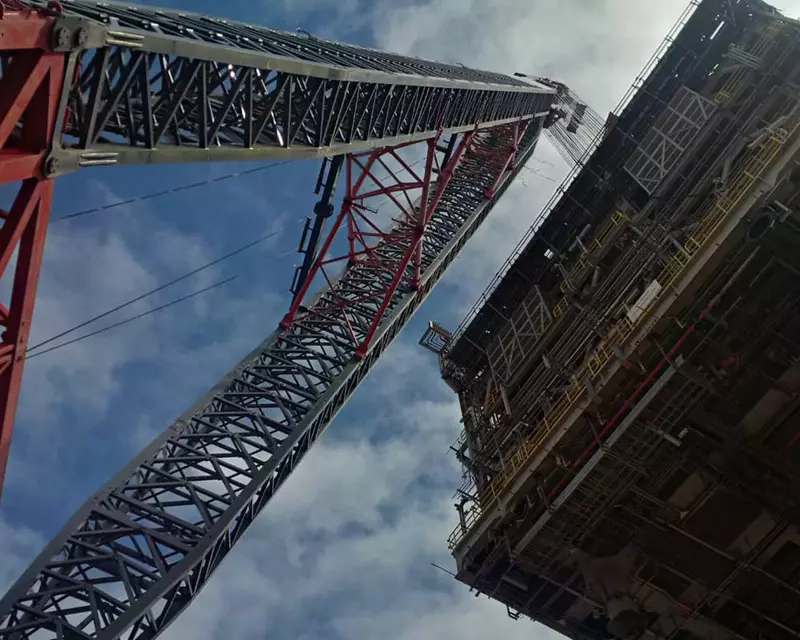 Expertise:
Heavy lifting

Load-in & load-out

Crane lifting
Benefits:
Increased safety

Reduced disruption

Parallel operations
Mammoet performed the heavy lifting and installation of 40 modules, weighing up to 3,000t, onto the P-74 FPSO (Floating Production, Storage, and Offloading) vessel in the south of Brazil.
The lift of 3,000t was the largest commercial lift by a land-based crane. The modules ranged in weight and dimension, between 80t to 3,000t.
The SK350's high capacity offered the customer the opportunity to fabricate and join modules M09A and M09B on-site, avoiding the long process of installing them separately.
Mammoet's SK350 crane was rigged in its current biggest configuration with a 49m ballast radius and 4,000t ballast. The main boom is a 130m long A-frame design on a very stable 18m wide base. The crane is equipped with a 4,000t main winch and 600t auxiliary quick winch systems.
One of the advantages of using the SK350 was its ability to lift all the modules from their fabrication location in the yard and minimize the need for additional equipment on-site to transport the modules.
As the SK350 cranes give a much greater reach, it was able to lift all modules from their fabrication location, unlike alternative solutions which required the modules to be moved closer to the crane using SPMTs.
For the 3,000t lift of module 'M09' – the combined M09A and M09B – the SK350's 4,000t winch system and high-speed slew were used. The crane was positioned at a radius of 86m and was even extended to over 142m for certain lifting operations.
Despite the site being located in the windiest region of Brazil, the fact that the SK350 has a 14 m/s operating speed reduced the impact of the challenging wind conditions and enabled Mammoet to complete the lifting operation ahead of schedule.
Throughout the project, Mammoet lifted a combined total weight of over 36,000t (including tackle). The project lasted approximately four months.