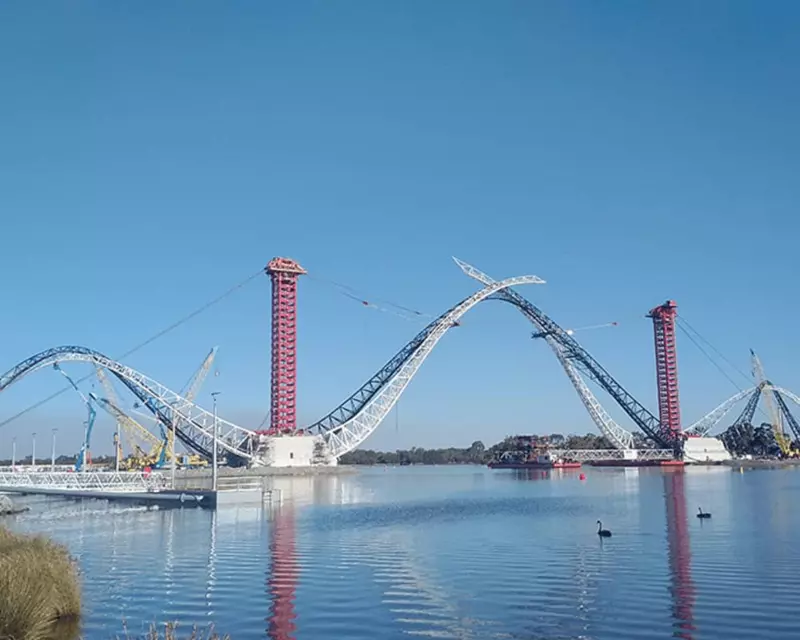 Benefits:
Optimized schedule

Parallel operations
Mammoet successfully lifted both halves of the central arch of the new Matagarup Bridge, weighing 400t, using the innovative Mega Jack in Perth, Australia.
The steel components (aka wishbones), measuring 120 m long x 35 m wide, were carefully transferred from the site in Burswood onto barges on the Swan River.
The barges, fitted with temporary towers, then floated the wishbone to the designated pier ready for the lifting operations. Mammoet utilized its innovative Mega Jack system, built as a construction tower 50m above one of the bridge piers, and acted as a temporary support.
Using strand jacks, Mammoet pulled each wishbone up within a single day. It was then held securely by the Mega Jack tower until the second wishbone was raised in the same manner and welded to create the complete central bridge arch.
Mammoet executed the complex lifting and installation of the arch, reaching 72m above water level at its highest point and comprises of two 400t steel wishbone components, that form the large central arch of the bridge.
The new Matagarup Bridge, located on the Swan River, will connect the eastern side of Perth city with the Burswood Peninsula, where a new 60,000-seat stadium was recently opened. Built for pedestrians and cyclists only, it forms an important part of the transport options for major events and provides a permanent link for residents and visitors to enjoy parklands and other entertainment.