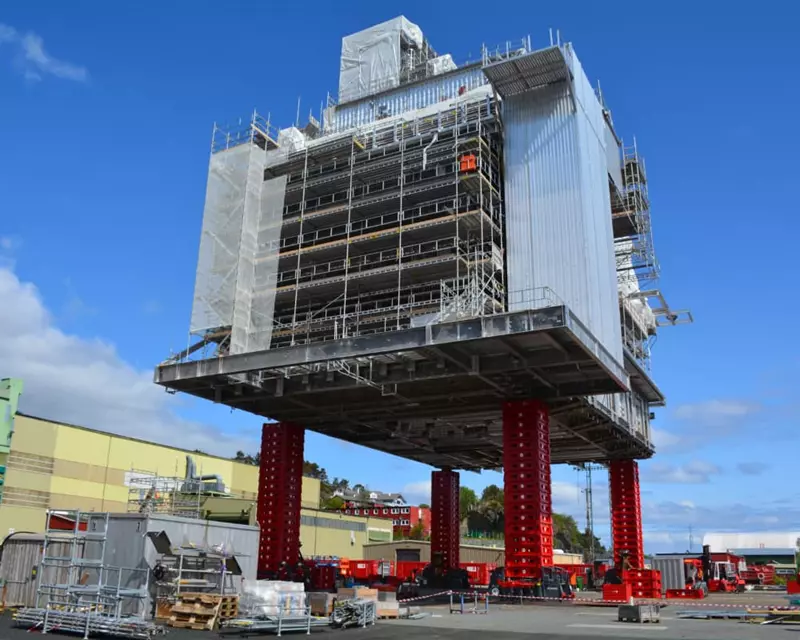 Expertise:
Heavy transport

Heavy lifting

Jacking
Benefits:
Reduced preparation

Increased safety

Parallel operations
This is the first time the Mega Jack 800 was used in Norway and in the oil and gas sector.
The jack-up operation was prepared in several stages; firstly, the base units were positioned onto skates and maneuvered into position before jacking down using hand jacks.
Function tests were then carried out before the jack-up operation could begin. In parallel to the preparation of the Mega Jack 800, 72 axle lines of SPMT were mobilized for transportation of the lower module.
The upper module was jacked-up using the Mega Jack 800 four cassettes high, then to 20 cassettes high at a rate of four cassettes per hour up to 13m – the highest ever jack-up operation performed by the Mega Jack 800 at that time.
The locking cassette was then inserted, and the lower modules were transported from the manufacturing area outside to the load-out quay using the 72 axle lines of SPMT. The modules were then mated by driving the lower module under the upper module, aligning it with SPMT and jacking down the upper module onto the lower module. The combined module, weighing 1,600t, was placed onto support stands using SPMT.
The Mega Jack 800 was then jacked-down empty and demobilized, along with the SPMTs. The entire operation took ten days in total from mobilization to demobilization, with the jack-up operation only taking five hours.