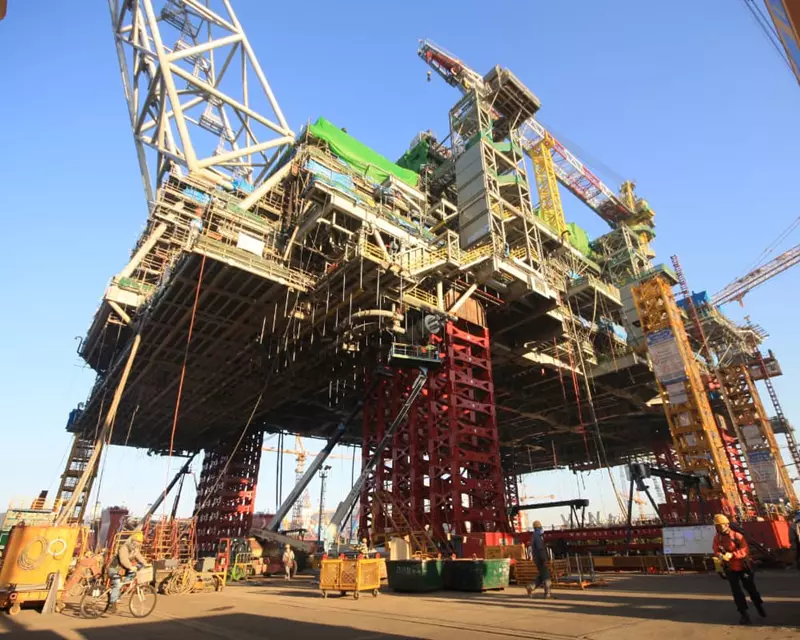 Expertise:
Load-in & load-out

Marine transport

Jacking
Benefits:
Increased safety

Optimized schedule
Mammoet used its Mega Jack system to jack up one of the world's largest single integrated topsides in Okpo-Dong, South Korea. The 37,000t topside was jacked to a height of 25m in just over seven hours.
The jack-up was required to install the load-out skid frame underneath the platform. The 8,420t frame was loaded in from the barge, after which the topside was lowered on the frame.
One day prior to jacking, a calibrated weighing was executed with 96 load cells of 750t capacity placed on top of the 48 installed jacks of the Mega Jack system. This was done to determine the precise weight and location of the center of gravity of the platform.
The Mega Jack system, which is a Mammoet innovation and development, is able to jack-up massive loads to unprecedented heights, by simply stacking up jacking beams until the load is at the desired elevation. It can be used in various configurations, with every single tower having a capacity of over 5,000t.
For the Chevron-operated Wheatstone Project, three towers were installed at each of the four jacking points, giving a combined capacity of 60,000t.
From the central control unit, the jack-up operator operated the system by means of the fully computerized control system, which included data logging, weather data, and optional dimensional surveys. The lift took seven hours to complete – considerably less time than traditional methods would have allowed.
Next, Mammoet loaded out the Wheatstone topside. It was jacked to a height of 25m in just over seven hours using the Mega Jack system.
Mammoet executed the load-out using the pulling technique with ten 900t capacity strand jacks.
Mammoet also installed and operated a primary ballasting system on the largest barge in the world, Heerema's H851, and performed a 3D survey of the operation.
The monitoring of the ballasting and barge levelness during this massive operation was measured and recorded by Mammoet's integrated real-time monitoring systems. Management of the load-out phases from one central control room ensured operational fluency.