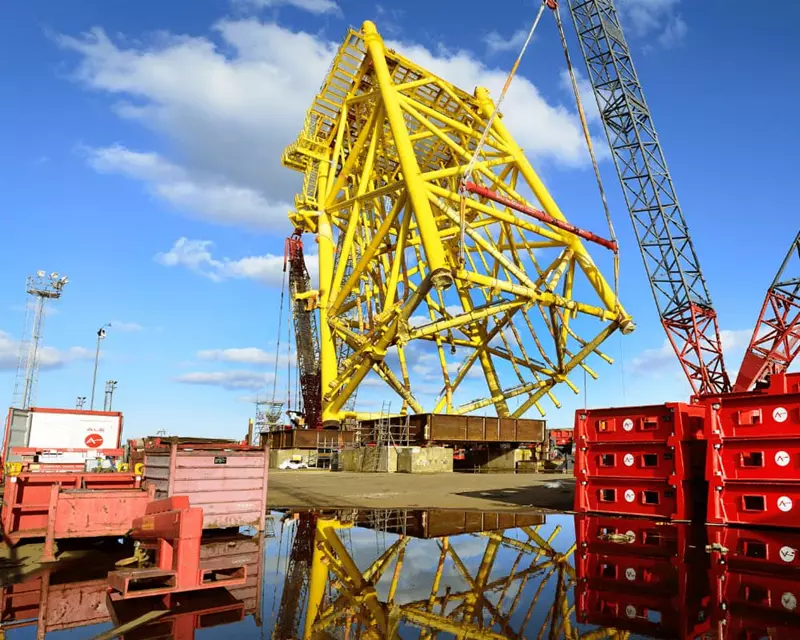 Expertise:
Load-in & load-out

Crane lifting

Jacking
Benefits:
Optimized schedule

Parallel operations
As part of a major wind farm project, Mammoet was given the scope of lifting components, performing multiple site moves, rolling up and jacking up the jacket, and loading out the jacket and topside at the fabrication site in Lowestoft, Suffolk.
Mammoet used its award-winning Mega Jack 800 for the first time in the UK to jack-up a 954t jacket to 14m high.
During the project, Mammoet lifted hundreds of components using cranes, telehandlers, and chain blocks. The site moves were also performed using 16 axle lines of SPMT in a configuration of 4 files 8.
One of the most critical scopes of the project involved the roll-up and jack-up of a jacket, weighing 954t. Prior to the roll-up operation, four jacking towers were set up with the first layer of bracing, which saved several days of set-up/installation time. The roll-up was carried out using Mammoet's AK912 and the LR 1600-2 cranes.
The jack-up operation took place one day after the roll-up and utilized Mammoet's Mega Jack 800 jacking system. This is the first time the Mega Jack 800 has been used in the UK.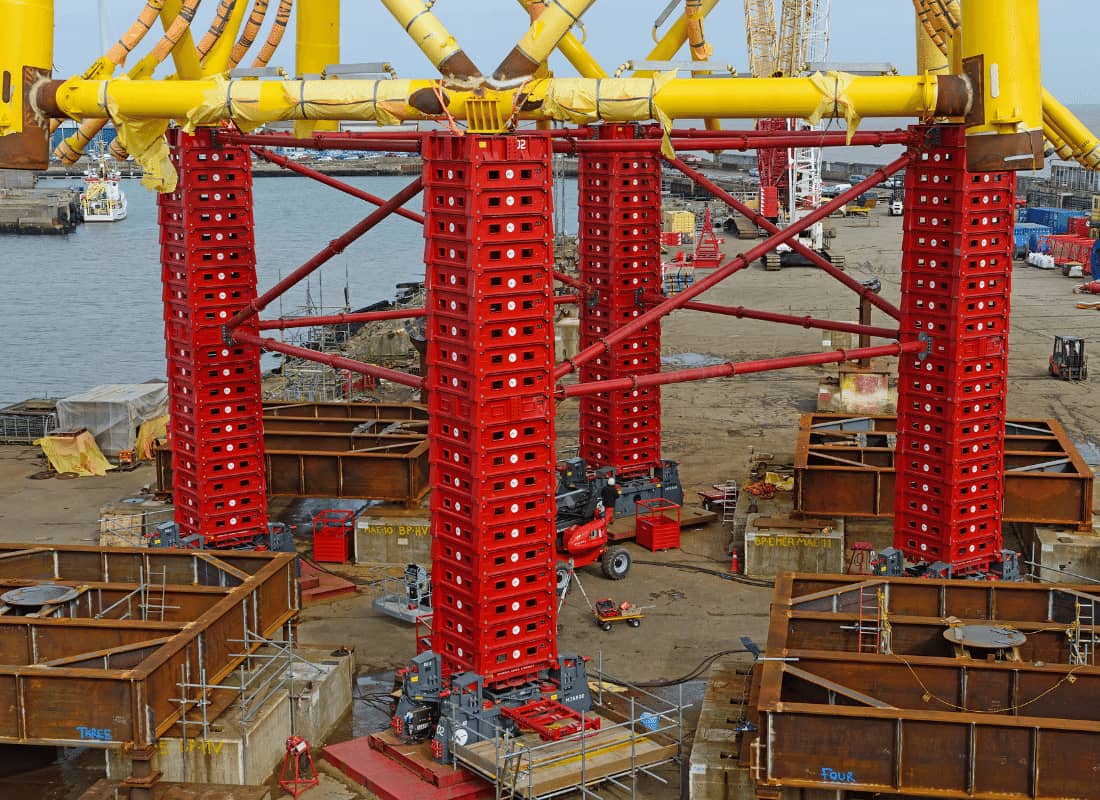 To perform the jack-up, suction buckets were positioned under each of the jacket legs and SPMT trailers were used to maneuver them into place. The Mega Jack 800 held the jacket in place whilst the suction buckets were welded to the jacket by the customer's operatives.
The success of the project depended upon the high-level engineering and design works carried out by SLP and Mammoet and close collaborative work with STDL to get the jacket ready for the planned sail away on schedule.
The operations are part of the construction of an offshore facility, comprising a topside and jacket structure, for the Dudgeon Offshore Wind Farm. The wind farm is located 20 miles off the coast of Cromer in North Norfolk and has the capacity to power approximately 410,000 homes in the UK.