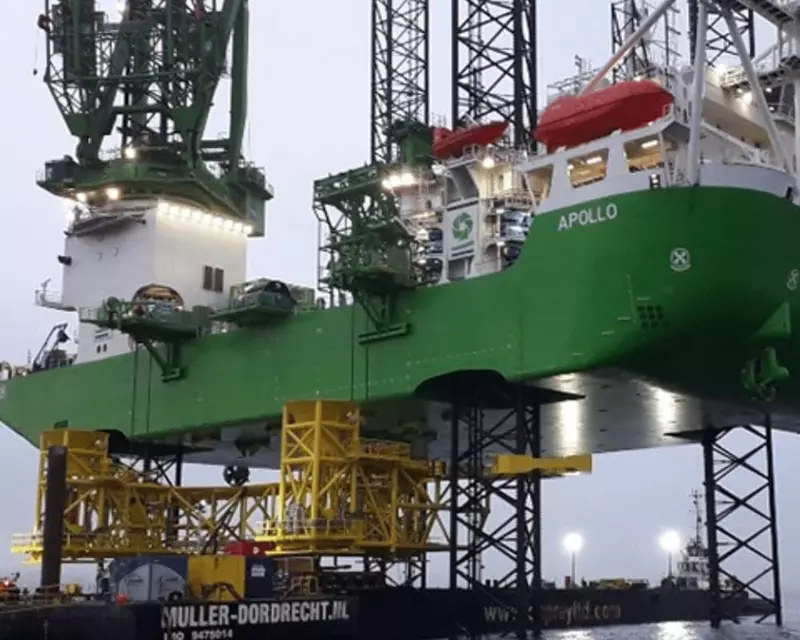 Expertise:
Heavy transport

Load-in & load-out

Heavy lifting
Benefits:
Reduced preparation

Reduced preparation

Simplified management
As offshore wind farms move into deeper waters, there has been an increasing need for jacket foundations.
A pre-piling template simplifies the construction process as it enables piles to be driven into the seabed in advance, quickening the commencement of accurate offshore piling operations.
The diverse range of offshore expertise across Mammoet's branches, including their Conbit operation, enabled them to provide a full pre-piling template installation package that was smoothly coordinated. Mammoet's experience and flexibility also ensured they could work around the client's schedule.
Mammoet's scope consisted of a barge load-out, transportation, and installation of the pre-piling template. The project began in Rotterdam, the Netherlands, with an SPMT load-out. The pre-piling template was set down on supports and the SPMTs were then removed from the barge.
When the barge arrived at Invergordon, Scotland, the pre-piling template was transferred to a jack-up vessel for installation offshore. SPMTs were prepared beneath the center of the pre-piling template with an additional stability bracket. Mammoet opened the clamps around the jack-up vessel's legs to enable the template to be maneuvered.
Once the barge had been positioned beneath the offshore jack-up vessel, Mammoet commenced an SPMT transportation to rotate the pre-piling template and maneuver it precisely into position. During this phase, one of the clamps needed to be opened so the template could be moved.
With the template in position, Mammoet's Conbit operation connected the pre-piling template to the jack-up vessel using three winch wires installed through a sheave block in the template. After all the wires had been connected, the template could be lifted from the SPMTs.
The stability frame was disconnected, and Conbit closed the clamps. The equipment used included 20 axle lines of SPMT for both the load-out and installation, as well as cylinders for opening and closing the clamps during the installation.
The Moray East offshore wind farm will sit 22km off the Scottish coast, in water depths of between 38-54m covering an area of 295km². It will consist of 100 9.5MW wind turbines with three offshore substations. Power generation is expected to commence in 2021.