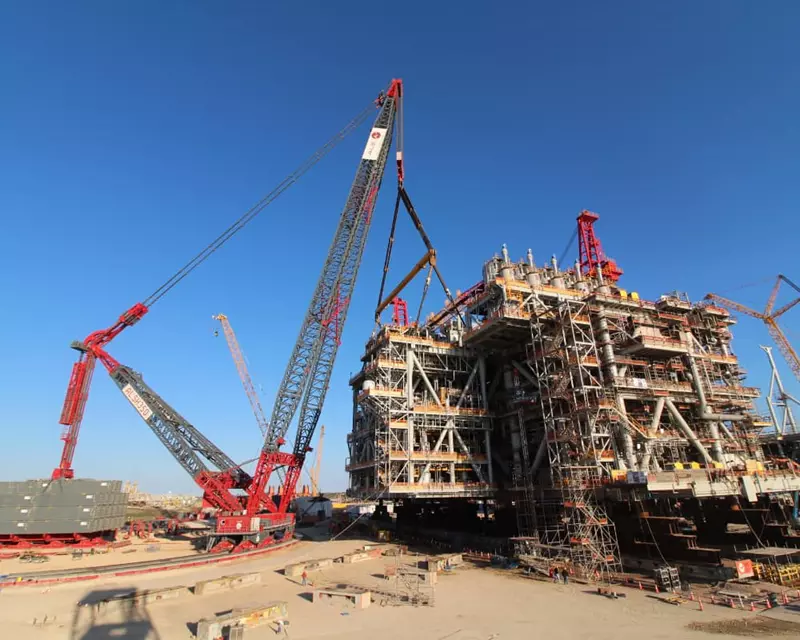 Expertise:
Heavy lifting

Crane lifting
Benefits:
Reduced preparation

Increased safety

Reduced disruption
Three modules, weighing a combined total up to 6,614t, were lifted using Mammoet's unique SK350 crane, for the project in Ingleside.
As the crane can lift from one position, it was the ideal solution for working in the congested site and significant time was saved by not needing to relocate the crane for every lift, as would have been the case with other ring cranes.
The SK350 was rigged with a 124m (406ft) main boom, and a 49m (160ft) ballast radius, along with a heavy winch system and 4,000t (4,409 US tons) ballast.
The third lift, involving the living quarter module, weighed a combined total of 2,234t (2,462 US tons with block and tackle included). For this, the installation outreach was 42.8m. The significant 354,000te/m load moment and long outreach of the SK350 enabled Mammoet to lift the living quarter module.
"As we come to the end of the first phase, we are proud of the professionalism shown throughout. Our experienced crew, working alongside our crane with such unique abilities, has enabled us to achieve these heavy lifts in a challenging site environment. By using the latest technologies, we could carry out the lifts on schedule and safely, while minimizing disruption to the rest of the busy site," explained Ronnie Adams – Senior Project Manager.
In order to avoid delays to the overall offshore topside, these lifts will act as a trial to ensure the modules fit and the topside is pre-commissioned, ready for when it is installed with a new heavy lift vessel off the coast of Israel.