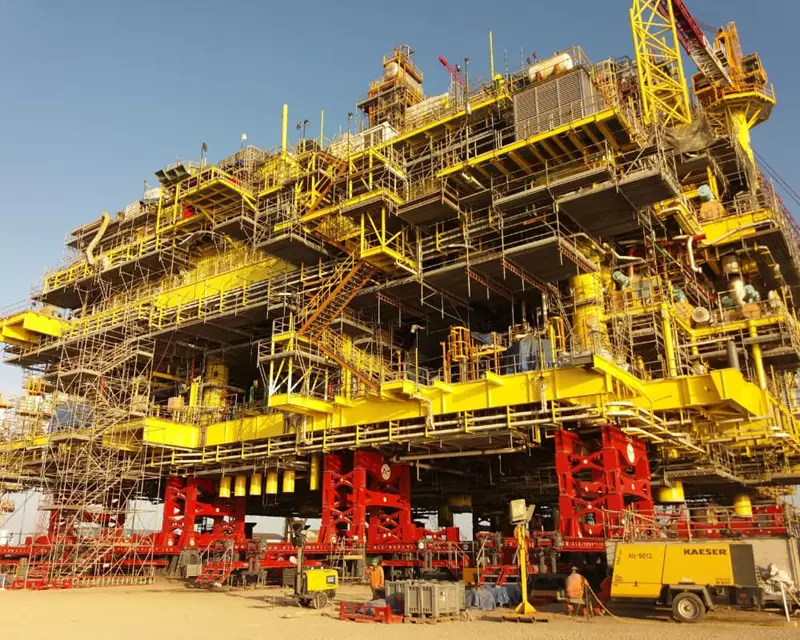 Expertise:
Load-in & load-out

Float-on & float-off

Jacking
Benefits:
Reduced preparation

Increased safety

Parallel operations
Mammoet has delivered an integrated solution to help complete a phase of a major offshore project in Mexico.
The company was tasked to perform weighing, jacking, and load-out of the jacket and of the platform. The first stage of the three-phased project involved the 14m-high jack-up of the topside, weighing over 13,000t, using Mammoet's innovative Mega Jack system.
As the Mega Jack had its own starter beams and has quicker assembly and jacking speeds, it is much more efficient than other systems on the market.
Mammoet configured the Mega Jack with eight towers, each with a 5,200t capacity. This provided the strength needed to lift such a heavy weight whilst evenly distributing the ground loading pressure. The topside was jacked up to 14m high in stages. Upon reaching the first jacking phase 5.5m high, the client could access the forklifts under the topside, which was a major advantage as they could continue operations and optimize the project schedule.
For the load-out of the topside, the Mammoet specialist offshore services team designed and supplied the rapid ballasting system, with a system capacity of 16,000 Cu.M/Hr, as well as the associated ballast pipework specifically for this operation.
Mammoet's experienced offshore team worked in two shifts to pull the 17,000t topside a total distance of 196.63m. By using strand jacks and kicker jacks to pull the topside onto the customer's barge, Mammoet completed the load-out in a timely manner.
The final stage involved the float over in the Gulf of Mexico. Six 24PS ballast pumps, 18 10PS de-ballast pumps and ten 380HP HPUs were installed onto the customer's barge, along with associated ballast pipework.
Safety, Health, Environment and Quality (SHE-Q) was a paramount consideration throughout and underpinned the entire project. Mammoet ensured all operations were supervised centrally in real-time to ensure operational flow.
"This is a fantastic achievement for all of the Mammoet teams involved. Throughout this project, we have established a strong on-site partnership to meet our client's technical and operational needs," explained Simon Armstrong, Project Manager for the offshore services team.