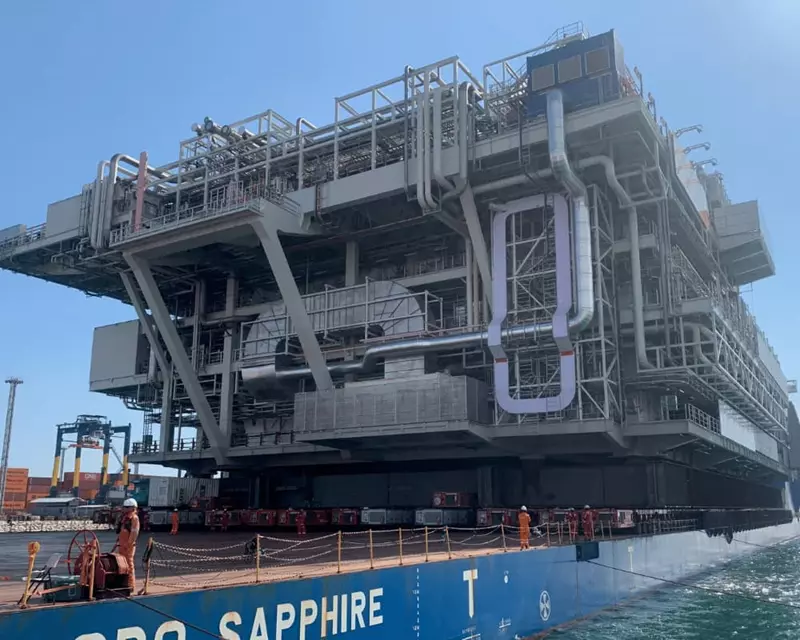 Expertise:
Heavy transport

Load-in & load-out
Benefits:
Increased safety

Parallel operations
The massive module loaded out safely and to schedule.
Mammoet has loaded out the main support frame (MSF) module in Thailand, using a significant 604 axle lines of SPMT at Aibel Thailand's yard in Leam Chabang.
This module was the largest ever fabricated by Aibel Thailand and the largest to be loaded out in Thailand using SPMTs. The mega MSF module weighed approximately 14,500t, and at 16,258t with grillage.
As Mammoet has worked closely with Aibel Thailand in the last decade, assisting Aibel in almost all of their heavy transportation work, Mammoet was once again selected as the trusted partner to perform this record-breaking module transportation.
Mammoet's global network of engineering expertise meant that it was able to provide Aibel with a project team made up of professionals from all over the world. The team included specialists from Thailand and Mammoet's Global Offshore Services division, who were in charge of weighing the module, while mechanics and supervisors from Australia, Malaysia, Netherlands, and Thailand covered the site move and load-out execution using the SPMT trailers.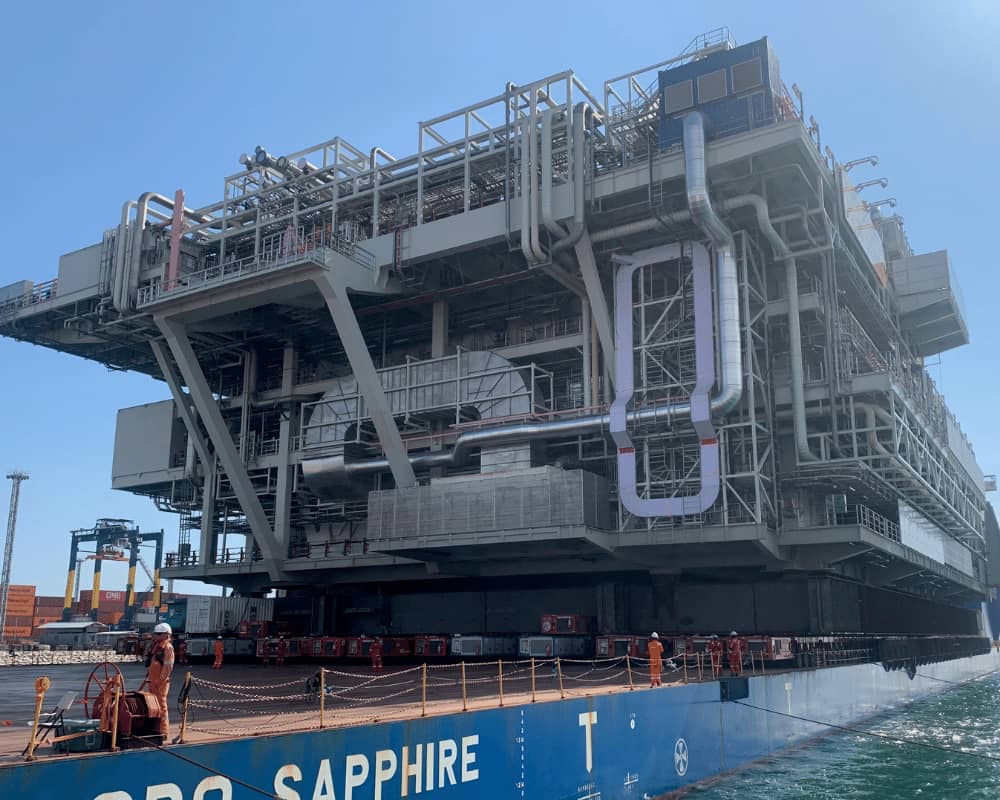 The 604 axle lines of SPMT and 21 PPUs were sourced from various depots in Asia-Pacific, Africa, and the Middle East. It was a logistical challenge for the team to bring in such a significant number of SPMTs from different locations due to COVID-19 restrictions, which complicated shipping schedules. Nonetheless, all equipment was mobilized on time, and all trailers were assembled weeks before the load-out took place. The team's strong technical expertise ensured all axle lines functioned together and are ready on time.
On-site, weighing of the MSF module was completed using Mammoet's weighing system swiftly; within a day. Once the load cells were removed, the SPMT trailers were driven in position under the MSF module.
With the SPMTs in position and the hydraulic and electronic systems connected, the module was lifted up from the fabrication supports using the SPMTs' suspension systems. The site move covered approximately 700m in distance to the load-out quay, and it was completed the day before the load-out onto the vessel took place.
The following day, Mammoet, Aibel and the crew of the vessel coordinated well to ensure the load-out of this module went smoothly onto the ship. It took a few hours before the module was rolled onto the vessel and accurately aligned with the grillage.
Shimming and adjusting procedures were undertaken before the MSF module could be completely set down on the vessel. After this, the SPMT trailers were removed from underneath the module.
The mega MSF module has since been shipped to Norway and is now part of Equinor's fifth platform for the Johan Sverdrup oil field. The oil field is expected to have a daily production capacity of up to 535,000 barrels by the end of this year.