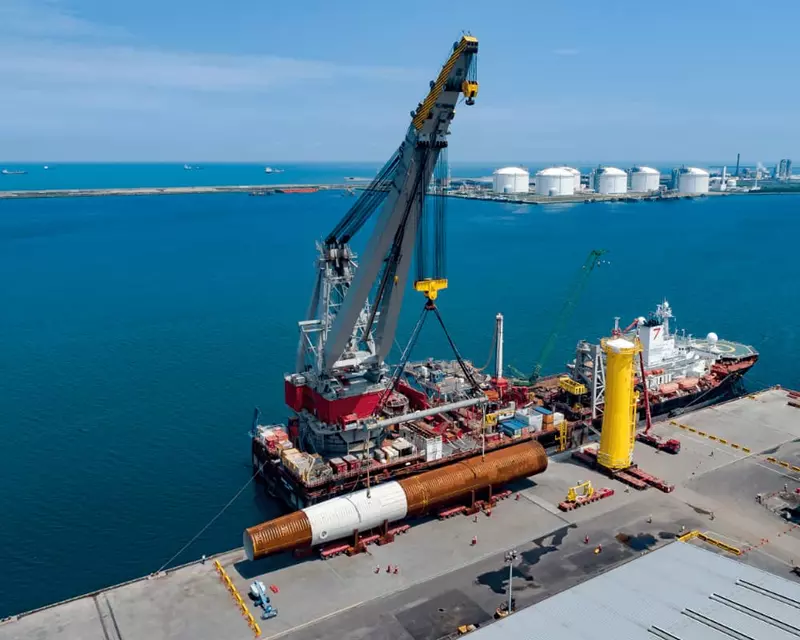 Expertise:
Load-in & load-out

Heavy transport

Gantry lifting
Benefits:
Reduced preparation

Protected infrastructure

Parallel operations

Simplified management
In order to move toward energy independence and attract foreign investment, the Taiwanese Government has set a target of 5.5GW of clean energy by 2025.
Despite its advanced infrastructure and industries, as a consequence, it is still facing major logistical, engineering, and civil infrastructure challenges as it strives to meet this goal.
A key development in pursuit of this target is the Formosa 1 wind farm – the country's first commercial offshore wind project. To facilitate phase two of its construction, a partner was required with experience in managing complex heavy-lifting projects across multiple sectors and continents. The joint venture between Mammoet and Giant Heavy Machinery Services was awarded by offshore contractor Jan De Nul Group to meet this challenge.
Mammoet-Giant's scope was the onshore handling, transportation, and storage of wind turbine foundations – consisting of 20 monopiles and also transition pieces. This work began at the monopiles' fabrication facility in Rostock, Germany, and ended at the Port of Taichung, Taiwan. From there, the Jan De Nul Group took over and installed the foundations at sea.
In Germany, Mammoet used a tandem-twin strand jack gantry system to lift the monopiles from the fabricator's trailers. SPMTs with pre-installed ocean transport cradles were then moved into position underneath the monopiles before load-out onto two flat deck carriers for ocean transportation.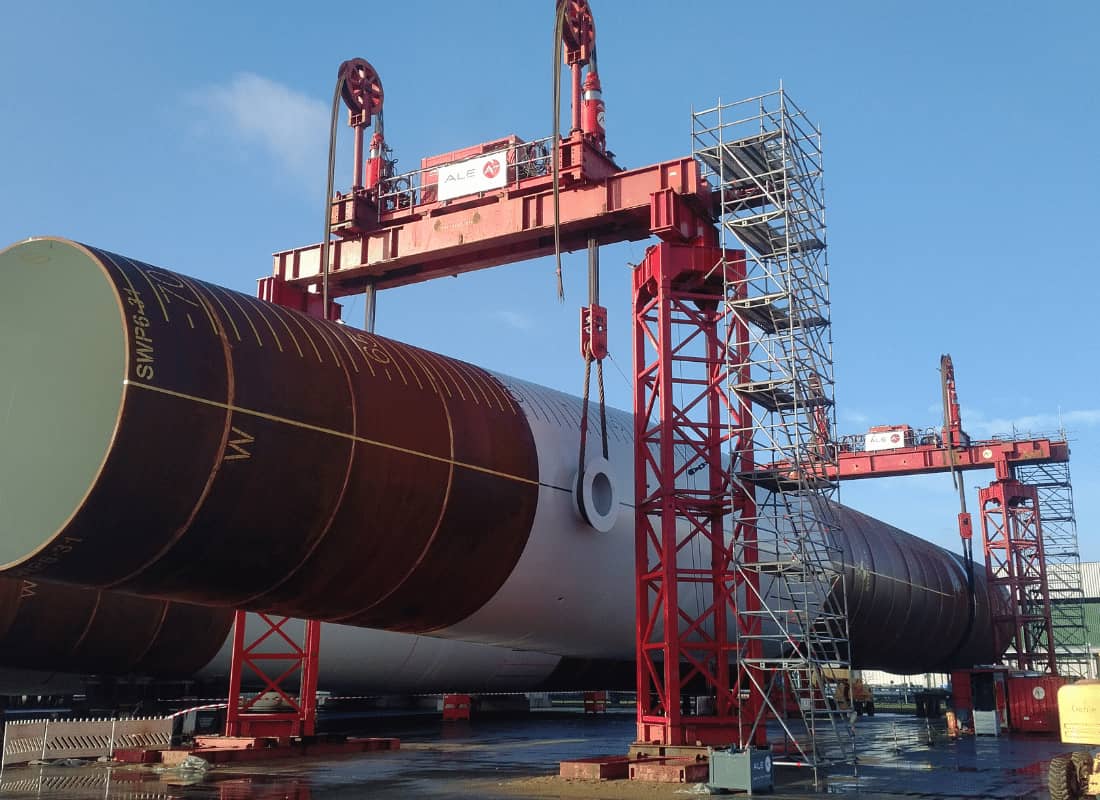 While this was taking place, Mammoet-Giant was developing the storage yard in Taichung from vacant grassland into a marshaling area with the 10t/m2 ground-bearing capacity required to receive all foundation elements. The transition piece hardstand was constructed using reinforced concrete slabs, compliant with local regulations designed to mitigate against earthquakes and typhoons, which are common in the area.
Upon their arrival in Taiwan, load-in of the monopiles was carried out during a narrow tidal window, with two monopiles following one another off the flat deck carriers. Separately, the 465t transition pieces were discharged onto a custom-built transport frame designed by Mammoet's R&D department and fabricated by Giant's approved local supplier. These were then offloaded onto the storage yard by crawler cranes.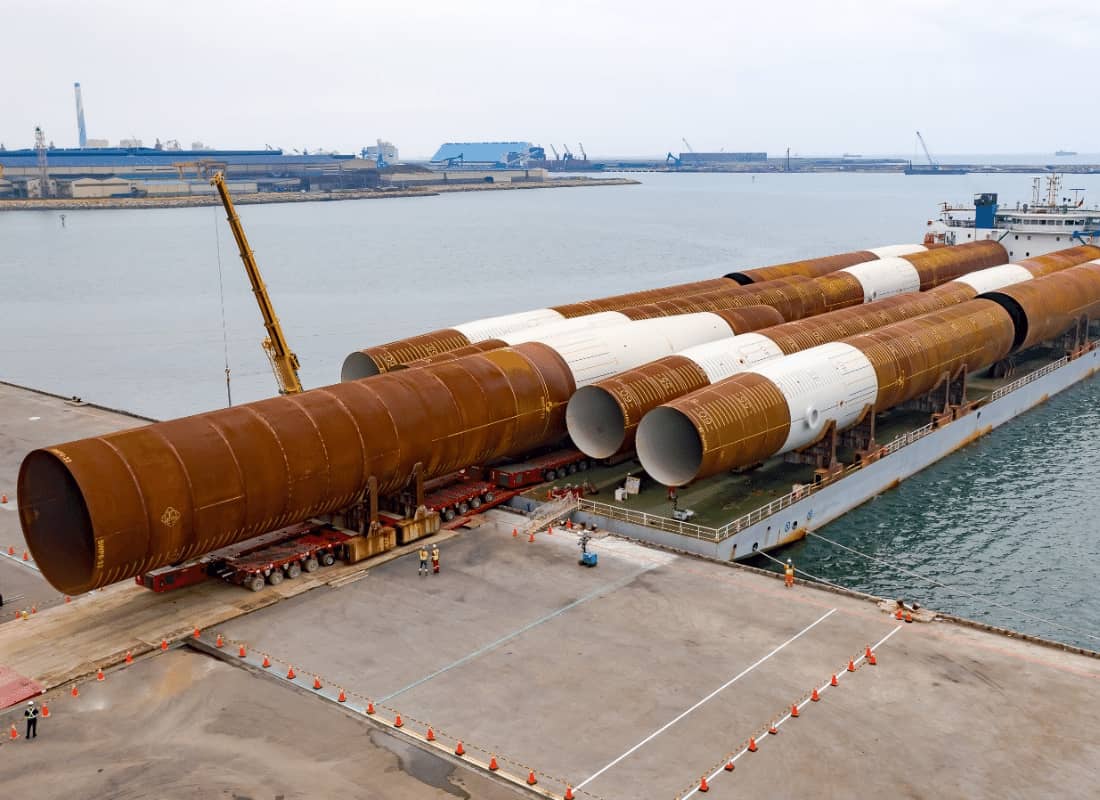 During the offshore installation campaign, the monopiles and transition pieces were transported back to the quayside in batches of one and one for load-out by the Seaway Yudin for installation offshore in the Taiwan Strait.
Mammoet's vast global experience and Giant's unique local insight proved to be a winning combination. Having successfully undertaken a wide range of complex ports, and civil and offshore projects spanning continents, Mammoet was well-positioned to deliver the optimal engineering and logistics required. Giant, a local expert with more than 20 years of experience in heavy lifting, was invaluable in liaising with local authorities and dealing with an array of complicated local regulations.
For the load-in in Taiwan, a maximum of 128 axle lines of SPMT was used, in a tandem 4 file 16 configuration. For load-out, 96 axle lines in a 4 file 16 configurations were used, with two sets used for the monopiles and one set for the transition pieces. Crane lifting was performed with Demag CC 6800 and CC 8800 cranes.
The Mammoet-Giant joint venture allowed the customer to orchestrate a large and complex project through a single point of contact; one that encompassed heavy lifting, transportation, sea fastening, civil infrastructure, cargo handling, and many other associated services. All equipment, as well as the required operating staff, logistics managers, and HSQE staff were readily available, at capacity – and sometimes at short notice.
This work is now helping Taiwan to meet its ambitious clean energy targets.