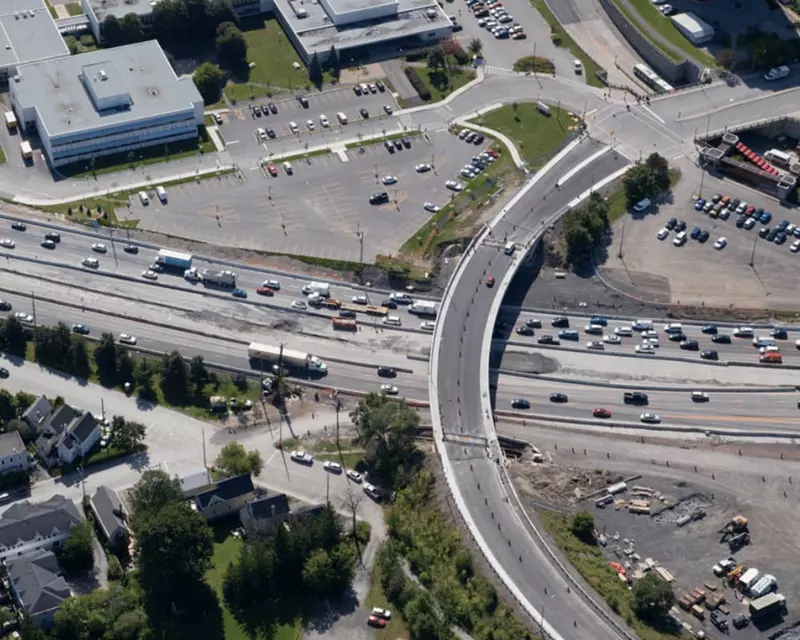 Benefits:
Reduced disruption

Optimized schedule

Parallel operations
Replacing a bridge in Ottawa with time to spare.
It's not every day you're tasked with the heaviest lift installation of a multi-span freeway overpass in North America, but Ottawa's Lees Avenue rapid bridge replacement was like no other.
Weighing 2,254 tons and measuring 87.5 meters long, the flyover is the city's main traffic artery, which was expanding to accommodate its new Light Rail System.
Project delays would mean traffic congestion and heavy fines for our customer, R.W. Tomlinson. The biggest challenge was the bridge's curved geometry and the graded roads on which it was transported. A unique set of circumstances for sure, and Mammoet rose to the challenge.
The Rapid Bridge Replacement technique (RBR) switches a completely new bridge into place once the old one is removed. It is favored over demolition and then building a new bridge because it minimizes downtime, decreases disruption of traffic, and reduces project time significantly, in this case, more than five months. It sounds simple, but in practice, RBR requires skill, precision, and expertise.
In the case of Lees Avenue it was like picking up a boomerang; a reference to the curved nature of the bridge, which made it difficult to align the SPMTs for jacking in the usual way.
Any twist during transport could jeopardize the integrity of the structure. Not only this but there was a three-meter drop from one side of the bridge to the other – an incline that needed to be reduced to guarantee the safe transport of the new bridge.
In total, three months of planning culminated in a detailed overnight procedure for the project. To level out the three-meter elevation, around 400 dump trucks delivered 12,000 tons of gravel in and out in five hours.
Once everything was set, 64 axle lines of SPMT were placed beneath the old bridge, while falsework towers were raised to pick the structure from its bearings. The trailers then transported the bridge to its lay-down position, repeating in reverse with the new bridge.
Mammoet's approach reduced the usual timeline of several months down to just two weeks; safely, and without a single hitch. By the time the new bridge was set down at sunrise, partner Tomlinson was already moving on to the project's next phase. The first cars rolled over the new Lees Avenue overpass exactly as planned and Ottawa's brand new Light Rail carriages some short weeks later.