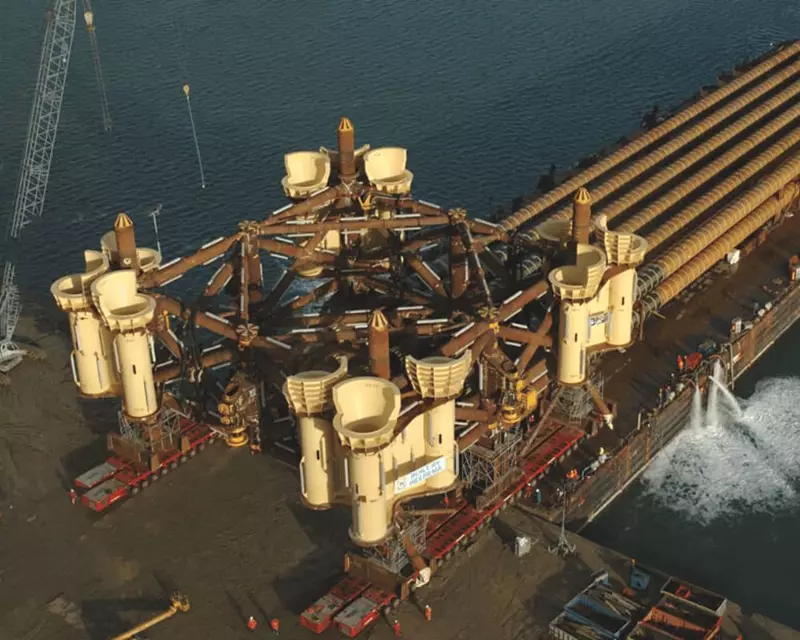 Expertise:
Heavy transport

Gantry lifting

Jacking
Benefits:
Optimized schedule

Parallel operations
Clever thinking cuts costs by half.
The Tombua and Landana oil fields lie off the coast of Angola. Mammoet was involved in the transportation of the tower base template and its foundation piles – a project that challenged Mammoet to design an advanced logistical method to carry all the components in one go.
Through the smart use of SPMTs and a double-layered cargo construction, load-out time was reduced by as much as 75%. The lower costs for renting a single barge instead of two resulted in further considerable savings for the client.
The cargo for the Tombua-Landana project consisted of the 3,500-ton template and twelve 1,000-ton piles of 190-meters each, a record length at the time. Always looking for innovative ways to make transport more efficient and cost-effective, Mammoet engineered a method to lift the template on a transport frame that could be placed over the piles. Thus, the double load could be combined, considerably reducing load-out time and cost.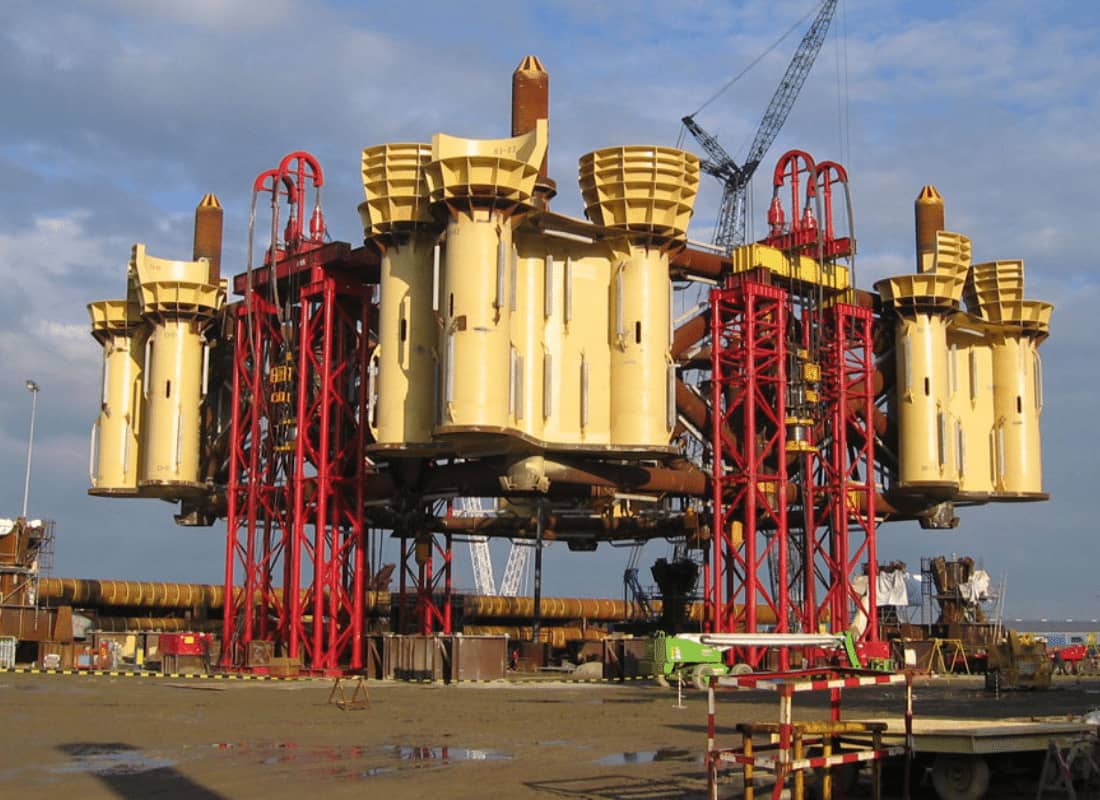 First, the template was lifted onto the tailor-made transport frame using four sets of gantry towers. Then the piles were loaded onto the barge in three sets of four, well before the changing tide made the deck-quay difference too big. To move the piles from the quay onto the barge, Mammoet used 132 axle lines of SPMT trailers that were driven sideways across the entire distance.
Once the piles were in their final position on the barge, the trailers were rolled back onto the quay and positioned under the next set of piles. Each load-out took approximately three hours to complete.
As soon as all piles were in place, the template was loaded onto the barge. With a reconfigured trailer arrangement, Mammoet placed the template and its support structure over the piles and drove the trailers back onto shore.
Overall, time and risk exposure was significantly reduced during the entire load-out operation. Instead of twelve load-outs to get the piles on board, Mammoet only needed three. By stacking the template on top of the piles, it took only a single barge to deliver all components to the oil field. A textbook exercise in time and cost savings with the added benefit of increased safety for everyone involved.