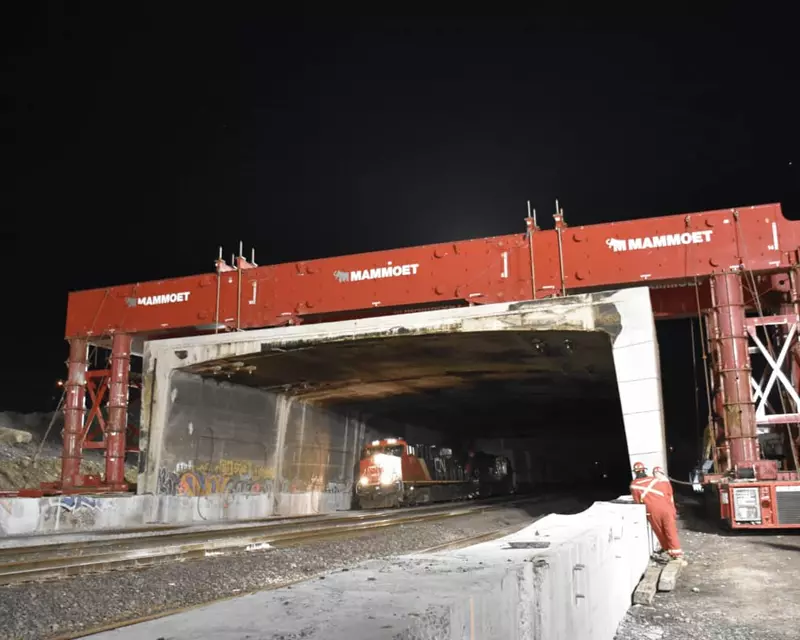 Expertise:
Heavy lifting

Heavy transport
Benefits:
Reduced disruption

Parallel operations
Switching out a crumbling tunnel while keeping trains on time.
Constructed in the mid-sixties, the Turcot Interchange in downtown Montreal was showing signs of wear and tear. After almost 50 years of service and a daily traffic volume exceeding 300,000 vehicles, the busy transport hub needed to be rebuilt.
The ambitious multibillion-dollar development, the largest in Transport Québec's history, involved many moving parts and couldn't afford to disrupt any traffic. Mammoet had to remove almost 10,000 tons of concrete over an active Canadian National rail line. To get the job done safely and with minimal interference, Mammoet took an innovative approach.
With a train passing every 10–15 minutes, 24/7, the CN rail line through the Turcot interchange is one of the busiest in Montreal. Disrupting the railway for any amount of time would throw the city and its commuters into a tailspin. With no other options and a crumbling bridge at hand, the city's transport ministry, MTQ was at a loss.
Mammoet was the only service provider able to engineer a solution that would keep the rail line operating with minimal interference to its timetable. In essence, the approach proposed cutting loose the tunnel in sections that would then be bolted to a gantry positioned on SPMTs. This made it possible to cart them away for demolition offsite – all the while minimizing disruption to train schedules.
For each tunnel section, one night was spent bolting it to Mammoet's gantry on SPMTs and cutting it loose. The next night, as soon as the railway operator had given the signal, the tunnel section was driven across the rail lines and over to the laydown point for demolition.
Careful planning and uniquely customized tools enabled Mammoet to clear the tunnel in nine 1,070-ton sections. Each was precisely and safely removed from the railway within a maximum of 17 minutes every time. Ultimately, the tunnel structure was safely removed and demolished offsite while the rail line remained active, and the largest transport construction project in Québec's history could, itself, stay right on track.