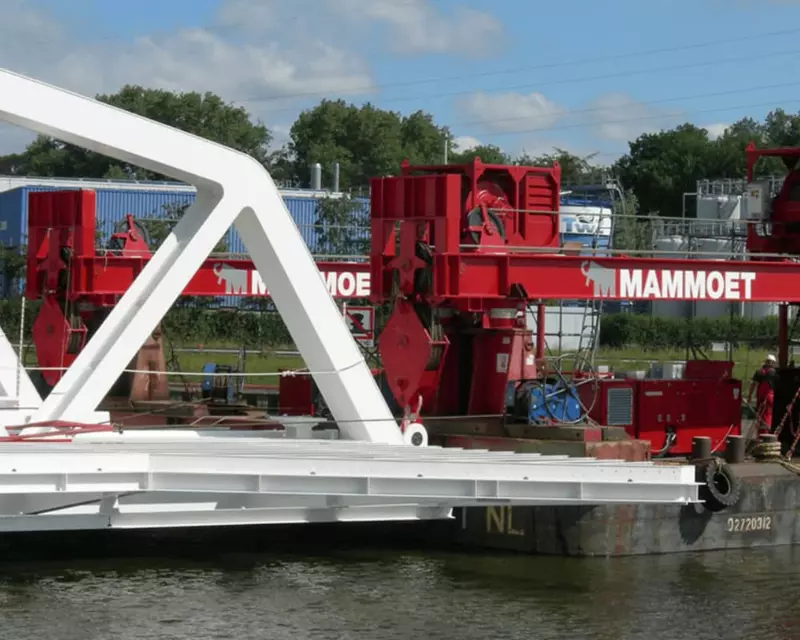 Expertise:
Heavy transport

Load-in & load-out

Marine transport
Benefits:
Protected infrastructure

Reduced disruption
IF IT'S TOO TALL, WINCH IT DOWN FOR A LITTLE SWIM.
In Belgium, steel construction manufacturer Victor Buyck was building a bridge for a French customer. It was to be installed 850 kilometers further south in Brest, France.
Due to its sheer size, moving the 600-ton structure by road was not an option. On the other hand, carrying it over water would require separate construction of bow and girders, making the girders too vulnerable during transport. Victor Buyck was faced with a difficult choice. Mammoet responded with an unusual yet simple answer to their dilemma.
Our client was trying to solve a puzzle. Building the bridge in two separate modules presented two problems. First, the girders without the bow structure would be fragile during transport. They would need a lot of support and make loading and unloading a very complex affair.
Second, the manufacturer would need to hire an additional yard to install the bow. Not only was this a complicated solution, but it was also an expensive one. Constructing the bridge entirely at their yard and transporting it by the river to a port seemed to be the best option. However, with five low bridges to pass, transporting the 600-ton structure posed a serious challenge; once it was loaded onto a barge, the construction would not fit underneath the bridges.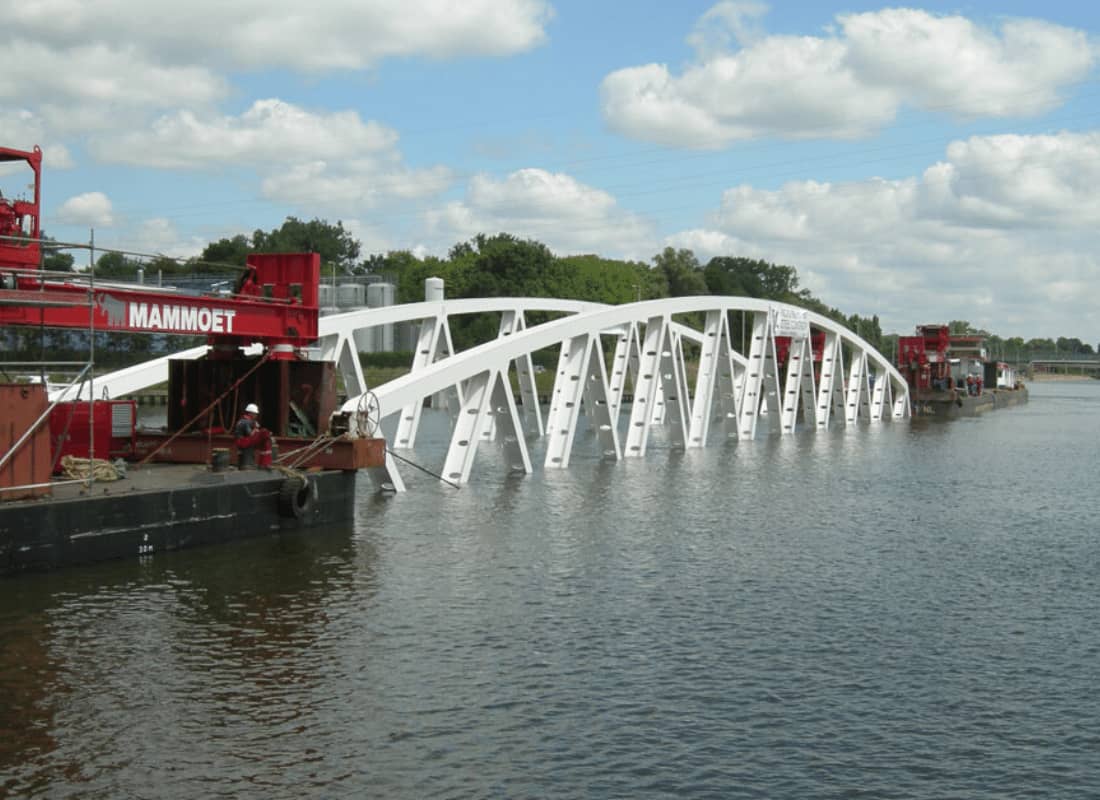 Mammoet asked a simple question that had been overlooked: "If the bridge on the transport vessel is too high on the water, why not lower the bridge into the water?" That's how some highly specialized and creative engineering led to unconventional transport: instead of loading the bridge onto one barge, the entire structure was suspended between two barges.
On each barge, two tailor-made winches were used to submerge the bridge partly into the water. This special construction sailed underneath the low bridges without any problem. Once it had passed the five bridges, the structure was loaded onto one of the barges and sea-fastened. Upon reaching its final destination in Brest, Mammoet installed the bridge, making it ready for immediate use.
The entire transport took only five days; the on-site installation took two days. By making it possible for the client to build and subsequently transport the bridge in one piece, Mammoet saved the client a significant amount of time, money, and headache.