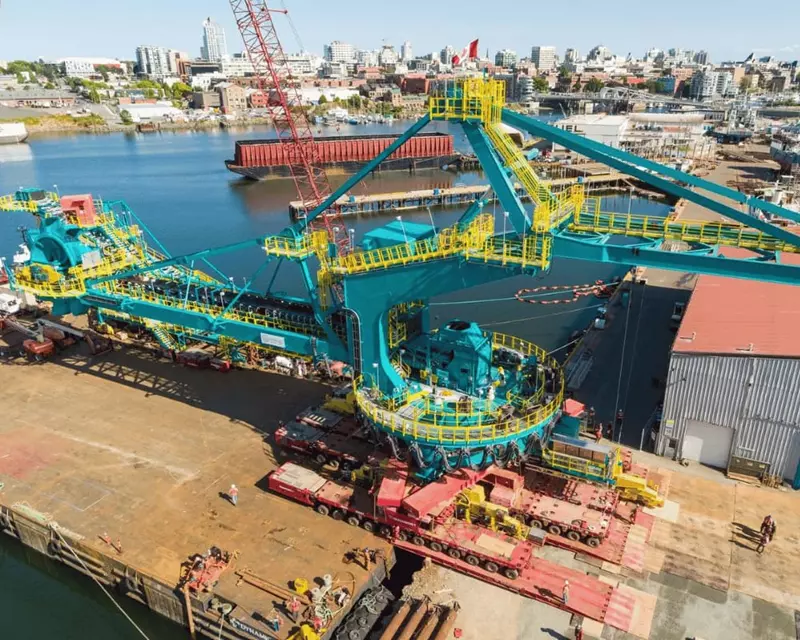 Expertise:
Heavy transport

Load-in & load-out
Benefits:
Reduced preparation

Optimized schedule
Early Mammoet support allows the lift to take place quicker and more cost-effectively.
Mammoet has successfully relocated a huge stacker reclaimer in one piece as part of an $800 million upgrade project targeted to double its capacity to export 20 million tonnes of metallurgical coal per year, compared to 10 million tonnes per year now. The new stacker was fabricated by United Engineers at Hope Harbor in Victoria, British Columbia, Canada.
Dynamic Heavy Lift (D.H.L.) – a marine heavy lift and transport provider - was responsible for decommissioning the old stacker, along with the logistics of transporting the replacement stacker into place in Vancouver, B.C.
Mammoet was selected for the transportation of the machine as few other companies on the coast could offer the equipment needed, or had a track record of similar moves that were successful. Combined with a long-standing good relationship with Dynamic Heavy Lift, Mammoet's transport team was the perfect fit for the job.
Due to the coastal location and confined workspace, the transport took over three years to plan, with Mammoet involved with D.H.L. every step of the way. The early involvement of Mammoet engineers allowed the lift to be planned so that inventoried Mammoet equipment could be used to stabilize the stacker for transport.
Ultimately the partnership resulted in saving not only money but also a significant amount of time, as the customer had to fabricate fewer items to facilitate the transport. In particular, United Engineers were able to fabricate the stacker-reclaimer directly onto steel rails using the required dimensions needed to load the machine onto our SPMT trailers.
Once complete, Mammoet teams were able to seamlessly load the stacker onto 66 axle lines of SPMTs using their hydraulics. The stacker was then driven onto the Dynamic Beast barge for its journey across the Strait of Georgia to Vancouver.
The transport consisted of a 940t stacker-reclaimer and a 147t tripper car. The gigantic stacker reclaimer measured 79 meters long, 20 meters wide, and 32 meters high, while the tripper car was 54 meters long, 10 meters wide, and 17 meters high.
After arriving at Neptune Terminals in Vancouver, SPMT teams drove the stacker approximately 260m off the barge into its final destination.
Throughout the project, our teams used a total of 102 axle lines of SPMT, accompanied by a significant amount of auxiliary equipment including 20-meter load spreaders from Mammoet USA, and roll-on/roll-off ramps from Eastern Canada.
Despite the limited workspace, Mammoet was able to provide a solution that traditional equipment simply could not offer. The stacker reclaimer is currently in the commissioning phase and will soon be lifting and loading steelmaking coal onto ships.