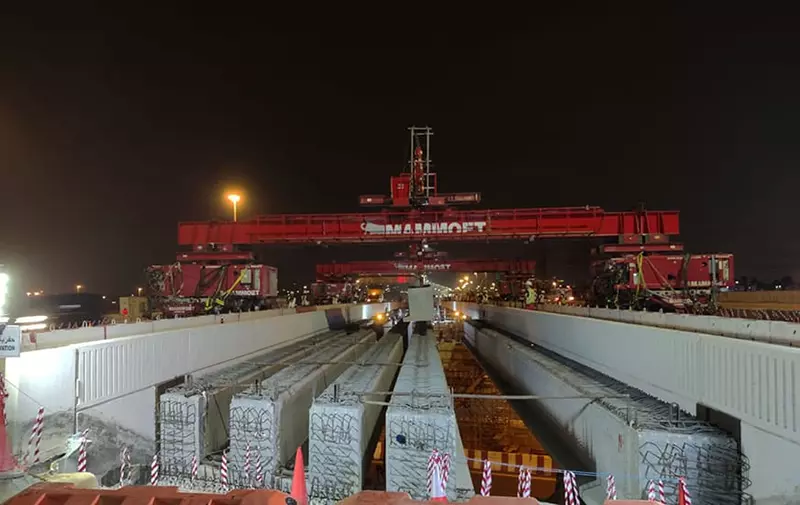 Expertise:
Heavy lifting

Gantry lifting
Benefits:
Reduced disruption

Protected infrastructure

Parallel operations
Techniques combined to complete a complex bridge widening project with minimum disruption.
As part of the Dubai Road and Transport Authority's (RTA) program of continuous improvement of the Dubai road infrastructure, widening works were initiated for the Mirdif City Center bridge. When completed, the bridge improvements will ease traffic flow for road users, meeting the current and future needs of commuters and alleviating traffic congestion.
The project, located at the interchange along Sheikh Mohammed Bin Zayed road (E311) and Al Rebat street (D83), consisted of the construction of additional lanes between two existing two-lane bridges, converting them into one high-capacity flyover comprising six lanes.
24 precast girders, connecting the two bridges together, needed to be installed on supports from the top of the bridges. Installing them from the ground wasn't possible due to space constraints and the busy E311 highway is too crucial to the city's transport infrastructure to allow time for a stick-built methodology.
The project's main contractor - Afcons Infrastructure Ltd., contacted Mammoet, an engineered heavy lifting and transport specialist, after FEED stage, to develop a solution for this installation challenge. Mammoet's engineering expertise equipped with state-of-the-art equipment and global experience of working in increasingly complex urban environments would be crucial in this case.
After detailed design engineering and risk assessment, Mammoet developed a novel approach for installing the girders using a tailored mobile gantry system that could straddle the two existing bridges. This system would comprise custom-made beams with two 100t strand jacks and a skidding system, sitting on top of SPMT trailers. The strand jacks would lift the girders vertically, the skidding system would allow side movements, and SPMTs would transport the girders from the pick-up location to the installation spot.
The mobile gantry was positioned above each precast girder, measuring 30m long and weighing up to 68t. With rigging connected to the girder's lifting points, it was raised using the strand jacks until it was at sufficient height for transport. The mobile gantry traveled over the existing bridges with the girder until it reached its setting point. The girder was then skidded above its final position and lowered down before being secured onto supports. The mobile gantry then returned to the pick-up location for the next girder.
"We are pleased to have been entrusted with this challenging installation by Afcons Infrastructure Ltd. By partnering with Afcons, we have ensured swift and efficient installation of the girders for one of the key interchanges in Dubai, that will soon enable a smooth flow of traffic," commented Michel Bunnik, Commercial Director Mammoet Middle East & Africa.
"This non-conventional, innovative method of installation proves once again that Mammoet can offer an intelligent and efficient solution to any challenge, no matter how complex," he added.
In close coordination with the client and Dubai Road Transport Authority, the operation took place overnight to avoid disruption to local businesses and residents. Each girder installation activity was performed within a 30-minute road closure 2-3 times each night. All precast girders were successfully and safely placed into position two days ahead of schedule.