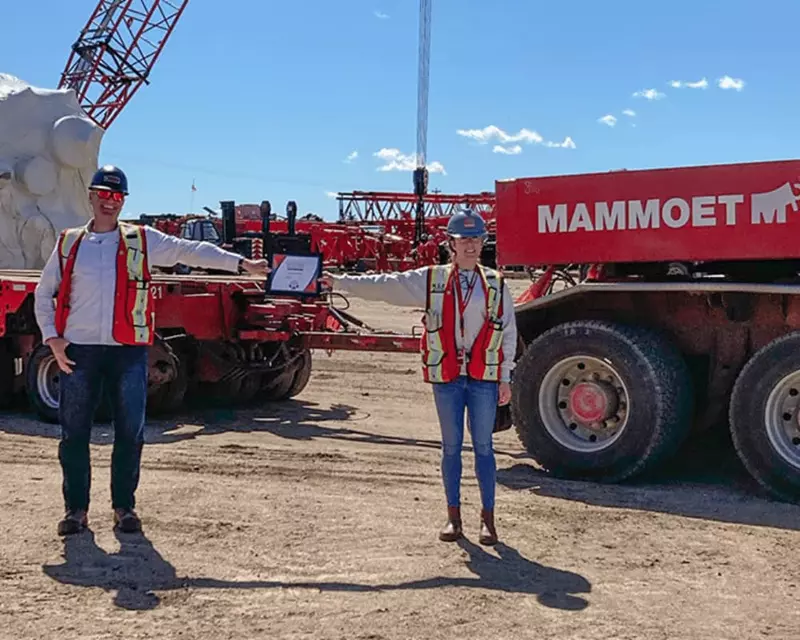 Expertise:
Heavy lifting

Crane lifting
The award marks another safe year of crane operation in Canada.
Mammoet was once again the recipient of the prestigious safety award from the Crane Rental Association of Canada (CRAC) for high standards of safety in 2020. This marks the fourth consecutive year that Mammoet has received the award from the association.
Established in 1997, the CRAC is an important advocate for the crane industry; Mammoet has maintained strong ties with the association since taking up membership in 2002.
Mammoet's commitment to safety is woven into a four-fold structure that is integral to our business. Our dedicated professionals look after the safety, health, environment, and quality of our business. Marie Aitken is the SHE-Q Manager for Mammoet's Americas region and offered the following comment on learning that Mammoet had received a 2020 award for safety from the CRAC.
"At the forefront of Mammoet's daily operations is our commitment to safety. It is our priority to see that everyone returns home safely at the end of every day. Our approach to safety comes from within. Leadership within the company is focused on modeling safe behaviors to inspire our professionals."
Gijs (Gus) Verdeijen is the Vice President and General Manager for Mammoet Canada Western Ltd. and served as the 2019-2020 Chair for the CRAC Board of Directors. As Chair, Gijs was responsible for overseeing the association's activities and providing direction during the pandemic and a unique time in the CRAC's history.
He commented: "We are very proud to receive the CRAC Safety Award once more. To have our safety performance acknowledged by the industry-leading organization of CRAC is an honor. I thank all of our hard-working staff across the region, who have been working under especially challenging conditions last year, for planning and executing each and every job with their and their colleagues' safety at the forefront, allowing us to achieve a very high standard in safety performance and win this award."