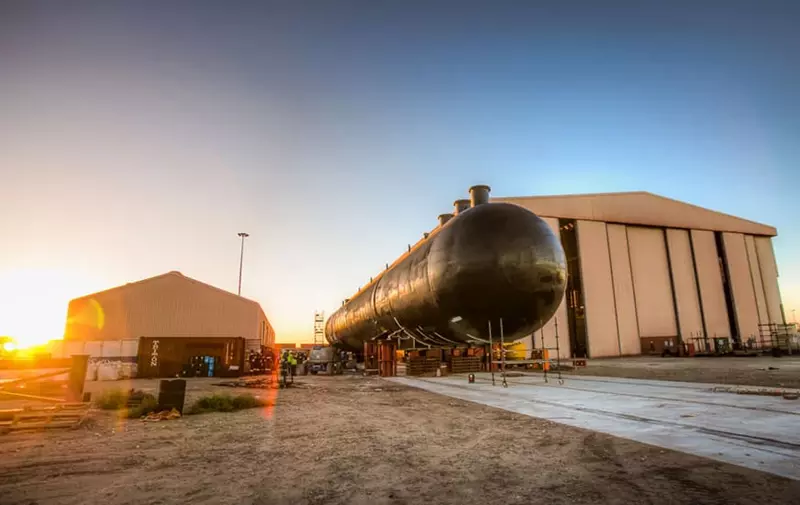 Expertise:
Heavy transport

Jacking

Skidding
Benefits:
Reduced preparation

Flexible operations

Optimized schedule
Carefully planned bullet transport route to Sunrise Energy's Saldanha LPG terminal maximizes efficiency and minimizes time to market.
Mammoet has successfully transported and installed five LPG pressure vessels (bullets), the largest of their kind in Africa and the Southern Hemisphere. Weighing 584 metric tons each, they were transported 2.7 kilometers from Efficient Engineering's fabrication workshops to the Sunrise Energy site in Saldanha, Western Cape, South Africa.
South Africa is currently experiencing a shortage of liquid petroleum gas (LPG) and demand is increasing. To meet the country's needs, Sunrise Energy is in the process of constructing an LPG Import Terminal in Saldanha. It will be used to import and distribute commercial LPG (a combination of propane and butane gas) to households, commercial organizations, and small industrial businesses. The terminal is scheduled for commission in April 2017.
Mammoet was contracted by Efficient Engineering for the transportation and installation of the LPG bullets from the fabrication workshop to the Sunrise Energy site. The transport involved two prime movers and two 10 Axle Kamag 4 file trailer configurations with 300-ton Kamag turntables on each configuration and a Goldhofer SPT pushing at the rear. The mostly off-road route included crossing a railway within a ten-minute window, coordinating with the operators of the busy line, and the addition of an extra truck to provide power to ascend a steep gravel road with an 8-degree incline.
Once onsite, a carefully planned and synchronized manoeuver enabled Mammoet to rotate the trailers underneath their load enabling the bullet, now perpendicular to its trailers, to be driven up two temporary inclines towards the foundation. This tricky trailer rotation maneuver saved vital installation time as it meant the bullet was in a position to ascend the ramp in just one hour. The alternative method, involving removing and then replacing each bullet on the trailers after aligning the trailers with the ramps, would have taken a day for each bullet.
Having ascended to the installation area, each bullet was jacked down and skidded to its final position where they were set onto purpose-built sand cradles. By installing the bullets using skidding equipment, rather than directly from the trailers, Efficient Engineering's client Sunrise Energy could reduce the number of civil works they had to carry out on site. This, and the other optimization measures incorporated into the operation, ensured the project was complete by 3 June 2016, within the project's tight 25-day installation schedule.