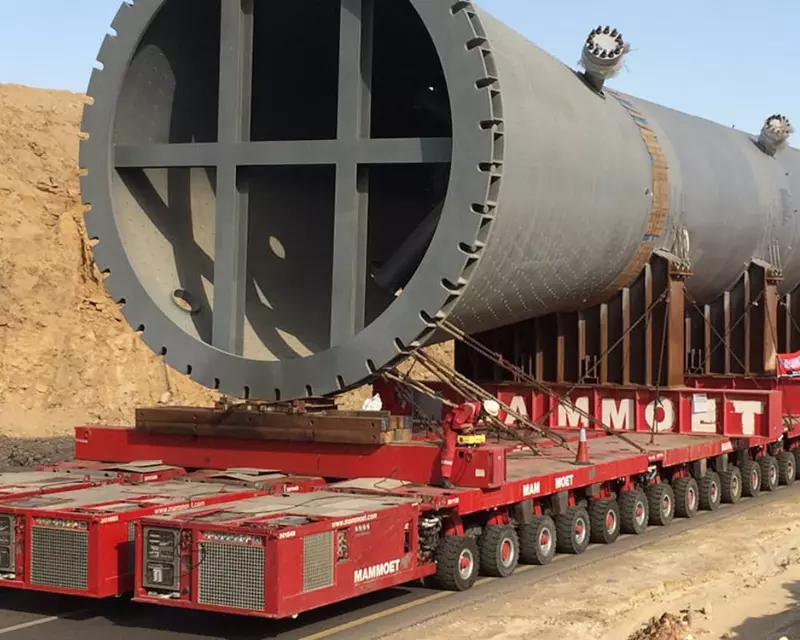 Benefits:
Record breaker

Simplified management

Protected infrastructure
Mammoet SPMTs transported the biggest cargo ever received in Egypt over a distance of 247 kilometers.
Mammoet, the world's largest service provider specializing in engineered heavy lifting and transport, is transporting 16 heavy items for the Egyptian Refinery Company (ERC) in Mostorod. This is the biggest semi-government project currently underway in Egypt. The cargo has a total weight of 1700 tons and – for the first time in Egypt – is being transported using high-tech self-propelled modular transport vehicles (SPMT). An expert team of international professionals is carrying out the project, in collaboration with highly qualified Egyptian professionals.
A historic achievement was made when the SPMTs first covered the total transport distance of 247 kilometers – the longest SPMT route traveled in Mammoet history. The route leads from Suez to Cairo and traverses desert, mountain roads, and highways. Enormous civil works were necessary before Mammoet could even start with the transportation – including over 30 kilometers of compacting and road reinforcements and five highway tunnels to be reinforced with steel beams and hydraulic jacks.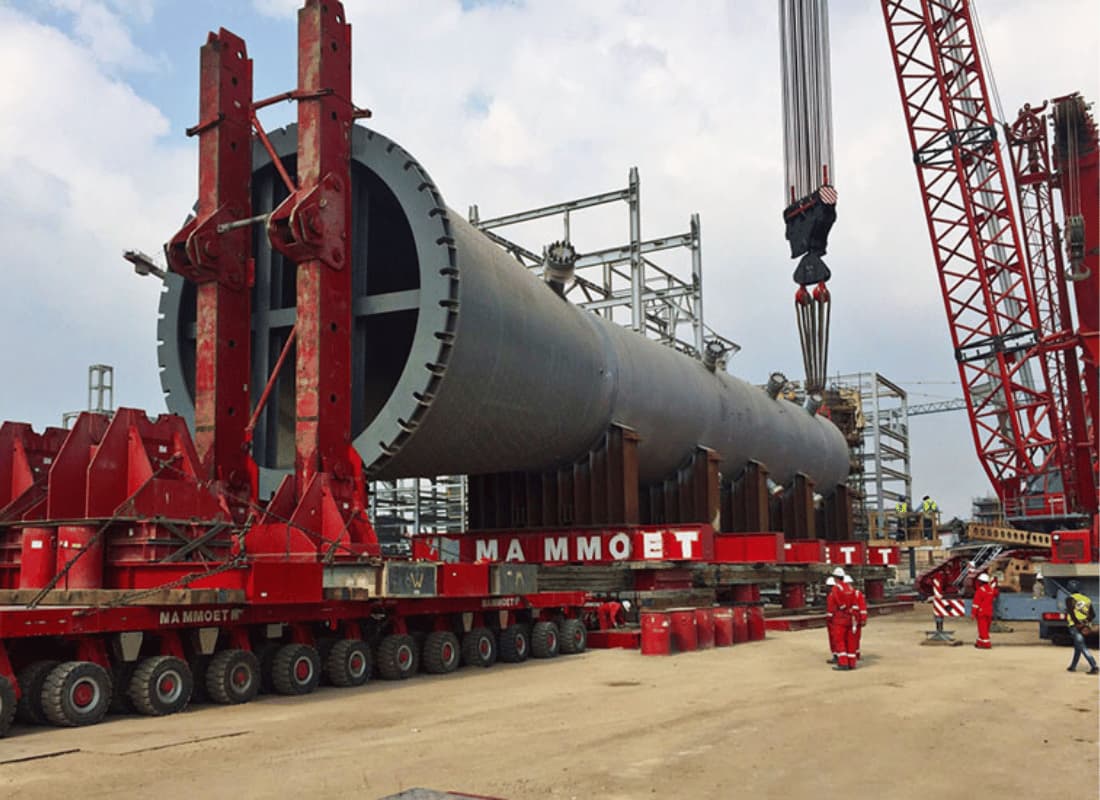 Furthermore, 80 city trees had to be cut and 250 light poles and more than 200 road barriers needed to be removed. The challenging route also includes inclines of 4% and leads straight through Cairo – one of the busiest cities in the world – to the job site Mostorod in Qalubiya where 1600-ton and 750-ton Mammoet cranes are configured to receive and install the heavy items.
Most of the cargo was received at Suez port between August and December 2014 with the last item arriving in July 2015. The inland transport of the 16 heavy items started on 1 October and the continuing transport operation will take a minimum of five months to complete. Of the 16 items, first, the two smallest reactors, with a weight of 79 tons and 140 tons, were transported safely to the site and installed on the foundation during mid-October.
They were followed by the biggest piece of cargo, a hydro refining reactor weighing 1220 tons, which arrived safely at the job site on 5 December. It was transported over 45 days by three trains of 34 axle lines of SPMTs - a 102-axle configuration. On 11 December the lifting and installation of the reactor were completed.
The ERC project is considered to be a historical step for the future of the transport industry in Egypt to build investor confidence in infrastructure. Most of Egypt's refineries are set up to produce large amounts of fuel oil, but the growing demand is for lighter products such as diesel and gas. This is one of the most important challenges faced by Egypt's oil and gas industry. The Egyptian Refining Company (ERC) was incorporated in July 2007 to upgrade the existing refinery specifically for the production of diesel and LPG.