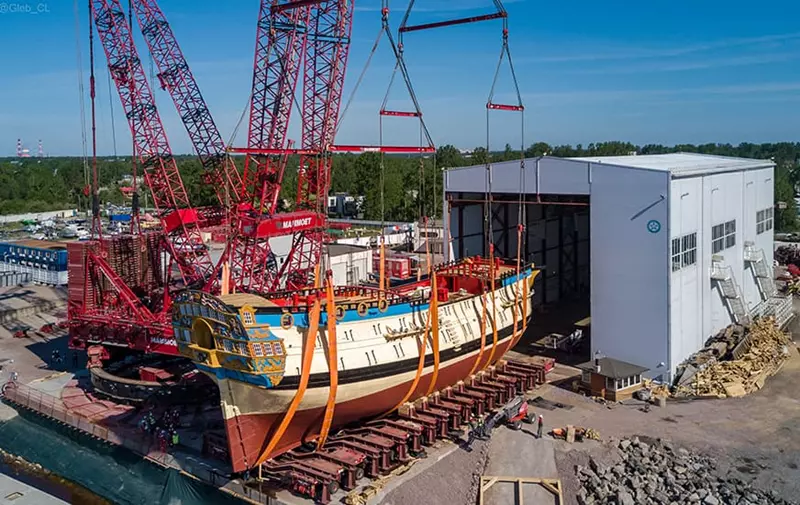 Expertise:
Heavy lifting

Heavy transport

Float-on & float-off
Benefits:
Protected infrastructure

Optimized schedule
The replica of Russia's first 54-gun battleship from the 18th century was safely launched on 27 May in celebration of Saint Petersburg's birthday.
The Poltava battleship was part of the Baltic Fleet and was named in honor of Russia's victory in the Battle of Poltava. The new Poltava will be a floating museum in St. Petersburg.
Preparation for the ship's construction involved detailed historical research. Historians worked with archive materials in search of drawings and descriptions of the legendary ship to authentically recreate the technologies used during the time of Peter I.
This unique ship is a full-scale replica of Russia's first battleship, which was built according to the design and with the personal participation of Emperor Peter I.
Mammoet was contracted to safely launch the historically authentic 600-ton wooden ship. Working under a tight schedule, the ship needed to launch at a specified time during the official ceremony. SPMTs safely transported the ship out of the hangar of the shipyard. Mammoet fastened the ship to provide stability. For the lift and launch procedure, Mammoet engineers created a special rigging scheme that optimized load distribution. For the operation, Mammoet's PTC 35 was deployed. Its reach, small footprint and high capacity allowed Mammoet to lift the carefully strapped ship within the limited space of the shipyard and slew it 180 degrees, before launching it into the Gulf of Finland.