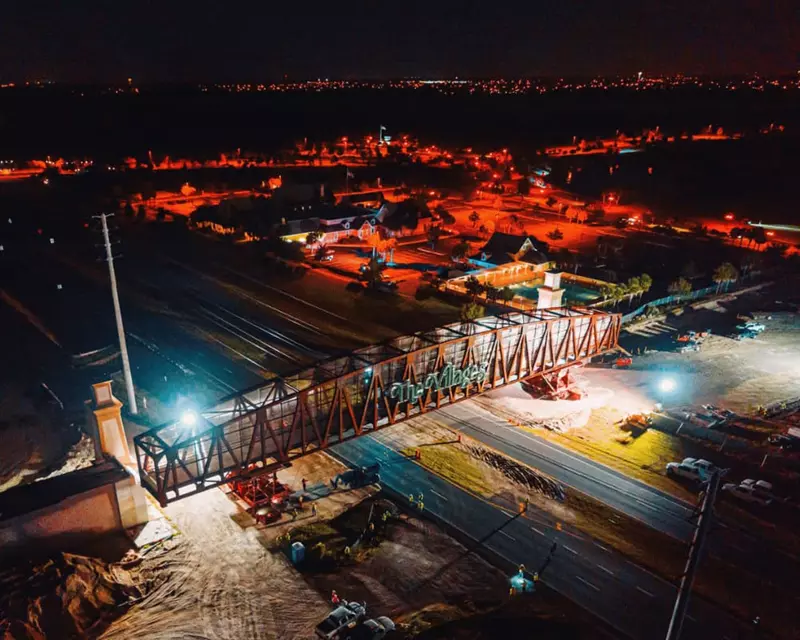 Expertise:
Heavy transport

Heavy lifting

Jacking
Mammoet's crew successfully set a 531t (1.1 million lb.) multimodal bridge in Florida using 250t hydraulic jacks on Self-Propelled Modular Transporters (SPMTs).
During the jacking phase of this bridge, Mammoet's team used bamboo timbers, a more sustainable option in comparison to timbers used in the past, for the first time in the United States.
The bridge, known locally as the Chitty Chatty Bridge, will link residents to shopping, amenities, and services in The Villages. It marks the second bridge Mammoet has set into place crossing Florida's State Road 44.
The 88.4m (290ft.) bridge was initially built at an elevation of 2.04m (6.7 ft) above grade, sitting on client staging at both ends. Two double 6-line SPMTs with falseworks jacked the bridge up high enough so that climbing jacks could be installed at each corner. The bridge was then carefully climbed up 19 layers of bamboo timbers, totaling roughly 2m (just over 6 ft).
SPMTs, now carrying the hydraulic jacks with steel mats on top, were driven back underneath to pick up the bridge for transport. The bridge was carefully transported 100m (328 ft) to the installation position between abutments and lowered into place.
For many years the heavy lifting industry has relied on jacking timbers made from a tropical hardwood – azobé. As the use of hardwood from endangered tropical forests became an increasing concern, Mammoet collaborated with MOSO, an international pioneer in bamboo solutions, to find a suitable replacement.
The timbers are created from a bamboo and resin composite which provides increased stiffness and strength, enabling the beams to be cut to precise dimensions and hold their shape more reliably compared to azobé. In addition, bamboo has many advantages over traditional hardwood material, as it is stronger than azobé, grows very quickly, and absorbs more carbon dioxide while releasing more oxygen than almost any other plant.
In August 2019, Mammoet crews set the first of the three bridges, the Brownwood Bridge. The 363t (800,000 lb.) Brownwood Bridge was also jacked up and successfully positioned 5.8m (19 ft) above State Road 44. The third and final bridge is scheduled to be set later this year.